George Taliaferro
by
Nathaniel from Marietta, Georgia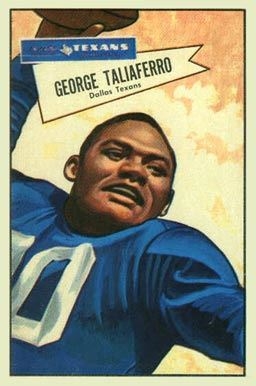 George Taliaferro on a 1952 Bowman Large cardBowman [Public domain]
He was born January 8, 1927 in Gates, Tennessee. He went to college at the University of Indiana where he played running back for their football team. He led this team to their only undefeated conference championship. Later on he went into the college Hall of Fame in 1981. While in college he joined the fraternity Kappa Alpha Psi.
''After college the Chicago bears took interest in George Taliaferro.'' They picked him in the thirteenth round. This made him the first African American to go to the NFL. Then he left and went to the Los Angeles Dons of the AFC in 1949. Later on he went back to the NFL to play for the New York Yanks. He played for three more teams after the yanks; the Dallas Texans in 1952, Baltimore Colts in 1953-54, and Philadelphia Eagles in 1955. Before he retired he went to the Super Bowl three times in his career 1951, 1952, and 1953.

George Taliaferro was determined to be the first African American to go to the NFL. George was headstrong by going to the NFL despite the prejudice. George was a leader for African Americans trying to go to the NFL. George was a true hero for African Americans. George was a person that never quit. This is a hero.The reason he is a hero is because of his leadership and accomplishments. George Taliaferro is a very accomplished man because of one thing. He broke the racial barrier for the NFL. He is an inspiration to young black men going to the NFL. He did this through racism and integration but he still did it.
George was a hard working African American. He was determined and never gave up. He was able to give the Hoosiers a perfect season in their conference. He was then inducted into the college Hall of Fame. This proves how good he was at football. This is my hero.
The reason he is my hero is because I want to go to the NFL. If he can break the racial barrier in football then I can make it to the NFL with no real racism that might endanger my life. He had to work harder to go to the NFL because of racism and he still made it and that's hard work.
Page created on 11/26/2013 11:34:21 AM
Last edited 8/16/2019 8:18:09 AM
The beliefs, viewpoints and opinions expressed in this hero submission on the website are those of the author and do not necessarily reflect the beliefs, viewpoints and opinions of The MY HERO Project and its staff.