Gertrude B. Elion
by
Susannah Abbey

- MY HERO Staff - from

Los Angeles, California in United States

Over the years, my work became both my vocation and avocation. Since I enjoyed it so much, I never felt a great need to go outside for relaxation.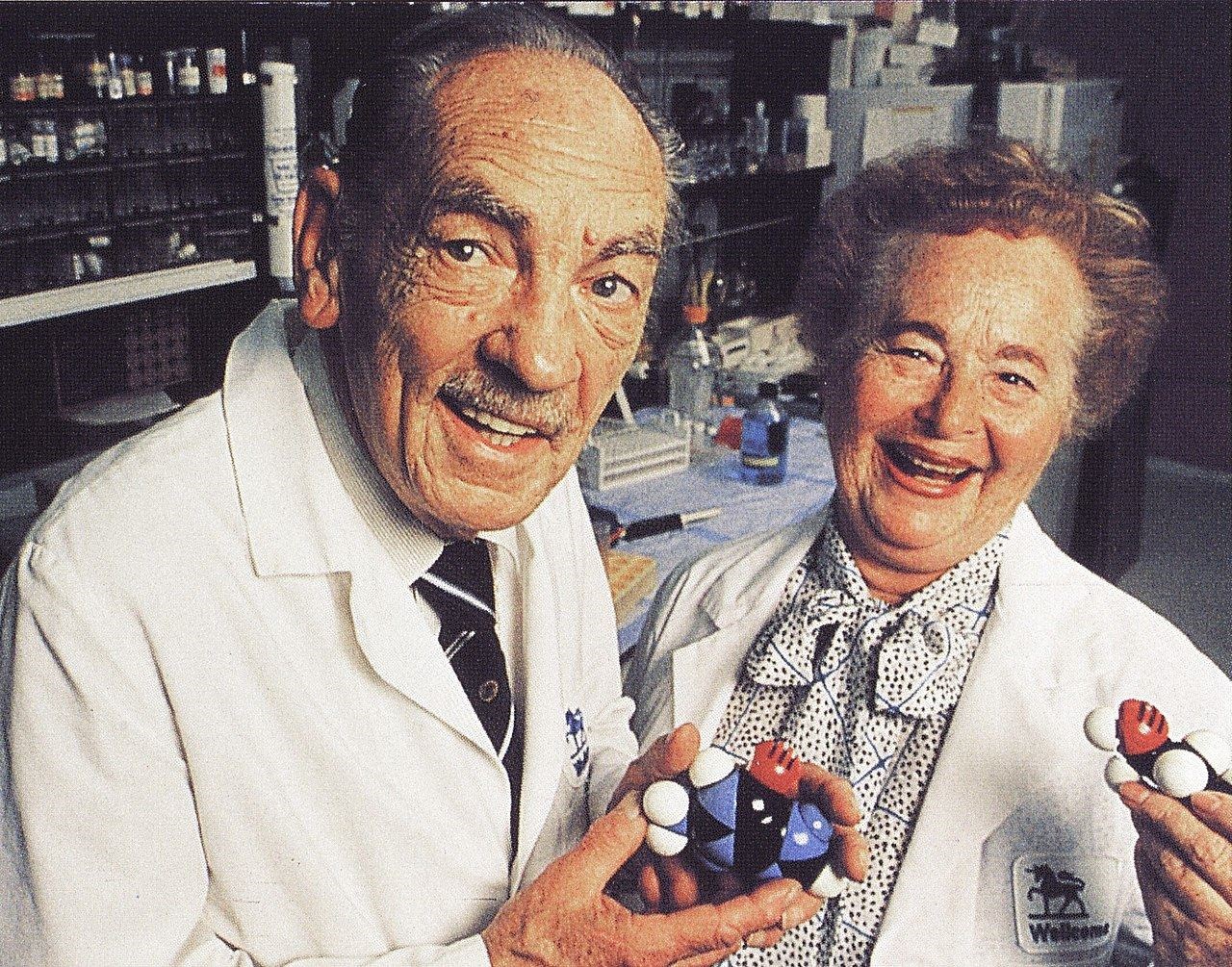 George Hitchings and Gertrude ElionUnknown authorUnknown author, CC BY 4.0 via Wikimedia Commons
Gertrude Belle Elion loved all her classes in school so much that when she enrolled at Hunter College in 1933, at age 15, she could not decide what to major in. It was her grandfather's death from cancer that swayed her. Elion decided that she wanted to do something to help cure people of serious diseases. To go to college in the 1930s was a challenge; many families had lost their savings in the 1929 stock-market crash, forcing kids to leave school and go to work. Elion wrote that she would not have been able to receive a higher education had it not been that her grades were very good and that Hunter College was free.
But just attending college was not enough to guarantee Elion or her classmates careers in science. "It was an all-girls school and think many of our teachers were uncertain whether most of us would really go on," Elion wrote. "As a matter of fact, many of the girls went on to become teachers and some went into scientific research."
Because of the Depression, Elion did not have enough money to go on to graduate school. Laboratory jobs were difficult to get, and most of them went to men. Then one day, she met someone who needed a laboratory assistant, and Elion went to work for him for free. It was 18 months before she was finally earning a decent salary: $20 a week.
Elion finally saved enough money to attend graduate school at Brooklyn Polytechnic Institute, where she received a masters degree. During WWII, women got jobs that became available when the men went off to war. Because of this, Elion was able to work part time on her doctoral degree and part time at a lab doing quality control for a food company. She would test the acidity of pickles and make sure the berries slated for jam were not moldy.
Finally, Elion met George Hitchings, a researcher who would change the course of her career. He gave her a job in his laboratory, allowing her to learn and take on as much responsibility as she wanted--sometimes even more than she wanted. Her work with Hitchings led her from organic chemistry into the realms of microbiology, pharmacology, immunology and virology. It was valuable experience she would use later while developing medicines for drug companies.
Elion produced drugs for herpes, leukemia, malaria, gout and immune disorders. She developed immune suppressants to overcome rejection of donated organs in transplant surgery. Her work with George Hitchings led to the development of the AIDS drug AZT. In later years she joined the faculty at Duke University and the University of North Carolina. She served on advisory committees for the National Cancer Institute, the American Cancer Society, the Leukemia Society of America and on a committee for the tropical disease research division of the World Health Organization. She also served on countless other committees and worked with a private drug company.
Although she never did earn a doctoral degree from Brooklyn Polytechnic, the University of Michigan, Washington University and Brown University all awarded Elion honorary Ph.Ds. In 1988, she received the Nobel Prize, to be shared with two other scientists, including her colleague and former employer George Hitchings. In 1991, Elion received a National Medal of Science, which she got to keep all to herself.
Page created on 8/7/2007 8:45:09 AM
Last edited 1/19/2021 4:51:12 AM
The beliefs, viewpoints and opinions expressed in this hero submission on the website are those of the author and do not necessarily reflect the beliefs, viewpoints and opinions of The MY HERO Project and its staff.
Extra Info
Much of the information for this story came from Gertrude Elion's own autobiography, which you can read in full on the Nobel Foundation website (https://www.nobelprize.org/prizes/medicine/1988/elion/biographical/).