Amid the coronavirus lockdown, older people have widely been seen as something to be shielded from harm. But thanks to social media, some are also offering their experience as voices of authority and positivity.
MAY 14, 2020 - She's not your typical social media influencer. But in atypical times under strict quarantine, Spain has turned to Luisa Cantero Sanchez, better known as "Tata," for their dose of daily escape.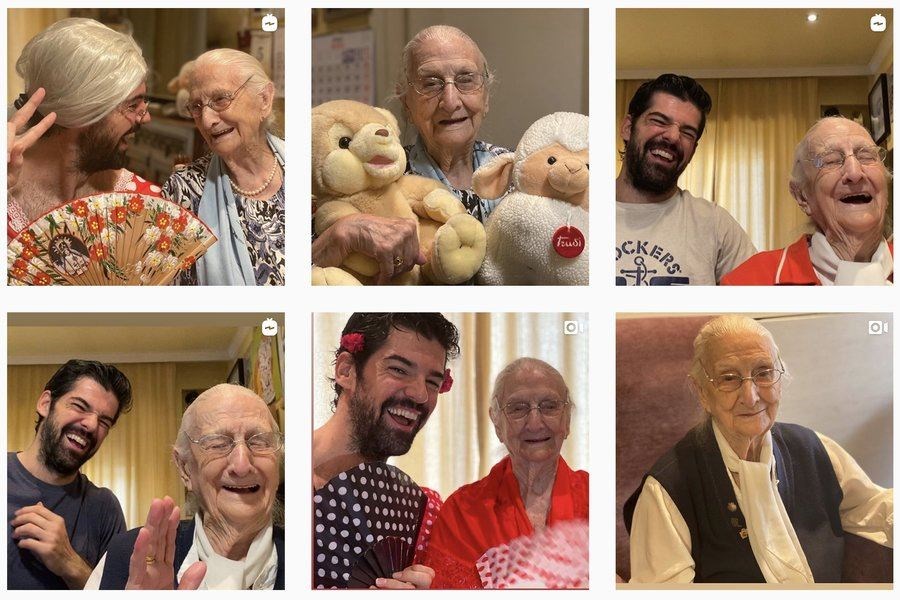 A screenshot of the Instagram page of Luisa Cantero Sanches, better known as "Tata." The 95-year-old social media star has won over tens of thousands of fans amid the coronavirus pandemic lockdown in Spain.Instagram
"I'm 95 years old, and I've adopted technology to help us stay in our houses to fight the coronavirus," reads her Instagram profile, which has attracted more than 106,000 followers since the show #CuarenTata began this spring. Each afternoon, she and her millennial great nephew, the Spanish actor Miguel Ángel Muñoz, do an Instagram Live together, dancing, singing, and laughing, and always holding a minute of silence for those lost to and fighting the pandemic.
In a recent episode – their 44th – she is dressed in a string of pearls and a flowery blouse and begins the show with a sign of the cross. Her nephew clicks a clapperboard, and Tata reads haltingly off a script, as she does every day, welcoming viewers. The love the two share emanates from every interaction, no matter how silly. When he dresses up as a flamenco dancer, her head goes back in laughter, and she takes out a handkerchief to wipe her eyes. The adulation comes pouring in. "This is the best part of my afternoon," crows one Instagram follower. Another, in all caps, sums it up: "TATA, YOU ARE THE SOLACE OF SPAIN."
Tata is one of many figures of advanced age to become a social media sensation lately. Indeed, while older adults have often been portrayed as vulnerable, weak, or lonely during the pandemic – the image of residents peering out of nursing homes will surely become iconic – they have also gained space as voices of authority, positivity, and resilience.
Many had become influencers before this, part of the age-defying movement, like the glamorous @baddiewinkle in the U.S., who has 3.8 million followers and whose Instagram profile reads "Stealing ur man since 1928!!," or Taiwan's stylish @moonlin0106. Others have attracted followers for simply sharing the quotidian routine of aging, from "Grandma Pat" in the U.S. to Geoffrey and Pauline Walker in the United Kingdom, who say they have received so many interview requests they declined this one. The couple today document their quarantine, from boiling noodles to putting out laundry. Recently, over 87,500 viewers joined them for tea and Victoria sponge cake.
One of the most famous grandmotherly figures to emerge in this crisis is "Nonna Rosetta" from southern Italy, who with humor and no nonsense doled out advice in a video that went viral. Sitting in her kitchen, the 87-year-old exhorted: "Suggestion No. 1: You have to wash your hands. Is this news?" she says, irked. "I've asked you so many times: 'Did you wash your hands?' Not because of coronavirus. Always." It reached 23,000 people around the globe and was translated into English, Russian, Chinese, Portuguese, Romanian, and Spanish.
Renata Perongini, a writer with the Naples-based production company Casa Surace, which produced the video, says that although Nonna Rosetta is a comedic character, the woman behind her, Rosetta Rinaldi, is your typical Italian grandmother; Ms. Perongini has known her since she was a kid.
"By having Nonna Rosetta at home, in her kitchen, sitting on her chair, talking directly to the audience, we tried to share a message that is both serious and reassuring, to be truly listened to because you recognize Grandma has enough experience, and wisdom, to be listened to," she says.
Shir Shimoni, a Ph.D. candidate focusing on representations of older people in popular culture at King's College London, says that despite representations of positivism, health, autonomy, and even entrepreneurship by "grandfluencers," there is a part of society that doesn't want the responsibility, be it directly or via the state, to care for older people. She warns that the rise of grandfluencers may in part be a tacit celebration of those among the elderly – statistically the most vulnerable demographic in the pandemic – who don't require society's care. Still, she agrees today's figures are "endearing, and even powerful; there is a sense of agency."
And part of that lies in the intergenerationality at play. Mr. Muñoz, the actor, has told local media he moved in with Tata, who cared for him as a child, to care for her during lockdown. She was a cleaner for most of her working life, and lived through the Spanish Civil War and World War II, and has authority about how to endure hardship.
For her part, she has said he has helped her tolerate this time of isolation. In Episode 44, when he puts on the red flamenco dress and a blond wig, she erupts: "You kill me with your youth!" He takes her hands, and leads her to dance.
"You have no idea how much happiness you bring to my life," writes one viewer as the improvisation plays out. "You and Tata are a paragon of love, and you, Miguelito, are a huge example of how we should be with our elderly. A huge example."
Editor's note: As a public service, all our coronavirus coverage is free. No paywall.