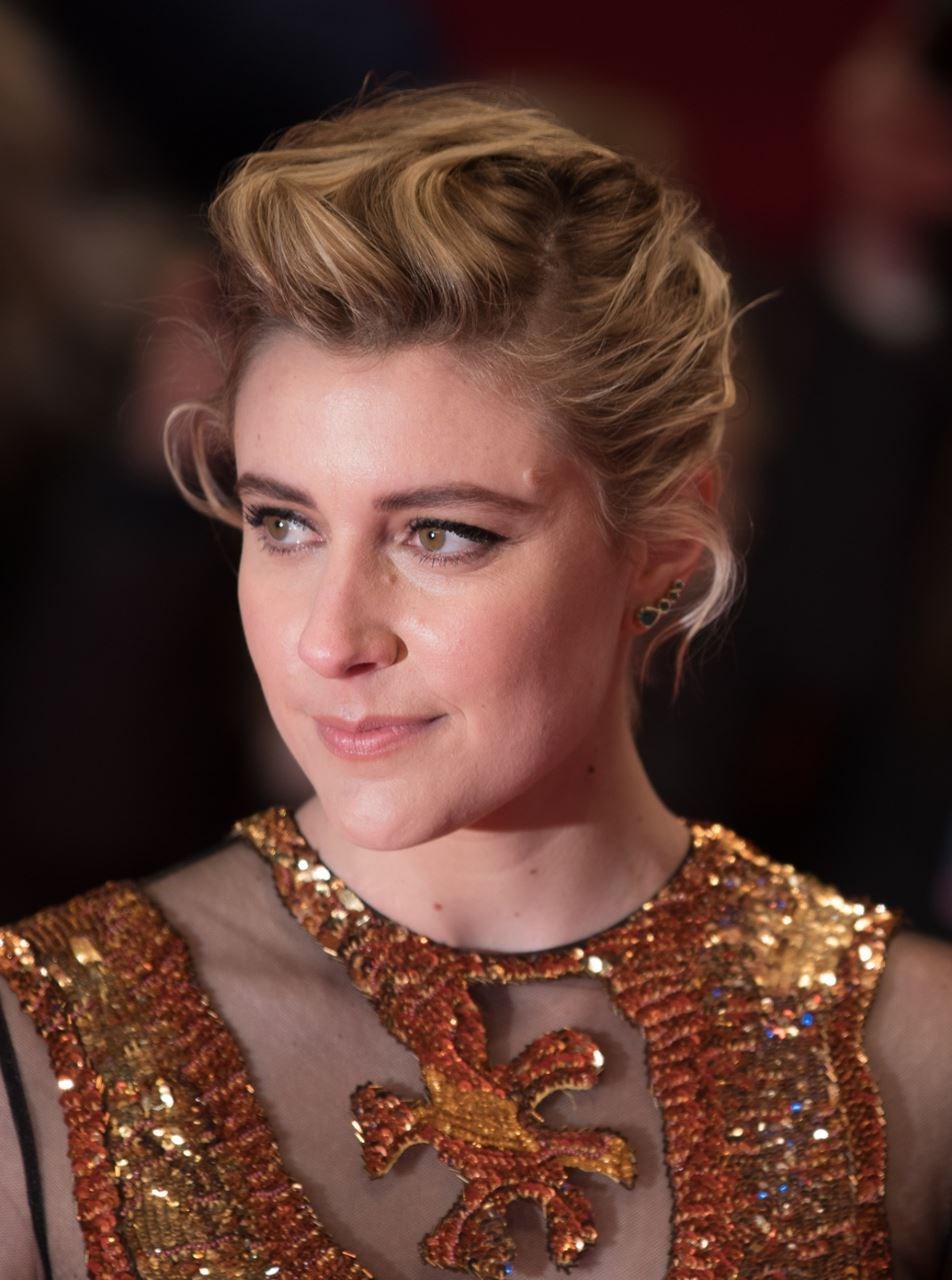 Greta GerwigMartin Kraft, CC BY-SA 3.0 via Wikimedia Commons
Greta Gerwig was only the fifth woman to be nominated for a Best Director Oscar in the award show's ninety-year history. She was nominated for Lady Bird (2017), her solo directorial debut. She has written and directed another film, the 2019 adaptation of Little Women, and acted in a number of movies throughout her life, the most notable of those being Frances Ha (2012) and 20th Century Women (2016). Writing and directing two blockbuster films, along with balancing a successful acting career, is no easy feat. Gerwig's work ethic and natural talent have definitely played a role in her success, as well as her ability to connect with her audience. She is also an incredibly creative individual, using her ingenuity to make films that impress and resonate with her audience. She is determined to be the very best that she can be at her job, and her passion for acting and filmmaking allows her to fully throw herself into her work, making the results of her efforts that much more meaningful. All of these traits are reasons why Gerwig is an individual who can inspire many and why she is a person that the community should look up to. Greta Gerwig's creativity, determination to be successful in her career, and passion for her livelihood are the reasons why she is my hero.
Greta Gerwig is an imaginative artist who uses her creativity to sculpt and bring to life ideas and final products that are greatly enjoyed by her audience. Ever since I first watched Little Women in theaters, I was in awe of how modern yet true to its time it was. After looking into it and understanding how Gerwig was the sole writer and director of this film that I loved so much, I found myself fascinated with her ability to create a film as fun and imaginative as Little Women is. I am very impressed by creative individuals because I think that so much good can come from creativity. Watching someone use their imagination to connect with others and make others happy is something that I find really admirable.
Gerwig takes advantage of her creativity when it comes to acting. When preparing for her role in 20th Century Women, Gerwig found the connection that she felt with her character to be beneficial when it came to her creative process. "As you know, as an actor you're not always sitting there and saying, 'I've chosen to do this thing or that thing.' So much of it is what comes to you, [and] that feeling of, 'I want to protect this person'" (Mahershala...). Gerwig's creative process as an actor is something that works for her and allows her to maximize the reward she gets from the role. She uses her creativity when acting to create a final portrayal of a character that she feels proud of and that her audience appreciates and feels connected to.
Gerwig's ingenuity is useful in devising written works as well. She feels the need to be private in the early stages of her writing. "I've found that if I can explain it to someone early, it's going to be terrible. You have to give the hunch time to grow in the dark, because otherwise—let's say you pitch it to a friend really early—it dies" (Coppola). This sort of solitude is something that Gerwig realizes is important to harboring her creativity, so she takes advantage of that knowledge to allow her to write in a way that truly fulfills her. Ever since she was young, Gerwig has preferred to write in places you wouldn't expect to find someone writing, like on the bus, at a dentist's office, even in chemistry class. For her, though, it works. "'I enjoy feeling as if I'm stealing it from the world,' she says, 'like I'm getting away with something. If it becomes too formal, I'm sunk. I need to be a bit clandestine'" (Malle). Having this kind of awareness about herself and how she best works creatively helps Gerwig to reap the largest reward she can from her natural originality. Gerwig also has a set of ideas that specifically help her to write scripts. In this quote, she describes the thought process she went through when writing the script for Little Women. "I like a lot of structure and a lot of lines, but then within that I make room for things to happen that you couldn't have predicted" (Coppola). She designed this script in a way that she felt allowed accidents to happen, because, for her, one of the best things about film is the way it can capture creative moments that she didn't expect to take place.
This desire for spontaneity continues into Gerwig's directing. When she was directing on the set of Little Women, Gerwig created a space in which the actors could connect with the dialogue while saying the lines in a way that reflected the chaotic authenticity of the March household (the Marches being the family the plot of Little Women revolves around). "Gerwig kept her camera in constant, restless motion and quickened the pace of Alcott's dialogue: 'I wanted to hear all the lines traditionally, but said at the speed of life,' she says. 'Great things said with irreverence'" (Malle). Gerwig has a way of making the moments in her films where lots of characters are interacting with each other all at once feel so real and honest, perfectly chaotic in a way that makes it seem impossible that the lines were scripted and the scene was staged. Without her guidance, the actors in these scenes wouldn't have been able to create such an impressive final product that accurately reflects the dynamic of a bustling household. Gerwig used her creativity and imagination when directing to allow the creativity of her actors to flourish.
In the end, the abundance of creativity that Gerwig has when manufacturing a film forges a product that is adored by its viewers. Her partner and fellow director Noah Baumbach recognizes that a film like Little Women is something that only someone as creative as Gerwig could have made. "'When I watched the first cut of Little Women,' says Baumbach, 'I felt like you know exactly why this movie's being made, because it's so personal. It both serves the story and honors the book, and then is really something that only she could do'" (Malle). Gerwig's ability to connect her personal experiences with the films she creates is something that is incredibly difficult to do, but Gerwig is able to do it extremely well. Her unique processes, both as an actor and a writer-director, allow her to portray experiences on-screen that her viewers feel personally connected to. She uses her creativity to make stories that people around the world can enjoy, which is something truly commendable.
Gerwig's determination and work ethic are what allow her to bring her creative ideas to life. Determination is something that I value because it's really hard to achieve something truly great if you aren't determined. If you are determined to do something, chances are you will be successful in doing that thing, but it is very hard to find and keep determination. I respect Gerwig for her ability to use her determination to create things that can have such positive impacts on others. When Gerwig was first getting interested in directing and screenwriting in college, she made sure to put lots of effort into understanding all of the aspects of how films are made. As Gerwig described: "I was acting, but I was also conceiving the plots and operating the camera when I wasn't onscreen or holding the boom and sitting there at night looking at how it would be edited together" (Coppola). Her determination to be successful in her job and in her jobs in the future was what drove her to putting so much work into learning all that she could about the thing that she loved. She still had this much determination to understand the behind-the-scenes aspect of a film set when she was booking acting jobs in Hollywood, like on the set of the 2012 film Frances Ha. "But for all that she put into the performance, she was working overtime after her scenes were done, loitering on set to take notes on the lighting and production design" (Berman).
Her determination to become a director was what led her to her success on that career path. Even once she had achieved her dream, she still put so much effort into making sure that she was as outstanding a director as she could be. On the set of Lady Bird, her solo-directorial debut, she wanted to make sure that every aspect of the film was as well thought-out as possible, especially the characters in the movie. "I also wanted it to feel like every single character in the film mattered, even the ones who only had a couple of scenes. So I had at least one conversation with everyone, where we would talk, and they would give me their ideas, and we'd build something that had a backstory, so that nothing felt sketched. Everything felt full" (Coppola). In this way, she was determined to make sure that everyone on the set of her movie felt like they had a place, felt like they mattered. She was using her determination to make others shine.
Gerwig's tenacity also aided her in the editing process. While working on editing Little Women, she was still able to notice minor things that could be fixed even though she had recently given birth to her first child and most of her time then was spent caring for him. "Gerwig is concerned about a metallic patch of sky above the tree line. 'That silver—can we get rid of it?'" (Malle). She was so set on having this film be the best it could be that she was willing to work incredibly hard on it while also balancing many other things in her life. Gerwig's determination to follow her dreams and create films that will be greatly appreciated by others, no matter how difficult it may be, is something that is really inspiring and impressive to me.
In the end, Gerwig's passion for her profession is the key to her happiness and success. Following your passion is something that takes a lot of bravery, so I admire it when people are able to harness their passion for something and use it to create something that makes others happy. Because of her passion for filmmaking, Gerwig is able to make impressive and beautiful movies that bring joy to others. From the start, Little Women was a film Gerwig felt very strongly about making. "...and I heard from my agent that people were meeting about Little Women. And I said, 'oh you have to get me a meeting. I have to write and direct that film'" (Girish). She knew that she wanted to create that film, so she took her passion for it and it used that passion to make it a reality. In one interview, Gerwig talked about the connection she felt with the character Jo March from Little Women ever since her childhood. "I don't know if I was like Jo and that's why I loved her, or if I made myself like Jo because that's who I loved. Did I want to be a writer and then find this character? Or did that character make me want to write?" (Girish). Either way you spin it, her passion for this novel in her childhood led to her making an incredible film in her adulthood. Without this passion and personal connection to the story, there's no way that Gerwig's film would have been as heartfelt and honest as it was. She not only felt a strong connection with the novel and its characters, but also the novel's author, Louisa May Alcott. "Gerwig felt such a kinship with Alcott (at 36, she is the same age as the author when the novel was published) that she had an astrologer compare their charts. 'Because so much of making art requires some amount of mysticism,' she says" (Malle). Gerwig found multiple ways to include her passion for the source material into the construction of the film, making the film much more personal and honest.
Others around her are able to witness the results of Gerwig's passion for her job. Meryl Streep, one of the actresses in Little Women, observed the connection between Gerwig and her film: "'It's epic personal filmmaking,' says Meryl Streep, who plays 'the old battle-ax' Aunt March. 'It's very much the author's tale, and as a result it's hers,' she says" (Malle). Because Gerwig feels such an attachment to Alcott, she is able to portray Alcott's personal story in an effective and authentic way. Gerwig's partner Noah Baumbach says that it brings him lots of joy to watch Gerwig do something that she enjoys so much. "'In general, it was an exciting year,' Baumbach says. 'I'd show her a cut of my movie, and then a few months later, I'm watching her movie. I don't want to sound sickeningly happy, but it's a truly great thing to watch someone you love make something and love the thing they make'" (Malle). Like Gerwig, Baumbach understands the joy you can get from doing something you are passionate about, so getting to watch someone so special to him follow her passion is something that he delights in. Gerwig's passion for filmmaking allows her to be able to put work and effort into making the best films possible. Because of this, she is able to look at the final product and be proud of what she accomplished. She throws herself into her projects wholeheartedly and uses her passion for her career to make the set more enjoyable for everyone else. She is willing to put time and effort into her work because she truly enjoys it and wants to create something that her audience will revel in.
Greta Gerwig's creativity, determination, and passion for her career are not only the reasons why she is my hero, but also reasons why she is a person we need to look up to today. She is a living example of how far being passionate about what you are doing can get you. If she wasn't as interested in filmmaking as she is, there is no way that she would have been able to make a successful, but most importantly, enjoyable career out of it. Her natural creativity and intense determination were what made it possible for her to follow her passion, and in the end she benefited immensely from being a hard working and open-minded person. In addition to building a great career for herself, Gerwig has also inspired many others around her with her work and her personality. One day while at the airport, Gerwig was approached by a fan: "She said, 'Thank you for your movies. I want to make movies.' Gerwig... made the young woman look at her and promise to her face that she would make them. 'She was like, 'I'm trying to,' and I was like, 'No, no, no. Go make it!'" (Berman). Gerwig has used her success in the industry to help encourage others to follow their dreams in the film industry. She knows that true happiness and success comes from pursuing your passions, so she does what she can to make sure that others understand that. Over the past few years, Greta Gerwig has been someone who has really inspired me, and it makes me happy to know that she has inspired so many others as well. Gerwig is a great role model for many people, and her films have brought so many people so much joy, making her one of the people who I admire most. She has shown me that it pays off in the end to do something that you love, and I hope that that knowledge will be something that I carry with me for the rest of my life.
Bibliography
Berman, Eliza. Leading by Example: How Greta Gerwig Upended Industry Expectations with a Movie about the Life of a. Time International (South Pacific Edition).2018. vol. 191, no. 10, pp. 38–43
Coppola, Francis Ford. Greta Gerwig. Interview.2017. vol. 47, no. 9, pp. 22–118
Girish, Devika. Life's Work. Film Comment.2019. vol. 55, no. 6, pp. 24–31
Unknown, Unknown. Mahershala Ali & Greta Gerwig. Variety.2017. vol. 334, no. 13, pp. 26–29
Malle, Chloe. Labor of Love. Vogue.2020. vol. 210, no. 1, pp. 78–102