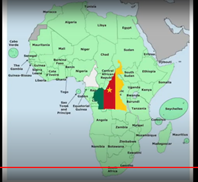 Groovy Africa SongSanta Barbara Middle SchoolIn Santa Barbara Middle School's 7th grade Human Geography class, students were given an open invitation to "show" how they could best learn to name all the countries in Africa. Struggling to do so, Malina, Mia, Paia and Peyton came up with the notion of writing a rap. The result, Groovy Africa Song a catchy tune set to the backdrop of a short educational film, has won first place in the Middle School Category in the MY HERO International Film Festival.
How did the project come about?
For a geography test, we were required to memorize 15 countries in Africa. We wanted to go above and beyond and memorize all of the countries in Africa. We were struggling to memorize all 54 countries in a short period of time, so Malina had the idea to make it rhyme. Malina and Mia started working on coming up with rhymes for each country. Later, the idea came about that we should make it into an entire song. Our teacher Marco suggested that we should enter our song into Song Fest, a musical variety show put on by students in our school. That's where the film got a lot of its recognition. Mia decided to make the background beat in GarageBand and helped with the lyrics. Peyton and Paia decided to help us make a film. The four of us met up and filmed the Groovy Africa Song video. Malina finished off the project by editing the film.
Why did you choose the subject matter?
We chose the subject matter because we wanted to learn the countries of a continent that was not widely known. When we posted it on Youtube, we thought that other people could be inspired by this and learn all the countries of Africa. For example, a classmate's mom even used the song to remember all the countries!
Who encouraged you to create the film?
We were encouraged by our amazing teachers and classmates. We were mostly encouraged by our Spanish teacher, 7th grade dean, and music teacher: Marco.
Did you get any help?
We didn't get any help, which is something that made us all very proud.
How long did it take to make?
The song took a couple days to write and edit, and we filmed everything in one day. The editing and soundtrack took a little more than a week to completely finish. Overall, it took about 2 weeks from start to finish.
Have you made any other films?
This is the most complete film that we have made, but we have each made a few iMovies and casual videos here and there. Together, we wrote a complete script for a murdur mystery with our friends!
Can you tell me a little more about yourselves - ages, likes, interests?
All of us are 13 and in 8th Grade at Santa Barbara Middle School. We bonded in 7th grade when we were all in the same tight-knit cohort due to Covid.
Peyton is an avid athlete and plays club soccer as well as some other sports on the side. According to the group, she is hilarious, stubborn, and very athletic. She loves watching Survivor in her free time.
Malina plays club soccer with Peyton and enjoys sports as well. She also plays futsal (indoor soccer.) She loves art, music, and is in a Girl Scout troop. The group would call her a leader and very enthusiastic.
Paia plays recreational soccer in her free time also! She is a pickleball pro, a super talented guitar player and singer, and is always smiling! She loves nature and animals.
Mia is quite a character. She is very athletic and plays water polo and lacrosse. She is a cello player and an amazing singer also. She also performs in theater and loves art. Mia and Malina are both sparkling water enthusiasts.
Do you intend to do any more films and if so what about?
We hope to make more groovy songs and videos in the future. We are certainly interested in making films about other continents. Something we would like to focus on is diversity and inclusiveness.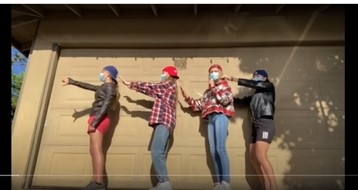 Malina, Mia, Paia and PeytonSanta Barbara Middle School
MY HERO would like to congratulate these talented, young, egalitarian filmmakers and to applaud the staff at Santa Barbara for their encouragement. We look forward to receiving more of Malina, Mia, Paia and Peyton's work in the future.
Page created on 11/19/2021 11:52:22 AM
Last edited 11/19/2021 7:05:38 PM