EVA HALLER: A WORK IN PROGRESS PREMIERES @ SBIFF THIS FEB 10th at 5:45 pm
SANTA MONICA, CA – 1/25/16 - "Eva Haller: A Work in Progress" is an official selection of the 2016 Santa Barbara International Film Festival. The film produced by The MY HERO Project shares life lessons from the 85-year-old holocaust survivor who has spent her life as an activist and philanthropist.
As a child, Haller, aged twelve, joined her older brother John in the Hungarian Resistance, distributing anti-Hitler leaflets. While she was able to convince a Nazi officer that she was too young to die, her brother did not survive the war.
After the war, Haller escaped
Soviet
occupied Budapest to Ecuador, before landing in New York City. She cleaned houses while earning a masters degree in social work from Hunter College. In 1965, she paved the road to her future as an activist by joining Dr. Martin Luther King's march in Selma, Alabama with her son.
Today, Haller, who is radiant, spends her time in Santa Barbara and New York City with her husband, Dr, Yoel Haller. The two have many children, grandchildren, and a growing adopted family. They have shared great adventures together over the past 20+ years and recently celebrated their combined ages "170th Birthday" at the new campus of Glasgcow Caledonia University in NYC.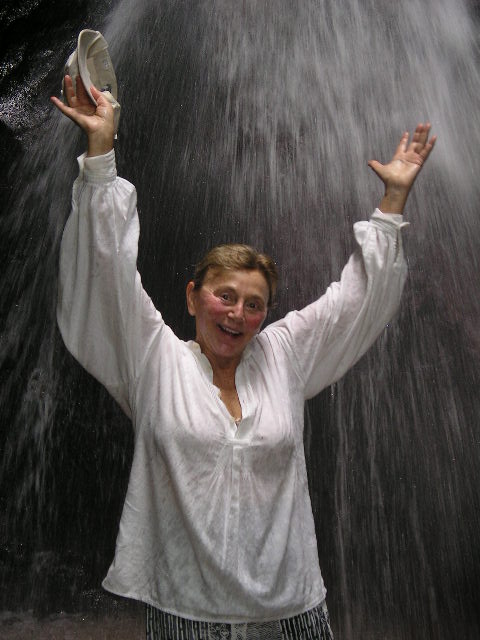 In 2013, Haller received an honorary doctorate from Glasgcow Caledonia University by the University's Chancellor, Muhammad Yunus. Forbes Magazine honored her in 2013 for her work as a mentor and philanthropist. Haller serves as a board member for organizations that include: A Blade of Grass, Video Volunteers, Free the Children, Sing for Hope, Asia Initiatives, Creative Visions Foundation and the Rubin Museum of Art. Eva has served on the boards of Jane Goodall's Institute, Women for Women International, The Sunny Center in Ireland and more. In addition, she is a long standing trustee of the University of California at Santa Barbara Foundation Board.
The MY HERO Project is a 501(c)(3) organization dedicated to shining a light on the best of humanity, one story at a time. MY HERO's free, globally accessible database hosts the world's largest archive of hero themed stories, short films, music and art. For more information, please visit our website
(www.myhero.com).
Eva Haller: A Work in Progress
February 10th & Feb 13th @ 5:40 pm
For information about the Santa Barbara International Film Festival please visit their website: SBFF.org
Page created on 2/8/2016 12:00:00 AM
Last edited 11/10/2017 12:06:31 AM