Champion figure skater Scott Hamilton has proven that there is no challenge too big to overcome. The 1984 Olympic gold medalist has managed to put a positive outcome on every adversity he encounters. Throughout his life, Scott has battled health issues, the loss of his mother, and the strain of heavy training and competition, and yet he has always managed to stay active and embrace life.
Scott grew up in Bowling Green Ohio, the adopted son of two teachers, Ernest and Dorothy Hamilton. His father was a professor of biology at Bowling Green State University; his mother was a grade school teacher and then a marriage and family relations counselor at the university. Dorothy encouraged and inspired many young people and couples, and also proved to be one of Scott's biggest sources of support and inspiration early on.
For the first part of his childhood, Scott was shuffled from one hospital or doctor's office to another, trying to find a cure for an unknown disease that made him stop growing at the age of two. He had his mom by his side, his advocate and friend, who exemplified the spirit and determination we now see in Scott. Although unwavering in their efforts to get young Scott Hamilton growing again, the doctors eventually had no other choice but to send him home to begin living life as a normal kid. It was at this time that Scott first stepped onto the ice.
Soon Saturday skate time at the university rink grew into daily practice, and, with this combination of skating and a regimented diet, Scott began to grow once again. He would never catch up to his peers in height, but he could catch up—and speed past them—in skates. Still considered short and scrappy, Scott threw himself into skating; on the ice he was fast, confident, and talented. His size became an asset for him.
With hard work and the support of his family, Scott's skating career blossomed. He skated in national competitions, consistently ranking in the top of his divisions. With all his talent and all the opportunity that Ernest and Dorothy helped to supply, Scott didn't have the Olympic dream that you would imagine a skilled and determined young athlete would have. All that changed when Scott's mother died of cancer. At that point, he determined that he would become a world champion and honor his mother for all of her perseverance, strength, and integrity.
In 1980, Scott was honored to carry the American flag for the 1980 Olympic Team at Lake Placid's opening ceremony. Aside from the excitement exuding from a young first-time Olympic athlete, the opening ceremony may have been the high point for that year; Scott finished 50th in the skating competition. Four years later, with wins in every national and world competitions, Scott won the gold in the Sarajevo Olympics. Along with an Olympic gold, Hamilton has won numerous national and world titles, and has been inducted into both the Olympic Hall of Fame and the World Figure Skating Hall of Fame.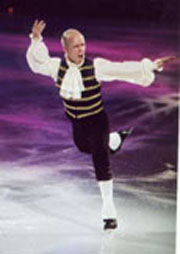 Having grown accustomed to overcoming adversity in the rink, Scott tackled the next phase in his skating career with gusto. Disappointed and frustrated with the lack of opportunity for professional male skaters, Scott took action. In 1986, he founded a professional figure skating tour. This tour would later be named Stars on Ice; it was one of the first outlets of its kind to provide male and female skaters with an outlet for a professional career performing on the ice.
The next challenge for Hamilton threatened his life. In 1997, he was diagnosed with testicular cancer. He fought the disease (now considered cured) with the same exemplary grace and boldness he displays on ice and became an inspiration to a whole new audience of people. As Scott moved forward in his career and life, he married wife Tracie in 2002 and they welcomed a son, Aidan, the following year. It looked like all was going well for Scott, and that life back in his now hometown of Englewood, Colorado was returning to normal. All that changed when Scott began to feel week and noticed that his vision was getting blurry.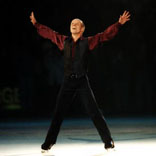 Doctors found a large unidentifiable tumor in Scott's brain. Tests showed that it was slow growing and non-cancerous, and had been growing for quite some time. These findings may provide some answers to the illness he suffered as a child, but it is not the answers on which Scott thrives, it is on his optimism. For Scott, this latest medical scare offered an important reminder that life is a gift, and supplied an opportunity to educate more people.
Scott's experience in the ice rink and with cancer is helping millions of people. He works with the Special Olympics, serves as a lifetime spokesperson for the Cleveland Clinic Taussig Cancer Center, and has founded the Scott Hamilton CARES initiative, a website that reaches out to cancer patients to help them better understand their disease and treatment. When Scott was going through his own cancer treatment, he found that most of the information available online was written in medical terminology; it was more intimidating than helpful. He set out to build a remedy. The result is a website that educates, inspires, supports, and brings together cancer patients and survivors, and their families.
Page created on 8/7/2008 10:29:39 AM
Last edited 1/7/2017 12:01:23 AM
Related Links
The Scott Hamilton Cares Initiative:
- This site offers information about cancer and cancer resources
Chemo Care:
- Provides the latest information on chemotherapy for cancer patients and their families and friends
Stars on Ice:
- The official site of Scott Hamilton's celebrated skating tour
US Figure Skating:
- For skating fans and professionals, US Figure Skating is the official organization for the sport
Academy of Achievement
- Read an interview with Scott Hamilton. The Academy of Achievement brings students face-to-face with the extraordinary leaders, thinkers and pioneers who have shaped our world.
Extra Info
Read what other visitors to myhero.com have to say about Scott!
Becca from South Portland, Maine U.S.A My hero is: Scott Hamilton. Scott Hamilton is my hero because of all the trageties in his life makes me feel proud that he made it through all of them.He had a lot of problems when he was younger. He just over cancer and he's back on the ice. Even though I can't skate very well, I have fun and enjoy it. If I fall down I get up and try again.


Juliet Capulet from Halifax, Canada My hero is: Scott Hamilton. He's a fantastic, professional figure skater who just went through cancer but is now skating again. He's my favorite skater and I think that he is a hero because he is one of the best skaters in the world and still skating now at his old age.


Sarah from Midland, ON Canada My hero is: Scott Hamilton. Scott is my hero because he beat cancer and started to skate again even though it hurts him sometimes to do it. He has such bravery and confidence that anyone who has this disease should go and see him because he can brighten your day in such a way that it will make you smile and want to fight as hard as you can. Now every time I see him skate it brings a tear to my eye because I have such respect for him and I know how hard it is to get back on the horse to do something that means so much to you.
The Scott Hamilton CARES Initiative
The Cleveland Clinic Taussig Cancer Center
9500 Euclid Avenue/R36
Cleveland, OH 44195
800-440-4140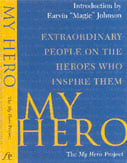 Scott Hamilton contributed his hero story to MY HERO: Extraordinary People on the Heroes Who Inspire Them. Your purchase of this book helps to support this not for profit educational web project.