Have you ever looked into the eyes of a child suffering cancer? Tara and Dennis Lawrence have over and over again and decided to do something to help these children. To let them know that they are not forgotten and to let them know that they have friends all over the world who care!
In 1992, Tara and Dennis Lawrence lost their grandfather to prostate cancer. Tara decided to turn a very sad event into something positive in their "Pa's" honor. She started to volunteer at her local American Cancer Society. After working at many different ACS events, Tara had the opportunity to meet children fighting cancer. These children all had one common statement, they hated to lose their hair to chemo treatments. So in 1996, with that in mind Tara began "Hats Off For Cancer," a international non-profit program that collects and donates hats to children suffering cancer. Tara started to write letters to local companies hoping to just get 500 hundred hat donations to help her local ACS. Little did she know, that her program would snowball!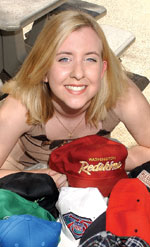 Today with over a half-million hats donated to children on five different continents, "Hats Off For Cancer" has been recognized as the original and leading hat donation program around the world for children with cancer! This program has been the catalyst for many like programs around the country today.
Celebrities, sports figures, corporations, schools, universities, sororities, fraternities, boy scouts, girl scouts, churches, temples, politicians, medical schools, United States service organizations, civic organizations, and even the FBI have all held hat drives to help with Tara and Dennis' cause.
Dennis was always the quiet force behind Tara throughout the years. As the younger brother by six years, Dennis was the one who would work alongside Tara to help collect the hats, carry the hats, visit the many hospitals to hand out hats and just help with general duties to make Hats Off the program that it is today. Dennis is now the National Hat Drive Coordinator for their program.
Tara has been recognized by President Clinton and President Bush for her unfailing devotion to children fighting cancer. Tara received the 1998 National Youth Caring Award, the 1999 "Shining Example Award" sponsored by Pantene, the ACS Youth Advocate Award, and the Jefferson Award. Dennis was recognized by President Bush for his countless hours of volunteer work as well as a Congressional Certificate of Recognition from Rep. Darleen Hooley of Oregon.
Mayor Rudy Giuliani of NYC determined that Hats Off For Cancer was such a wonderful program that he organized a special "Hats Off For Cancer Day" in NYC in 1999. Mayor Ed Rendell followed suit and did the same for the City of Philadelphia, also known as the City of Brotherly Love. What could be more appropriate that this city saw Hats Off For Cancer as a program deserving their own special day of recognition!
Tara and Dennis have both had the opportunity to meet with many celebrities to talk to them about Hats Off and receive special autographed hats for children who are big fans. A request for a signed hat from Britney Spears came from a young girl fighting cancer in Doernbecher Hospital in Portland, Oregon. Tara and Dennis were excited to present this wonderful girl with her "special gift" right before Christmas just a few years ago. N'Sync learned of Hats Off for Cancer and invited Tara and Dennis to one of their NY concerts! They presented several autographed hats to Hats Off and spent a bit of time talking with Tara and Dennis about the program and the wonderful work that they are doing. Tara and Dennis also got to meet with Rosie O'Donnell when Tara was invited to introduce the Rosie O'Donnell Show on national tv. Rosie was kind enough to send hats to help the program.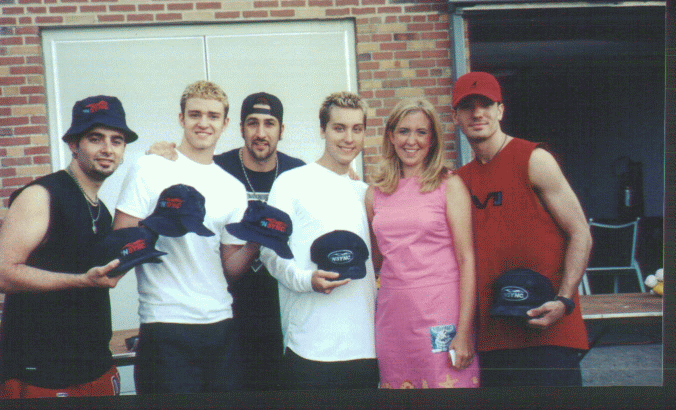 Besides the opportunities to meet celebrities, they both continue to speak at many different public forums about "Hats Off For Cancer." Just recently, Dennis was named Portland Oregon's NBC television channel's Hero of the Week. The station highlighted the work and speaking engagements that Dennis has been involved in to bring attention to Hats Off as well as hat donations. In the last month, Dennis has personally collected over 4500 hats through his efforts to increase awareness of children fighting cancer. Dennis was proud to present a check for $1,000 to Legacy Emmanuel Hospital in Portland, Oregon for their "Hip-Hat" purchases for children who could not afford such a luxury.
Hats Off For Cancer has reached out to many far corners throughout the world. Hats Off was proud to be a part of the opening of a new Cancer Outpost in Honduras through the donations of hats. Hats Off was approached via their website by a Miami ACS representative bring medical supplies to this new outpost. She wrote that it was important for these children to have hats to cover their head during their long walk to the new clinic. She explained that before the new clinic was opened the old clinic required a 1 1/2 day walk for the children to receive their cancer treatments. With the opening of the new clinic in Honduras, they "only" had to walk 8 hours. The children needed hats to cover their heads during this long and tiring trip. Hats Off not only sent hats but included personally written notes in Spanish to each child to let them know that they were not forgotten!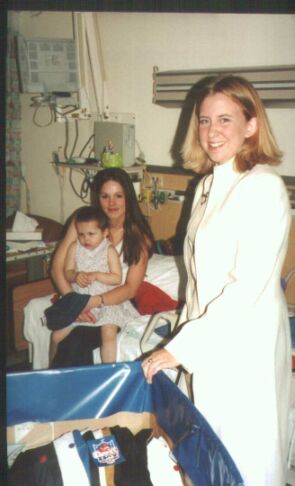 The Hats Off website has received thousands and thousands of emails requesting hats from hospitals, camps and families across the world. Hats have gone out to hospitals, summer camps, ACS units, personal requests, foundations, and Ronald McDonald Houses to children around the world. Canada has formed their own Hats Off program and works under the international umbrella! Japan, Australia, and Africa, have all contacted Hats Off International to ask how to hold a hat drive and how to help their country's children with this terrible disease. Hats Off for Cancer has been included on many cancer support websites as an important link for families dealing with cancer. The Hats Off website at www.hatsoffforcancer.org will continue to provide a way of communication for the many people who need the service of this program or as a way for people to write and say "God Bless you for your hard work and dedication to children fighting cancer!"
I invite you all to visit the Hats Off For Cancer website to learn more about Hats Off and how you, too can help children fighting cancer. http://www.hatsoffforcancer.org
In Tara's eyes and in Dennis' eyes you will see two caring individuals whose commitment to others far surpass their own personal needs. But when you ask them who their true hero's are, they will tell you the hundreds of thousands of children they have sent hats to! The Hats Off motto, "Helping to make a child's day a bit happier and their smile's a bit brighter," explains the true mission of this program. It's all about the children fighting cancer!
A hero is someone who does something positive for another person. Tara and Dennis are my hero's! They have spent over 10 years on this program helping children all over our world without a complaint or thought to the many missed everyday childhood events that so many other kids take for granted. They have both spent several hours each day for the last 10 years making a success of Hats Off For Cancer. They say their reward is the face of that child when he or she receives that special hat! Life is good for Tara and Dennis!
Page created on 7/18/2015 7:02:31 PM
Last edited 1/5/2017 8:33:44 PM
Related Links
Hats Off for Cancer
- strives to bring awareness to childhood cancer, while helping to make a childhood cancer patient's smile a bit brighter and their day a bit happier.