Hayley Wickenheiser
by
Tessa Morrison

from

Cochrane , Alberta , Canada

''You've got to bring your best performance when it matters the most.'' -Hayley Wickenheiser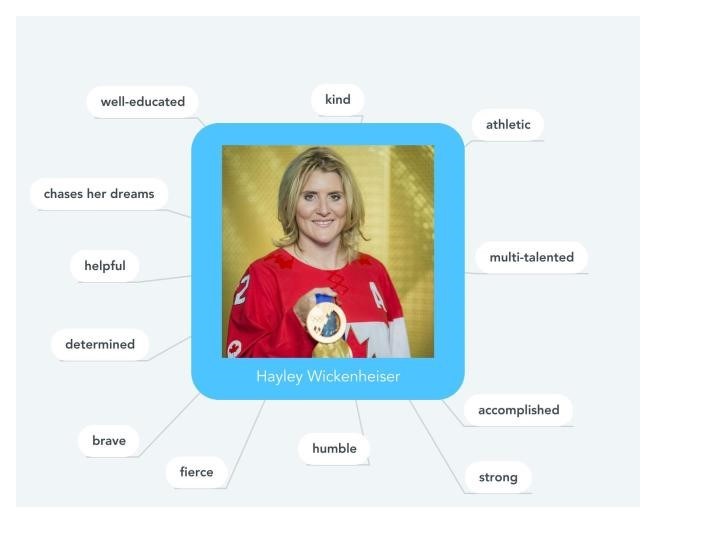 web page By Tessa Morrison
I chose Hayley Wickenheiser because she is a fantastic athlete. She played women's ice hockey in the Olympics, and she also played softball. She is also a huge inspiration for young female athletes like me! My book is an autobiography about how incredible of a role model she is. Hayley Wickenheiser wrote her book about her life from 15 to about 30 or 40. There are 240 unique pages in this book! This book tells her story from 1985 - 2019. This book was written on November 8th, 2022. Hayley is a four-time Olympic gold medalist and Canada's international goal leader. She has 168 goals, 211 assists, and 379 points. She was also the first woman to score a professional men's league goal.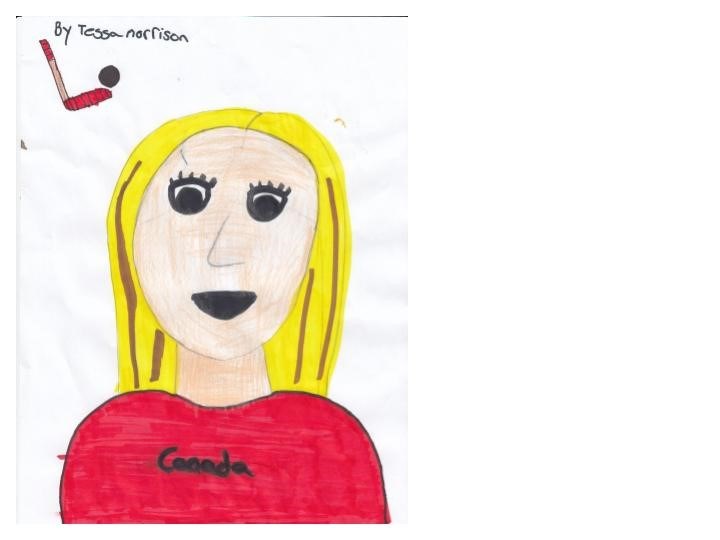 Portrait picture by Tessa Morrison

Hayley Wickenheiser was born in Shaunavon, Saskatchewan, and then, later on, moved to Calgary. Hayley has one son named Noah Pacina. Her parents are Tom and Marilyn Wickenhiser. Hayley attended Bishop Carroll High School, Simon Fraser University, and the University of Calgary. Hayley is very athletic. When she was not at school, she played hockey and softball. When she was little, she would watch hockey on TV with her dad, and after she was done, she would go outside and practice outside on their rink. Hayley once began training with a famous hockey player and trainer. On the first day, he was waiting for her on the treadmill. Eventually, she woke up at 4:30, arrived at 5:30 and beat him there. Hayley had a lot of dreams when she was young. Her goals were to be in the Olympics for Hockey and later become a Doctor. She accomplished both of those dreams. Hayley always wanted to be a Professional Hockey player and a Doctor. During hockey, she wasn't treated very well. The boys on her team didn't think she belonged, but she had grit and determination through those times, which made her never quit.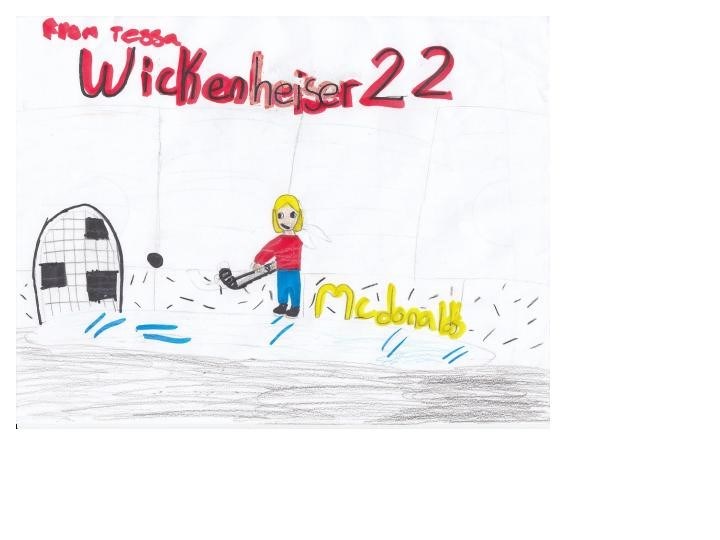 Action Picture by Tessa Morrison
Hayley had many challenges throughout her life. One was the only girl on her team. Her teammates didn't respect her, and even the parents didn't want her on their son's team. Hayley overcame these challenges by never giving up. She worked hard, constantly pursuing her dreams. Hayley succeeded a lot in her life. One of those times was when she became Canada's leader in all-time goals. Hayley has a lot of qualities: strong-minded, dedicated, passionate, hard-working, and open-minded. She does all of these daily. Hayley has a lot of difficulties in her life. One of them was a sad thing that happened in my book in the dressing room after they played a game. The American team was stepping all over the Canadian flag. Hayley has won seven Olympic gold medals and four silver medals. She has also won seven World Hockey Championships. She earned seven gold medals and three silver World Championship medals. Hayley has accomplished so much in her life.
There are a lot of things that I learned about Hayley Wickenheiser. For instance, I did not know that she wanted to become a Doctor at first, but now I do know. If I could meet Hayley Wickenheiser, I would ask these three questions: 1 How did you know you wanted to play hockey? 2 What was the best hockey trick you ever learned? 3 What was your favourite hockey team you played for? If I were Hayley's child, I would 100% want to be her daughter. She could be a terrific coach and help me become a fantastic hockey player. I liked this book. I learned a lot about Hayley Wickenheiser. A part that I liked was that she wanted to help people who were ill. I learned a lot about how good of a hockey player she is. There are a lot of lessons that I've learned. One is that she has taught me continually to follow my dreams and never quit. Others may not want to read this book because they may not like hockey or they're just not interested in her life of becoming a Doctor. I am very glad that I chose this book. This book could benefit me as a hockey player and a young athlete. After reading this book, I thought Hayley Wickenheiser is a role model to look up to because of how great of a person she is.
Page created on 3/1/2023 4:12:48 PM
Last edited 4/19/2023 6:59:53 PM
The beliefs, viewpoints and opinions expressed in this hero submission on the website are those of the author and do not necessarily reflect the beliefs, viewpoints and opinions of The MY HERO Project and its staff.