Helen Keller
by
Sofia K.

from

Montvale, New Jersey in United States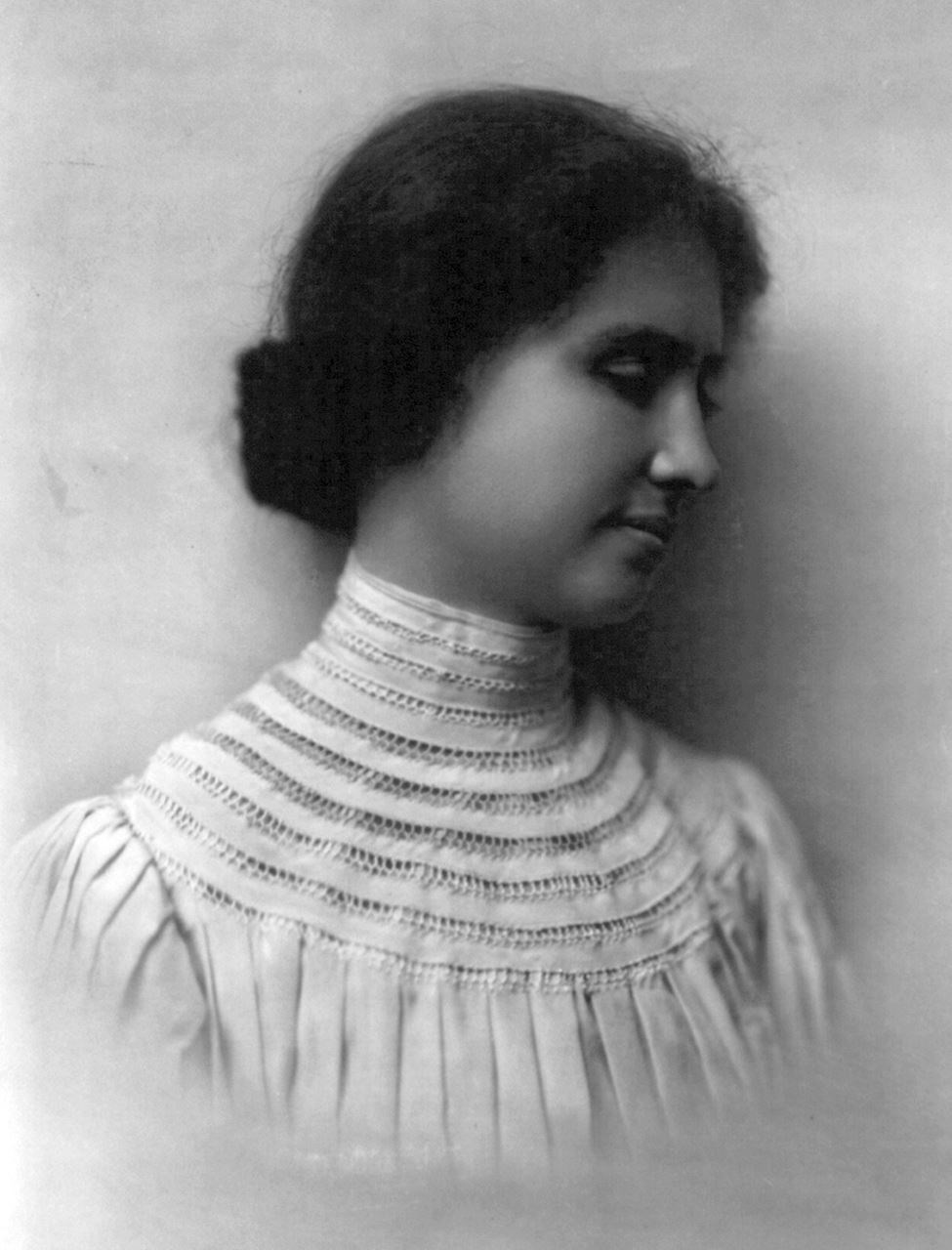 Helen KellerPublic Domain
Imagine not being able to see or hear for most of your life. This happened to Helen Keller and she faced many challenges. She had to be brave and strong every day, she helped people, and spread kindness. Helen Keller had many accomplishments like winning an Academy award for the documentary about her life.
Helen Keller was not born blind or deaf. She got sick with brain fever when she was one and a half. Because of this, Helen was in a deep sleep and when she woke up, her mother noticed she couldn't hear or see. A few years later, her mom knew that Helen Keller needed help. Her parents found a tutor named Annie Sullivan. Annie was also blind but she had this special treatment to help Annie with her blindness. Helen didn't get the treatment because her family couldn't afford it. Annie taught Helen that everything in the world had a name, and used fingerspelling with an old water pump. When Helen learned how to talk, no one could really understand what she would say. Later Helen learned how to read using braille. Braille is a writing system specifically made for blind people. Helen had a great relationship with Annie. Helen traveled and loved to play chess with Annie. She would speak with special hand movements. She was with Annie during most of the day.
Helen traveled so she met many people, including soldiers in World War 11. She also told the soldiers not to give up and became friends with Alexander Graham Bell, who created the telephone, and Mark Twain, a book author. In fact, Helen met the 13 presidents from Grover Cleveland to Lyndon Johnson! Helen wanted to help people and inspire people and give them hope, and she did. Helen joined the American Foundation for the Blind. She traveled the world giving speeches and raising money. At this point Helen won an Academy Award, an Oscar, for her documentary in a movie. She also wrote a book about Annie Sullivan and how she helped her.
Interestingly, Helen has the same birthday as me: June 27. She was born in 1880 in Tuscumbia, Alabama. Helen had no siblings. Finally, Helen died on June 1, 1968 in Arcan Ridge, Estan, Connecticut.
I don't know how Helen survived being blind and deaf for pretty much her whole life. She was so strong and was a great leader. I feel Annie was just as strong and amazing. This is the reason why Annie is called the Miracle Worker.
Page created on 1/16/2019 7:36:53 PM
Last edited 1/18/2019 9:00:11 PM
The beliefs, viewpoints and opinions expressed in this hero submission on the website are those of the author and do not necessarily reflect the beliefs, viewpoints and opinions of The MY HERO Project and its staff.