Helen Keller
by
Estella R

from

Montvale, New Jersey in United States

Helen Keller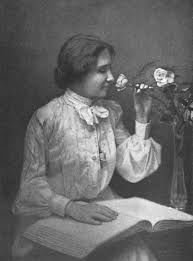 Helen Keller Wikimedia commons
Can you imagine being blind and deaf at the same time? It sounds hard to communicate with other people but it would be kind of cool to learn. This is the perfect thing for you to read if you want to learn about a very smart and inspirational person.
When Helen Keller was born, she was a healthy baby. When she was about one and a half years old she got very sick with a high fever and a bad headache for many days. Eventually her parents realized that something wasn't right and soon they noticed that she lost her sight and hearing when she was sick. As she got older, her mom and dad hired Annie Sullivan from the Perkins Institute for the Blind in Boston. Annie taught Helen words, how to spell, and how to read. When Helen mastered that, Sarah Fuller was hired to help Helen learn how to talk. Sarah taught Helen how to feel sound vibrations by placing Helen's finger on her lips them. Sarah said a word then she put Helens hand on her own lips and repeated the word.
Helen attended Radcliffe College for women in Massachusetts when she was sixteen years old. There she wrote many articles and latter her articles were published in a book called The Story of My Life. She also published a book called The World I Live In. Later in her life, Helen met with people like herself. She wanted to inspire them not to give up on something and she joined the American Foundation for the Blind. She also met with wounded army soldiers from World War ll and wanted to give them hope.
I think Helen Keller is a very inspirational woman considering she never gave up on anything and helped other not give up. She is a hero because she inspired other people to do great things by doing something great herself.
Page created on 1/16/2019 7:38:07 PM
Last edited 1/16/2019 7:57:05 PM
The beliefs, viewpoints and opinions expressed in this hero submission on the website are those of the author and do not necessarily reflect the beliefs, viewpoints and opinions of The MY HERO Project and its staff.