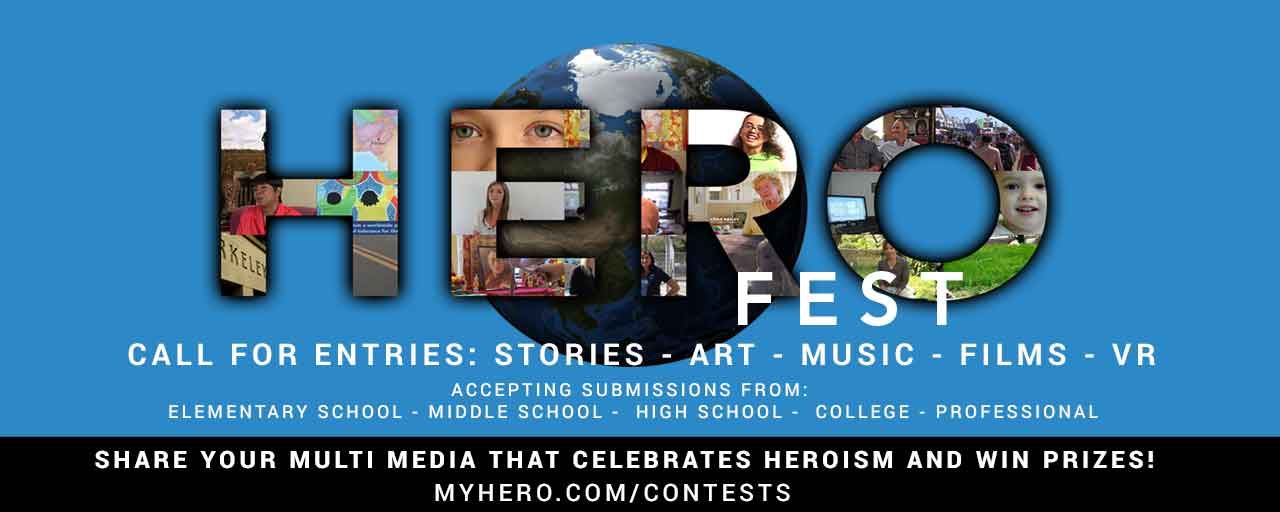 CONTACT: WENDY MILETTE FOR IMMEDIATE RELEASE
[email protected]
949.376.5964
LAGUNA BEACH, CA - MARCH 8, 2018 - Call for Entries - LAGUNA BEACH HERO FEST
Seeking inspiring short films, art, songs celebrating heroes around the globe. Honor those working for Human Rights - Peace - Environmental Activism - Social Justice - Arts & Science Heroes – Community & Family Heroes -
Students and Community Members are invited to submit original work to The MY HERO Project by registering online. myhero.com/register
Special Prizes for Student Work!
Awards will be given to students of all ages for original Art, Songs & Short Films.
Short Films
Prizes will be awarded for classroom projects as well as individual work for short films 10 minutes or less. Categories include: Documentary - Narrative - Music Video - PSA - Experimental - Animation – VR.
For more info: myhero.com/herofest-films
Art
Prizes awarded to student artists in Elementary-Middle-High School- University for Portraits and Illustrations of Heroism, Personal, Local and Global.
For more info: myhero.com/2018artcontest
Songs
Prizes will be awarded to students and classrooms. Celebrate unsung, local & global heroes with original songs & music videos.
For more information: myhero.com/SongContest
DEADLINE MAY 1ST! Details for submissions: myhero.com/contests
The 11th Annual Laguna HERO FEST will be held on June 2nd at the Forum Theater at the Festival of the Arts grounds at 7 pm.
This year, our theme is a focus on global heroes! Join us for this family friendly celebration. Short videos, digital art and original music will be showcased.
Forum Theater Address: 650 B Laguna Canyon Road, Laguna Beach, CA. 92651
Details for the 2018 HERO FEST event: myhero.com/hero-fest
Page created on 3/8/2018 7:11:56 PM
Last edited 3/8/2018 8:03:22 PM