"What we have to do... is to find a way to celebrate our personality and debate our differences without fracturing our communities."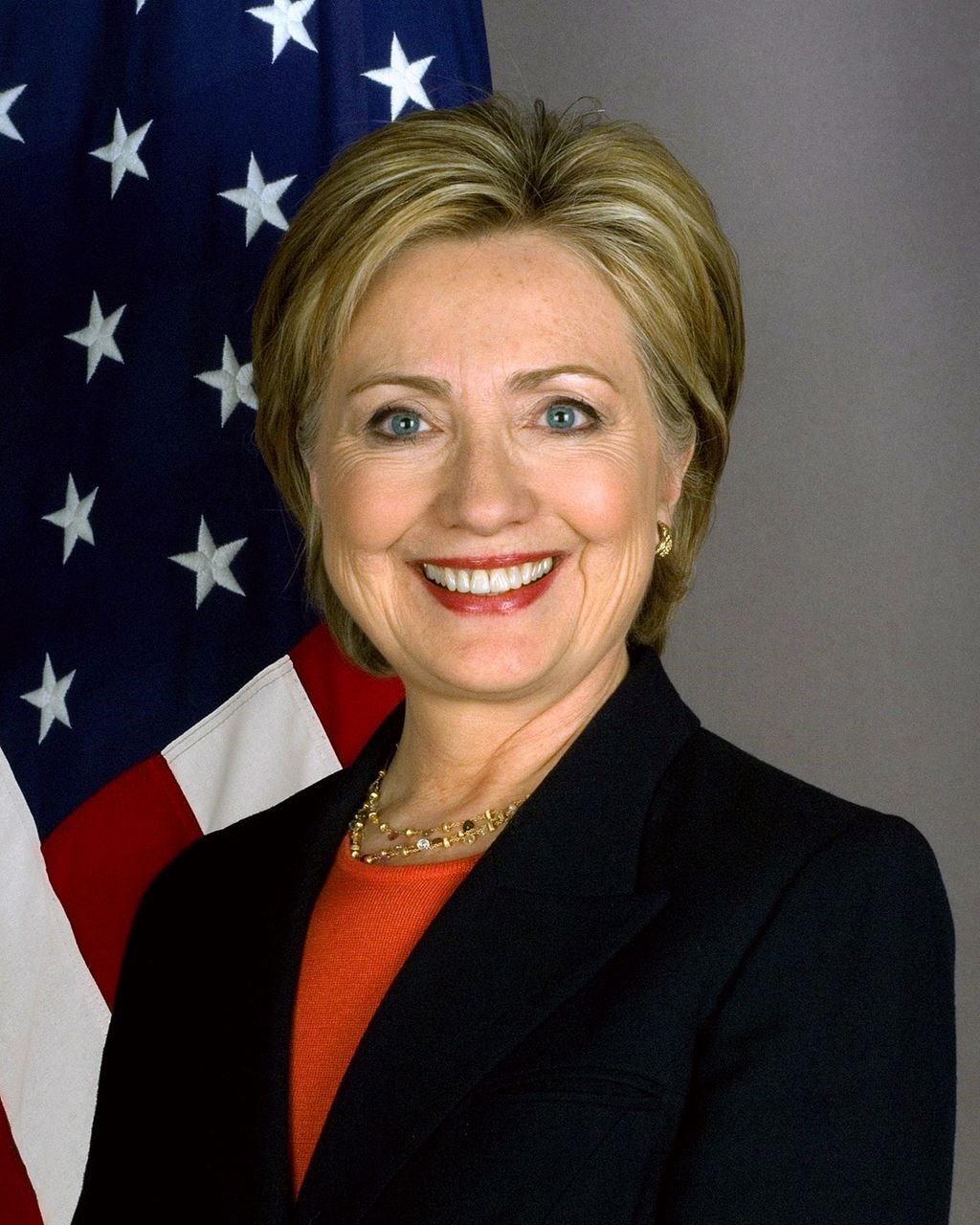 Clinton's Secretary of State Portrait United States Department of State [Public domain]Hillary Rodham Clinton, is a politician, a mother, but most importantly a believer, a believer that our nation is "stronger together." Born in Chicago on October 26th, 1947, Clinton was the first of three children of Dorothy Emma Howell and Hugh E. Rodham. She attended Wellesley College and was one of 30 women to attend Yale Law School. There she met her future husband, Bill Clinton, and they later got married. From 1979 to 1992, Clinton was the First Lady of Arkansas. Throughout her time in Little Rock, Hillary Clinton actively participated in rights of children. In 1993, while Bill was president, First Lady Hillary attempted to reform the healthcare act. Later on, Clinton became a two term senator of New York as well as the Secretary of State, after losing the election to President Obama. Clinton ran again in 2016 but lost once more, and now spends time with her family ("Hillary Rodham Clinton"). For Clinton to be a real hero, she must possess the ability to display perseverance and humanitarianism. She must retain the ability to illuminate the path during the darkest of times, not only to lead herself out to the light, but others as well. These traits of selflessness and determination both embody Clinton, defining her as a heroine for all.
From the beginning, Hillary Rodham Clinton was a determined woman who knew her goals and aspirations even in the most chaotic moments in life. During her time as Secretary of State, Hillary Clinton was a persistent fighter, "'it is a violation of human rights when women and girls are sold into the slavery of prostitution.' After the speech, women dressed in traditional garb from various nations poured over an escalator to try to touch Mrs. Clinton" (Chozick, Amy). She is a woman, who against all odds, built herself a name and used her power not only to strive for more, but to strive for others. She is a woman who not only encouraged but helped create opportunities for others. Clinton's accomplishment encourages women, while carving a path for them in a hostile environment. Later in her life, Hillary ran for presidency for the second time, and faced many challenges. But throughout her struggle with conflicts that were placed on the candidate, she never strayed from her path and continued working towards her goals: "The contest between Clinton and Trump was a heated one, highlighted by three televised presidential debates" (Healy, Patrick, and Amy Chozick). Through many events in her life, Hillary Clinton demonstrated determination when everything else railed against her. She stood up against those who doubted her and she did the things everyone thought were impossible. She took on the hatred with the hope of changing the world and giving everyone a voice, including those in bitter places. To view the world as it should be and not as it is, is one of the bravest things a human could ever do, and Hillary never strayed from her path. Despite all her struggles, Hillary Clinton remained a determined woman, continuing to inspire us all with her determination to help others.

Clinton walked through life, touching the souls of those she passed. During her time in Arkansas, Clinton continuously thought of helping others: "Her primary focus, however, remained in the area of children's rights, and she helped found Arkansas Advocates for Children and Families" ("Hillary Rodham Clinton"). Although Clinton worked at an esteemed law firm, she followed her heart and put time aside for children. It was not her sense of duty or responsibility that constantly compelled her, but rather a need. Having what we want blinds us of what others need, but Clinton never forgot. During her time in the white house, First Lady Clinton visited many dangerous areas and gave speeches in many controversial topics: "In 1995, Hillary led the U.S. delegation to Beijing to attend the U.N. Fourth World Conference on Women, despite being told by some officials not to go. She gave a groundbreaking speech, declaring that "human rights are women's rights, and women's rights are human rights once and for all"—inspiring women around the world" (The Office of Hillary Rodham Clinton). Hillary had one goal on her mind, to help others. Everything she achieved had one purpose, and she overcame every hurdle to help those around her. In contempt of the risks, and warnings of danger around her, Hillary continued to help others. She not only compromised her safety, but sacrificed time with her daughter and the possibility of never being able to love her again. Clinton's selfless acts inspire women all over the world to gain a voice. Her dedication to people are one of the many ways Hillary will remain a heroine and inspiration to all.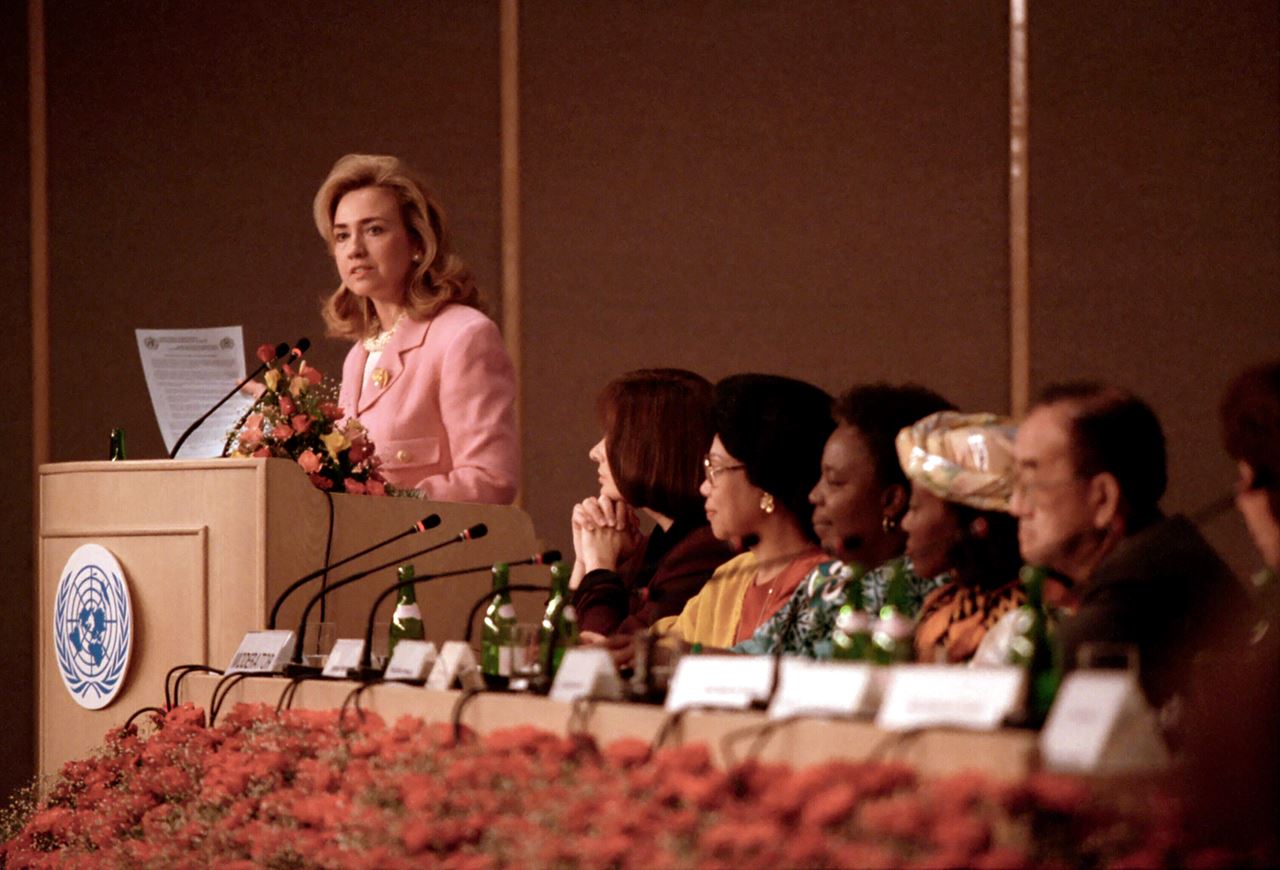 Hillary Clinton at the United Nations Conference on Women in Beijing, ChinaSharon Farmer/White House Photograph Office [Public domain]
Humility, kindness, and sacrifice are some of the traits that come to mind when thinking of a hero, but two important traits every hero must acquire are determination and selflessness. Hillary Clinton most definitely possesses these traits. Clinton repeatedly proves heroism through her actions and ideals , from risking her life to voicing her opinions. Clinton inspires little girls and boys all around the world to pursue their dreams, never give up when the going gets hard, and to be there for others. The ideals of a hero include inspiring others to do better, and what better way to inspire, then to show how to do better. Hillary Rodham Clinton is determined. Hillary Rodham Clinton is selfless. Hillary Rodham Clinton is a hero.
Works Cited
"Hillary Rodham Clinton." Encyclopedia of World Biography, Gale, 1998. Biography in Context, https://link.galegroup.com/apps/doc/K1631001440/BIC1?u=powa9245&xid=af752fad. Accessed 29 Jan. 2018.
Chozick, Amy. "Hillary Clinton's Beijing Speech on Women Resonates 20 Years Later." The New York Times, The New York Times, 5 Sept. 2015, www.nytimes.com/politics/first-draft/2015/09/05/20-years-later-hillary-clintons-beijing-speech-on-women-resonates/.
Healy, Patrick, and Amy Chozick. "Clinton Warns of 'a Moment of Reckoning'." New York Times, 29 July 2016, p. A1(L). Biography in Context, https://link.galegroup.com/apps/doc/A459404104/BIC1?u=powa9245&xid=d193b838. Accessed 1 Feb. 2018.
"About." The Office of Hillary Rodham Clinton, www.hillaryclinton.com/about/.
Page created on 2/14/2018 5:58:47 PM
Last edited 10/22/2019 2:44:27 AM