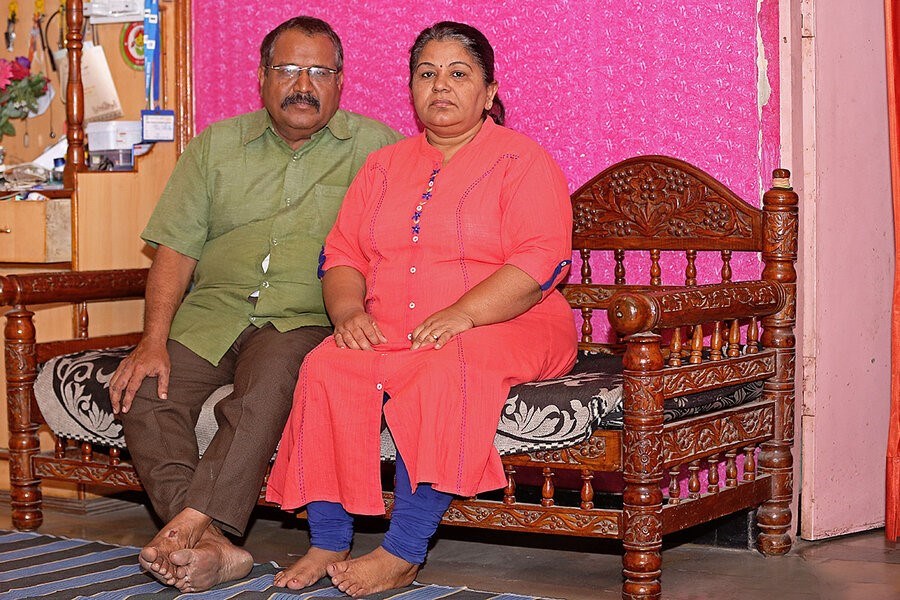 Ashok Tangade (left) and Manisha Tokle (right) pose for a picture at their office in Beed, India, on Feb. 9, 2023. The couple has been working with sugarcane cutters to eradicate bonded labor in India's Maharashtra state since 1989.Haziq Qadri
May 8, 2023
In the early 1990s, Masu Avadh was chopping sugarcane in India's Maharashtra state, trying to work off the debt his grandfather and father had both died trying to repay. Feeling ill, Mr. Avadh left the farm without informing the owner to buy medicine. When he returned, he was beaten.
That's when a young couple intervened.
"When we learnt Avadh ... was working to repay the loan his grandfather had taken, we informed the police," says Ashok Tangade, flipping through the old case files of sugarcane cutters he and his wife, Manisha Tokle, helped rescue from bonded labor. At their home in the small and congested town of Beed, the now middle-aged duo recalls how Mr. Avadh was freed not only from the farm owner's clutches, but also from the familial debt.
Mr. Avadh is one of thousands of bonded laborers assisted by Mr. Tangade and Ms. Tokle, but many more remain in bondage – a practice illegal in India since the late 1970s.
About 50 million people work in India's sugar fields, cutting cane for major international companies. There's a paucity of precise data on bonded labor in sugar cane production specifically, but a 2019 study by the United Nations Development Programme and the Coca-Cola Company notes that most of India's bonded laborers work in agriculture, and anecdotal evidence shows India's sugar industry marred by exploitation and debt bondage. For the past three decades, Mr. Tangade and Ms. Tokle have been working closely with sugarcane cutters across Maharashtra, helping extract laborers from abusive farms, and also educating them about their rights and how to fight for their own freedom.
"Since these laborers were mostly illiterate and unaware of their rights, they would assume they were legally bound by the bond, and would work most of their lives for the contractor in abject conditions, bearing the atrocities," says Mr. Tangade. "Now the workers realize that they too are entitled to their rights, and that they cannot be held hostage by anyone just because of their socio-economic status."
Rajendra Jadhav/Reuters/FileWorkers load harvested sugarcane onto a trailer in a field in Gove village in the western state of Maharashtra. India is one of the world's largest sugar exporters, with more than a million sugarcane cutters in Maharashtra alone.
Trouble in India's sugar fields
India is one of the world's largest sugar exporters, boasting over 700 operational sugar factories with a crushing capacity of about 34 million metric tons. There are more than a million sugarcane cutters in Maharashtra, and during the sugarcane season, many travel to Beed to work 15-hour days in extreme conditions, earning less than $4 daily. Reports have highlighted rampant issues of child labor, forced hysterectomies, and sexual violence, as well as debt bondage.
Indeed, a study of Maharashtra's Beed region shows that 67% of the sugar cane cutters are indebted.
Some are lured to the fields with the promise of higher wages and better working conditions, but once on-site, workers are not allowed to take a day off and face fines for any leaves. Their loans are often not repaid due to either high interest rates or the lender's abuse of power, resulting in a vicious cycle of bonded labor – a cycle that can span generations.
Senior Indian lawyer Sanjoy Ghose describes this kind of bondage as "the worst form of modern slavery," and one explicitly outlawed under India's 1976 Bonded Labour Systems (Abolition) Act. The law was designed, he explains, to end the multigenerational practice of trapping people in labor, and prevent cases like that of Mr. Avadh.
Yet advocates say bonded labor is still rampant in the sugar industry, as recent incidents in Maharashtra have shown.
A daring rescue
Last December, three children aged 13-14 were trafficked from central India's Madhya Pradesh to Beed by a labor contractor who promised each child $60 and a mobile phone. The parents were not informed.
For weeks, they worked in sugarcane fields. Most days, they were given only one meal, and they were barred from speaking to their parents.
When they demanded to go home, things only got worse. "The contractor beat us up and said we could not leave until we finished the work," says Sagar, one of the children. "We were scared."
When a source tipped off Mr. Tangade to the children's situation, the couple dispatched a team of police to relocate them to a safe house. There, police took their statements and called their parents. After registering a criminal case against the accused labor contractors, the children were sent home.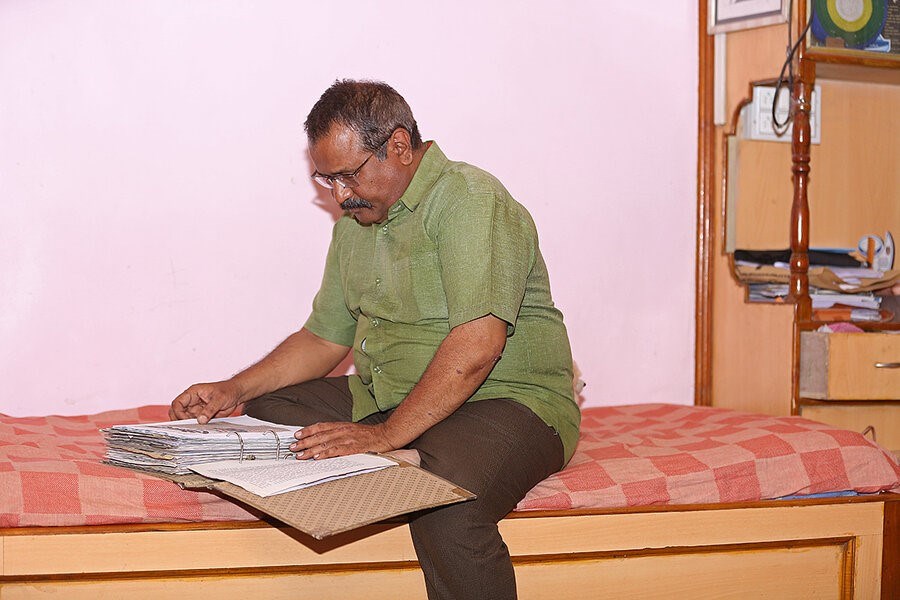 Haziq QadriAshok Tangade flips through case files in his Beed office on Feb. 9, 2023. He and his wife have kept in contact with many of the sugarcane cutters they helped free over the past three decades.
Sagar's father, Bachnan Ulkey, says it was only because of Mr. Tangade's efforts that the rescue was a success. When he and other parents arrived in Beed to retrieve their kids, they learned that the couple has been doing this for years.
"We are extremely thankful to Tangade and Tokle for rescuing Sagar," says Mr. Ulkey. "This is not the first time they have rescued kids."
Decades of advocacy
The duo has been working to eradicate caste-based bonded labor in Maharashtra since 1989. Back then, labor contractors or farm owners would hire the lower-caste or tribal laborers and make them sign an illegal bond.
Ms. Tokle says when they set out to work on behalf of sugarcane cutters, "our primary focus was to rescue them from bonded labor with the help of the police and court. It was a risky job because the factory owners were politically connected."
Every job is different. Often, they start by going to the police, but if that doesn't work, they use the media to raise awareness about the case. Other times, the couple reaches out to the sugarcane cutter directly and helps them advocate for themselves against their employer.
As busy as the couple is, there are signs of progress. One of the challenges they face is that sugarcane cutters are part of India's vast informal workforce, and they can have difficulties accessing welfare programs. So the couple was pleased by the state government's April 2022 announcement that over a million of Maharashtra's sugarcane cutters will be issued identity cards, and that their children will be able to stay in hostels during the migration season to avoid academic interruption.
"The step was significant for the millions of sugarcane workers as it will help them access the welfare schemes and their children will get education," Ms. Tokle says.
Ms. Tokle and Mr. Tangade also organize camps every year where they educate sugarcane cutters about their rights, and in 2019 the couple, along with sugarcane cutters and other advocacy groups, pressured the government into taking action to control the practice of unwanted hysterectomies.
Mr. Ghose, the lawyer, notes that eradicating bonded labor will require deeper, more systemic change. He wants to see local banks provide better access to loans for the rural poor to meet their daily needs so that they don't fall into debt traps, as well as more vigilant enforcement of the law.Bottom of Form
But until then, Beed's sugarcane cutters can count on Ms. Tokle and Mr. Tangade being in their corner.
"As long as we live, we will keep working," says Mr. Tangade.
Related stories