'I put the students first': A public school librarian on book bans
by
Sarah Matusek, CSM Staff writer

from

United States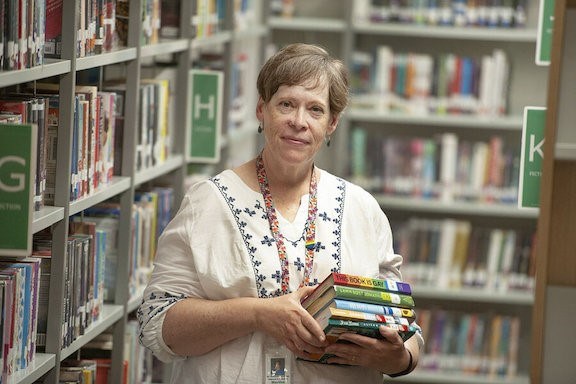 Martha Hickson holds five LGBTQ-themed books that she helped defend against calls for removal from the North Hunterdon High School library in Annandale, New Jersey, over the past year. "I put the students first and foremost, but of course parents are a part of the equation," says the school librarian. Courtesy of Rutgers University/Nick Romanenko
Calls to ban books – from classrooms and library stacks – are on the rise, but they aren't new. Direct dialogue with parents often resolves book concerns, though they've been rare, says librarian Martha Hickson, in her 18th year at North Hunterdon High School in Annandale, New Jersey.
What is new: having to defend not just titles for teens, but herself.
Backlash began at a school board meeting last September during Banned Books Week. A local parent claimed the school library's inclusion of certain books with sexual references was an effort to "groom" students as potential victims of pedophilia. Next, says Ms. Hickson, came hate mail – an example of the scrutiny faced by school staff countrywide in this culture war.
"I have never seen anything like this in my lifetime, with the exception of maybe in history books," says the librarian, who helped defend five LGBTQ-themed books from removal. "I'm thinking of the Nazi era, or perhaps the McCarthy era with the Red Scare."
The Monitor spoke with Ms. Hickson, who received a 2020 American Association of School Librarians' Intellectual Freedom Award, about her responsibility to young readers. The conversation has been condensed and lightly edited for clarity.
How do you define your duty to students?
My duty to students is essentially to enable them to go out into the world to be effective and discerning users of information, and lifelong learners.
How do you define your duty to parents?
Page created on 8/30/2022 10:50:49 PM
Last edited 8/30/2022 11:03:08 PM
The beliefs, viewpoints and opinions expressed in this hero submission on the website are those of the author and do not necessarily reflect the beliefs, viewpoints and opinions of The MY HERO Project and its staff.