When the subject of a hero comes to mind, different people can think of many people they would consider a hero for one reason or another. Typically, it would be someone famous, known for doing something great. Normally, this person is "straight" as well, as many people would not think of a homosexual person as a sort of hero. But, acclaimed British actor Sir Ian McKellen can be labeled a hero as well as anyone. He has gone through many difficulties, yet has come out strong with a career that all actor could wish they could have. Ian went through the usual tricks of the trade, doing stage, then moving on to TV acting and finally movies. However, coming out was the most daring thing he has done, because in the entertainment business, that sort of choice can destroy your career, or make the person even more popular. In the end, he came out on the better side. Because of this, he can be called a hero.
Ian Murray McKellen was born May 25, 1939 to parents Denis Murray and Margery Sutcliffe. His sister Jean was born a few years before him. His family was very much interested in the theater, so even when Ian was a child, he was going to the theater. He attended Wigan Grammar School in Bolton, where he was in his first plays. When he was only thirteen, his mother died. Soon afterwards, his father remarried a woman named Gladys. Through the next few years, Ian was in many plays and continued to do well in them. During that time, he learned to lessen his thick accent, which helped him out greatly later in his career. When he finally went to college and university, he continued to act and became very well known in the theater circles. This helped him to begin his movie career only a few years later.
When Ian finally finished university, his friends said that he should go into television acting, since he had gotten so good. So, he went out and tried out for a part in the British show "David Copperfield", which he landed easily. He mainly performed in television versions of many of Shakespeare's plays including "Macbeth", "King Richard II" and "Hamlet", all the time playing the lead parts. But during this period, he began to be somewhat typecast as a more feminine male, as was seen in the roles he did. He never acted as a complete brute, which many actors did when playing the same parts as he. This made him truly question himself, though some of his friends may have suspected, no one really thought much of it. He continued to do television for the rest of the 1970s and into the 1980s, but then he began to be chosen for movie roles. During this time, his popularity grew in not just the theater, but in the real the entertainment business. At the same time, more questions were raised, though he never did really comment, and only thought about furthering his acting career.
While working on his career, he began with some friends an organization for Gay and Lesbians in the early 1980s, which flourished, causing all who were involved to be noticed. Since Ian was already popular, he used it to his advantage and went on television shows and radio stations talking about his participation in the organization. Ian was already known for being somewhat outspoken at times, and during one radio interview, the interviewer asked him if he himself was in fact homosexual. He had been asked before, and had gone around the question, but this time, he answered bluntly yes. Ian knew that his family was listening to the interview, and now jokingly laughs about how terrified he was to go home to them. He never worried about his friends, because he knew that they would not be all that surprised. The greater fear by his friends and family were worried that he would lose him heterosexual fans, but the result was much different then anticipated.
Ian's fans did not really think much of his sexual preference when he came out and he gained many more from it. He also inspired people not to fear what they think or how they feel. All the fans really were interested in how well he acted, but concerned that this small, but life-changing information would stop his career in "Hollywood". Some directors and producers were a little uncomfortable about hiring him for a year or two, but luckily that faded as he went on to do many well done and remembered movies, such as "Six Degrees of Separation" in 1993, "Richard III" in 1995, "Apt Pupil" in 1998, and "X-Men" in 2000. Also, in 1996, while doing a television interview, he talked about his then lover for five years Sean Mathias, who would be directing a movie he would be in called "Bent", which is about homosexuals. In 1999, while working on "Lord of the Rings" he met his new lover Nick, who he lived with in England until their recent break-up.
Ian has overcome many obstacles in his 35 years in the entertainment business, and he has been able to get through them all. In 1991, Queen Elizabeth knighted Ian for his services in the arts. He is also a very sought out actor. In 2001, he stared in the much anticipated film "The Lord of the Rings: The Fellowship of the Rings" and "The Two Towers", the second in the trilogy in 2002, where he played Gandalf the Wizard. Playing this role caused more talk, about which he just makes very humorous jokes. Ian has won over forty major international acting awards such as a Tony Award for "Amadeus", the Screen Actors Guild Award for "Fellowship of The Ring", a Golden Globe for Rasputin and the Felix "European Film Actor of the Year" as Richard III, for which he wrote the screenplay. He also won thirteen additional awards all over the world for his part in "Gods and Monsters".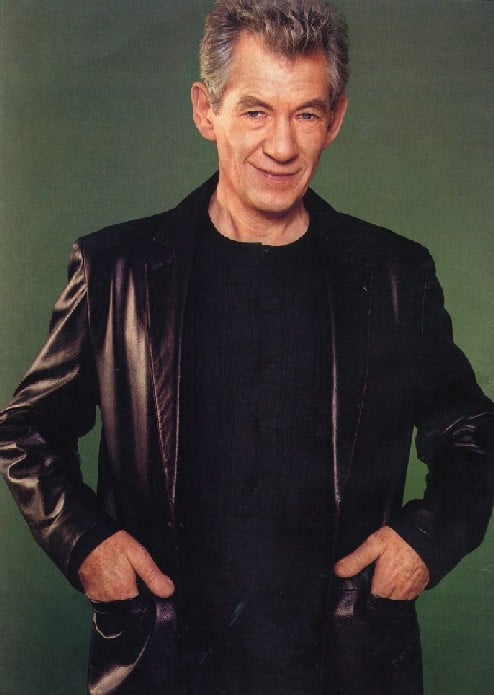 Actors like Sir Ian McKellen are extremely rare. The way he acts in movies and his personality is astounding because he knows how to capture your attention and keep it. That is the type of man he is, and one of the better aspects of his life is that he is still working and very happy with it. He is a hero to anyone because he has been able to overcome problems with his sexuality, his career and his love life without losing what everyone loves about him. He has continued to grab fans as he does more films and will probably continue to do so until he stops. For all the things he has done and the things he has shown us, he is a true hero.
Page created on 6/9/2011 6:19:20 PM
Last edited 1/4/2017 9:41:43 PM
Extra Info
My senior English class had to write an essay on a person we would consider an hero. This project took over 3 weeks to do. During that time, we had to talk about the person we chose. When I talked about mine, most of the class did not know who he was, and when I told them about him, they thought I was crazy at first for picking him. But by the end of it all, I had helped Sir McKellen to have 40 new fans!