"You are not alone. We're stronger as a community, and there are supporters and people who have been through similar experiences too. You belong in this world."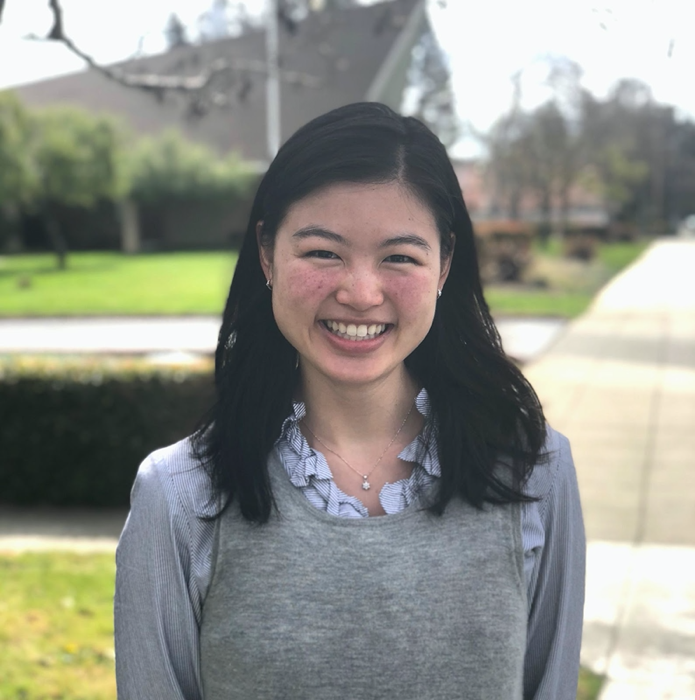 Stefie GanStefie Gan'Illegitimate Voice' is a wonderful animated short film that has been selected as a finalist in MY HERO's 18th Annual International Film Festival this year. Made as part of a documentary class at the University of Southern California (lead by professor Sheila Sofian), the film was made by a group of 16 directors, who each pitched an idea and then voted to decide which would become the subject of their film. This resulted in the group's exploration of immigration through the personal account of filmmaker (and one of the directors), Stefie Gan.
Stefie Gan was born in downtown New York shortly before she and her parents moved to Malaysia, where they stayed until she was around 8 years old. The family then returned to NYC and lived in a basement below a single-family home.
When she started school, Stefie could not speak English and was thus placed with another girl in her class, who spoke Cantonese. In the film, Stefie describes this girl as her 'only contact with the world,' and recounts other students walking past them and 'saying [something] racist.' The film highlights the difference in the way she was treated by her peers when she moved to the U.S.; being Chinese was not something she felt set her apart in Malaysia and was confused when her classmates laughed at her because of her ethnicity.
Besides her appearance, Stefie found that language was what really made her feel most different to her peers, and details her knowing some parents that would 'rather speak with their kids in broken English than in a language they could fully express themselves.' This was also confusing to young Stefie, who couldn't understand why she and her parents should be made to feel so ashamed of their culture.
Towards the end of the film, Stefie expresses the pride she now feels for both cultures that she grew up in. She acknowledges that these experiences, her language, and culture make her who she is and that these things should be celebrated!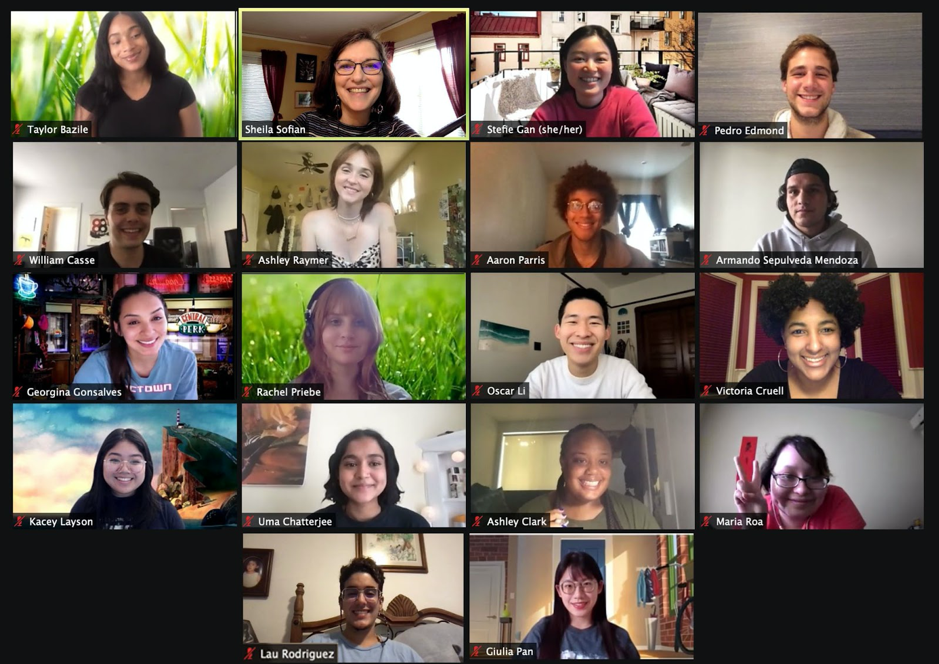 'Illegitimate Voice' Director's MeetingStefie GanAs the film was created during lockdown, the group met via Zoom and decided upon one character design, color script, and storyboard for each sequence to create consistency. In the production process, however, each small group was allowed to choose their medium such as After Effects, traditional 2D animation or stop-motion, so as they could best express themselves. This resulted in a beautiful array of animation styles throughout the film.
The film also uses various metaphors and symbols, such as the images of Stefie in the basement, Chinese language characters, and food, which all add to the visual storytelling. Perhaps the most touching, though, is at the end of the film, when an older Stefie pulls young Stefie from the basement and into the light, onto 'the path of activism.' Stefie told MY HERO that she has been inspired by activism, particularly of that for immigration rights. She said:
"Compassion and respect for all living beings is important to me. I believe everyone, no matter their ethnicity and background, should have a place [of] safety and belonging in the world."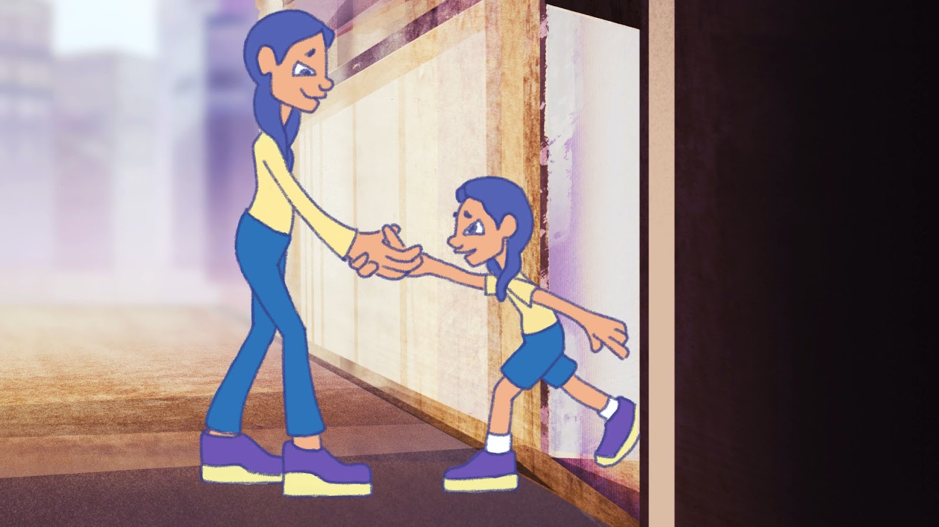 Older and Young Stefie in 'Illegitimate Voice'Stefie GanStefie also noted that whilst it was 'nerve-racking' to share such a personal experience with her peers in making this film, she wanted to humanize the issue of immigration and allow people to understand what it can be like first-hand. She added that she wishes that she would've 'heard more stories like [hers]' when she was younger and believes that this would have made her feel less alone and 'find solace.' In making this film, she and her peers hope to 'inspire and empower others.'
When asked what it means to have this film selected at MY HERO's Film Festival this year, Stefie replied:
"It means so much to be recognized at a festival that celebrates humanity and supports work of activists and environmentalists. I'm happy to be sharing 'Illegitimate Voice' to bigger audiences, so we can have more conversations and understanding."
Finally, MY HERO asked Stefie for any advice that she may have for children across the globe. She finished with this:
"You are not alone. We're stronger as a community, and there are supporters and people who have been through similar experiences too. You belong in this world."
You can view 'Illegitimate Voice' at: www.myhero.com/illegitimate-voice
Find out more about Stefie Gan at: https://stefiega.myportfolio.com/
About MY HERO International Film Festival:

The MY HERO International Film Festival brings together professional and youth filmmakers who honor local and global heroes working for positive change in the world. Thanks to generous sponsors, prizes are awarded to elementary, middle school, high school, college and professionals in a variety of categories including documentary, narrative, music video, animation, experimental, and more.
To find out more about the Film Festival go to: /Films/festival
Page created on 10/12/2022 8:09:34 PM
Last edited 12/14/2022 2:11:54 PM