by
Sara Miller Llana, CSM Staff writer @sarallana

from

Winnipeg, Canada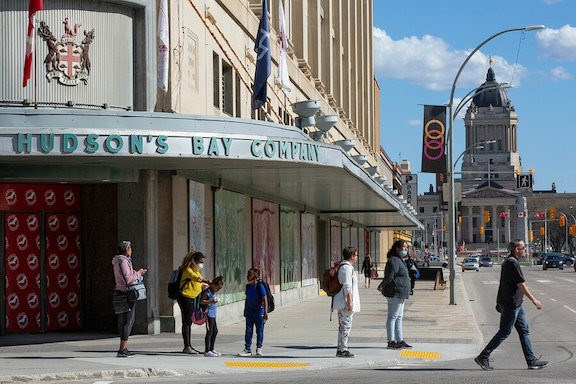 The Hudson's Bay Co.'s flagship store, down the street from the Manitoba Legislative Building, now sits empty, but has been turned over to First Nations communities in a step toward Reconciliation.Melanie Stetson Freeman/CSMStaff
June 2, 2022
After the Hudson's Bay Co. department store shuttered its hulking, 650,000-plus-square-foot building in downtown Winnipeg in 2020, Peatr Thomas was asked to replicate one of his murals in the empty windows.
The Inninew and Anishnaabe artist at first hesitated. If any entity casts a colonial shadow in Canada, it is the Hudson's Bay Co.
Established in 1670 by the king of England, the HBC existed for centuries as a fur trading enterprise that upended the lives of First Nations as it aggressively expanded into what would later become Canada. Mr. Thomas didn't want to be affiliated.
At the same time, the flagship store in Winnipeg looms large - physically and in historical relevance. Mr. Thomas saw an opportunity to share his vision of a "new future," he says, "built on truth."
Today his vibrant mural, "Aski Pimachi Iwew," reflects back the story of the earth's renewal. Animals painted in black, upon a red background representing dawn, depict the seven ancestor teachings of "Turtle Island," what many Indigenous people call North America: love, wisdom, respect, courage, honesty, humility, and truth.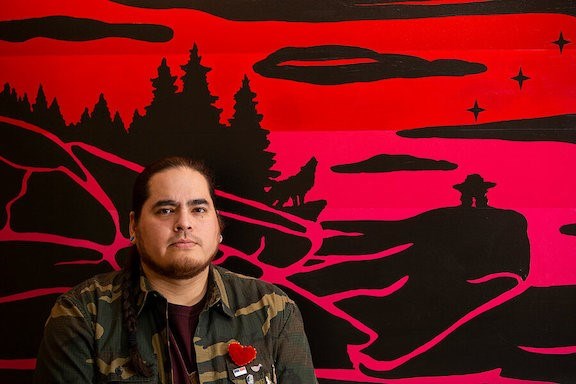 Melanie Stetson Freeman/StaffPeatr Thomas, an Inninew and Anishnaabe artist, muralist, and educator, poses in front of his commissioned mural in the cafe in Qaumajuq, the new Inuit art center at the Winnipeg Art Gallery, on May 12, 2022. The mural tells the story of the earth's renewal.
It's accompanied by text written by his mother, a residential school survivor:
A new sunrise with the new moon.
After a time of change and awakening.
Turtle Island is new once again, built on truth in the sacred seven ancestor teachings.
Ancient knowledge once lost, is taught to us again by Mother Earth in all that she offers.
His mural would be a taste of what's to come to downtown Winnipeg. Since April, colorful flags and banners have enlivened the building's drab neoclassical facade, installed by the Southern Chiefs' Organization (SCO), which represents 34 First Nations groups in southern Manitoba.
Page created on 7/17/2022 11:50:14 PM
Last edited 7/18/2022 1:32:46 AM