In Winnipeg, Bear Clan Patrol is keeping Indigenous Women Safer
by
Sara Miller Llana, CSM Staff writer @sarallana

from

WINNIPEG, MANITOBA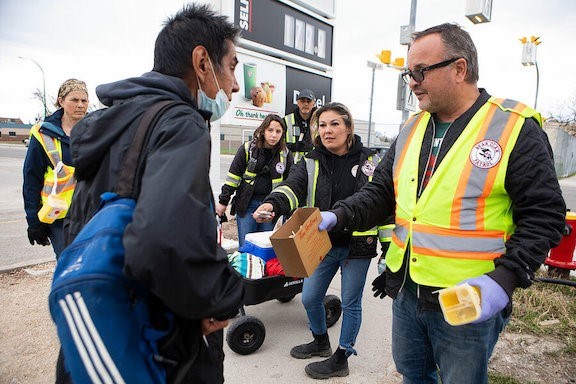 Volunteers Lorn Proutt (right) and Melissa Spence (second from right) hand out candy and food to an Indigenous man during a Bear Clan Patrol nightly walk on May 11, 2022, in Winnipeg, Manitoba. Volunteers and staff with the Bear Clan Patrol walk this North End neighborhood picking up discarded drug needles and handing out food.Melanie Stetson Freeman/Staff
June 7, 2022
It might seem a small gesture: two women asking a third how she's doing. But in Winnipeg's North End, where a hub of Indigenous activism addresses the many social problems that exist here, such interaction really can mean life or death.
So when Melissa Spence and Rose Fontaine, members of the Bear Clan Patrol, an Indigenous-led community safety group, see a woman stumbling in the street, they run to her. They run like she might slip away if they don't get there in time.
The questions they ask – Is she hurt? Is someone hurting her? Is someone looking for her? – are the same ones they find themselves asking every night. And it is in this way they help tackle one of Canada's greatest social problems: the disproportionate number of murdered and missing Indigenous women and girls (MMIWG).
The main aim of the Bear Clan, which stands out in its bright neon vests and bear patches, is to shore up a sense of safety and well-being, with community members often leery of a justice system that has so often abused them. The group sees itself as "block parents," as Ms. Spence puts it. Composed of people who've had their share of struggle in life, they say it is driven by the kind of compassion and nurturing that's so often missing for the urban Indigenous population of the Manitoban capital.
Rose Fontaine, youth patrol leader, and Kevin Walker, interim executive director of the Bear Clan Patrol, smudge before one of their nightly walks, on May 11, 2022, in Winnipeg, Manitoba.
"We love everyone"
This woman this night is OK. Often they aren't.
According to federal statistics, Indigenous women and girls are 12 times more likely to be murdered or missing than any other woman in Canada – and Winnipeg is considered ground zero of the problem. Winnipeg has Canada's largest urban Indigenous population, with about 92,000 out of a population of 750,000.
It's led to a flourishing of bright Indigenous culture that's visible across the city. But Canada's dark colonial legacy and violent assimilationist policies like residential schooling have also created a host of problems. The rates of Indigenous poverty and children in welfare – which ties directly to violence experienced later in life – are some of the highest in the country.
Page created on 6/8/2022 2:11:34 PM
Last edited 6/9/2022 6:04:11 PM
The beliefs, viewpoints and opinions expressed in this hero submission on the website are those of the author and do not necessarily reflect the beliefs, viewpoints and opinions of The MY HERO Project and its staff.