FOR IMMEDIATE RELEASE
Contact: Wendy Milette
[email protected]
1278 Glenneyre, #286
Laguna Beach, CA 92651
INSPIRING CELEBRATION OF HEROES AT THE 6TH ANNUAL MY HERO INTERNATIONAL FILM FESTIVAL
Los Angeles, CA - 11/20/10 - The 6th Annual My Hero International Film Festival will celebrate the best of humanity by honoring the films of students, teachers, activists, and artists around the world that focus on engendering positive change. The Awards Ceremony commences Saturday, November 20th, at 3 p.m. in the Ray Stark Family Theater in USC's George Lucas Building. The festival is hosted by the nonprofit organization The MY HERO Project. The MY HERO staff will host an anniversary dinner after the Awards Ceremony, in celebration of the organization's 15 years of engaging, educating and empowering individuals worldwide to create socially conscious media.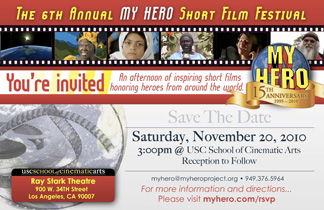 This year's festival culled together an impressive group of finalists. Highlights include producer Sean Penn's Love Hate Love, a moving portrait of terrorist victims reclaiming their lives; the animated short Hummingbird that illustrates a story told by Nobel Prize winner Wangari Maathai; and This Chair Is Not Me, a stunning portrait of one man's journey to express himself in the face of daunting odds. As part of MY HERO's efforts to inspire a global audience, these films and others can now be viewed on The MY HERO Project website, http://www.myhero.com/2010 .
In addition to screening selected winning films, the Festival Awards Ceremony will include several inspiring performances and presentations. Internationally renowned musician Kenji Williams will perform a piece from his Bella Gaia Multi-Media Symphony. Born on The 4th of July author Ron Kovic will present a special prize in his name to Fauzia Minallah's Let Them Bloom, the film that best exemplified the spirit of peace. Kathy Eldon of Creative Visions will also present the Dan Eldon Activist Award to Jacob & Isaac Seigel-Boettner, for demonstrating the wonderful impact bicycles can have on the lives of people around the world in Pedal=Sight.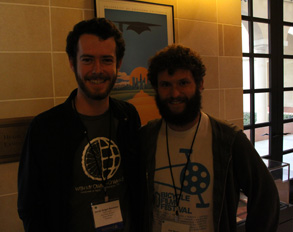 Individual Hero Awards are being given to southern California native Jon Rose for his humanitarian work in Haiti, C-SPAN founder Brian Lamb for bringing a nonpartisan view of democracy to Americans, and Randall Arauz for his efforts to fight shark finning in Costa Rica, among others. In addition, teacher Rowena Gerber from Miami will be honored with MY HERO's Global Educator Award for her Solar Oven Project, which aims to reconnect children to the environment. With its talented pool of finalists, acclaimed authors, filmmakers and activists in attendance, The 6th Annual MY HERO Film Festival promises to be a momentous occasion.
Since 1995, The MY HERO Project has fostered the development of young media artists by providing a venue to share stories, art and films that celebrate the best of humanity. The MY HERO web site promotes inter-cultural awareness through an unparalleled online archive of creative works that address the topic of heroism in unique and captivating ways (www.myhero.com). MY HERO has garnered acclaim from political leaders, artists, activists and educators all over the world.
For more information about the MY HERO International Film Festival and this exciting evening to honor our world's heroes, please visit http://myhero.com/filmfestival
Entries are now being accepted for The 7th Annual MY HERO International Film Festival, which will be held in November of 2011. Filmmakers may submit films of up to 10 minutes in length in the following categories: Narrative, Animation, Experimental, Documentary or Excerpt. The deadline to enter is June 1, 2011. For more information, visit the festival web site at: www.myhero.com/submit .
PLEASE NOTE, SEATING IS LIMITED, SO RESERVE YOUR SPOT NOW:
To reserve your free seat for the Awards Ceremony & Screening, please rsvp at http://myhero.com/rsvp
To make a donation to attend the 15th Anniversary Celebration Dinner, please RSVP at http://myhero.com/celebration
Page created on 1/17/2011 4:43:55 PM
Last edited 7/10/2017 6:16:41 PM