Allen Ezail Iverson
by
Niesje from Fairbanks, Alaska
The Answer
A hero to me is someone who works hard at what they do, someone who is honest and brave, and someone who follows their dreams. The qualities they have are honesty, bravery, self-humility, love for family, hard working, responsibility, cooperation, and dignity. A hero is someone who tries to help, do something good, or inspires people. Allen Iverson is a good basketball player and he inspires me to become one, too.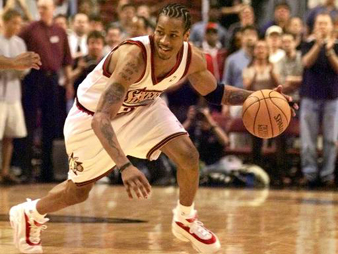 Allen Ezail Iverson was born June 7,1975, in Hampton, Virginia. He had a rough childhood. His mother was 15 years old and unmarried when Iverson was born. Allen's biological father wasn't a part of his life at all while growing up. The apartment they lived in, in the Hampton projects, was built on top of the city's sewage system. Whenever the pipes burst, the house would be flooded with sewage and stink really bad. When Iverson was younger, he played basketball for money to buy food. His mom's boyfriend, Michael Freeman took care of Iverson and his mother. Freeman spent time in and out of jail. Iverson felt that all the jail time Michael did was for them, because he had to do what he had to do to pay the bills and keep them alive.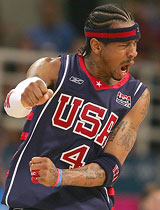 Iverson was the quarterback for Bethel High and also led his basketball team to a state title until his junior year. When he was 17 years old, he was convicted on a felony charge of "maiming-by-mob" and got 15 years in prision, with 10 years suspended. Iverson spent 4 months in jail, then was pardoned. He went to Georgetown on a scholarship and averaged 23 points. Iverson led the Hoyas to the regional finals of the NCAA Tournament as a sophomore. In 1996, he was the first player to leave Georgetown early and decided he was eligible for the NBA. Philadelphia made him the draft's number 1 pick.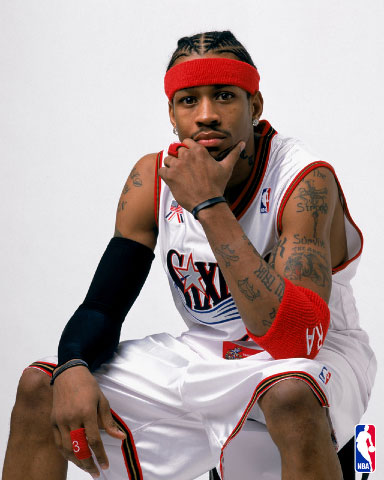 Iverson has had many achievements as an NBA player. In 2001, he was the NBA's Most Valuable player. He is a 6-time All-NBA, 7-time NBA All-Star, the NBA Rookie Of The Year, and he ranks second to Michael Jordan in career playoff scoring (30.6 ppg). That's a few examples of his achievements over his whole basketball career. Iverson recorded a rap album named 40 Bars. He was unable to release it, though, because it was criticized for its controversial lyrics.
Allen Iverson ties in with my traits for a hero has because he inspires me. He grew up with a rough childhood and is now practically the best NBA player. He can stand up for himself when he needs to. Iverson also tries his hardest whether he's playing in a game or practice. He gives it his all. He has said that he practices like it's a game and plays every game like it's his last. That's a real hero to me.
Page created on 5/19/2006 12:00:00 AM
Last edited 5/19/2006 12:00:00 AM
The beliefs, viewpoints and opinions expressed in this hero submission on the website are those of the author and do not necessarily reflect the beliefs, viewpoints and opinions of The MY HERO Project and its staff.