Allen E. Iverson
by
Deray from North Carolina
"I am what I am" - "Only the strong survive."
My hero is going to be Allen Iverson. Iverson was born in Hampton, Virginia. His mother's name was Ann Iverson and it was only the two of them staying in the house. Iverson's father was never around for him or his mother so that made Iverson the man of the house for his two younger sisters. His mother soon remarried and that kind of helped his family out but his stepfather was in and out of jail trying to provide for his family. To this day, Iverson thanks his stepfather for teaching him to play basketball. Ann Iverson says that her son playing basketball was the key to getting them out of 'the hood.'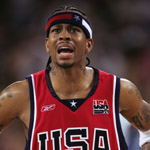 Iverson attended Bethel High School and played football there. Football was Iverson's first love and basketball was a hobby. Iverson played quaterback or you could say that he played every position on the field that the coach allowed. Iverson led the Bethel football team to a national championship. Iverson later joined the basketball team and became a superstar in that, too, leading his team to a national high school championship. Iverson accomplished a lot of things in life.
One of Allen Iverson's favorite things to do is draw in his spare time. His favorite book is The Color Purple. He likes Samuel L. Jackson and Halle Barry. His favorite food is lasagna.
Iverson is my hero because he has been through a lot in life. No matter what happens in Iverson's life, he overcomes it. On the basketball court he plays every game like it is his last. People say that Iverson is blessed. Some say he is the next jordan. Iverson makes up for his relatively small size on the court with a lot of heart.
Page created on 3/13/2006 12:00:00 AM
Last edited 3/13/2006 12:00:00 AM
The beliefs, viewpoints and opinions expressed in this hero submission on the website are those of the author and do not necessarily reflect the beliefs, viewpoints and opinions of The MY HERO Project and its staff.

Related Links