Judy Blume
by
Celia

from

Coopersburg

"When I was growing up...I didn't know anything about writers. It never occurred to me they were regular people and that I could grow up to become one, even though I loved to make up stories..."

I was looking for a good book to read, and decided to try a chapter book. I was in first or second grade, and my mother suggested the book, "Super Fudge" by Judy Blume. She said that she'd read it when she was my age and had loved it. I thought that "Super Fudge" would be a good book to read and so I started to read it. This book had me hooked. I read the book in a short period of time and when I had finished, I hurriedly searched the library for other books by Judy Blume. I couldn't wait to sink my teeth into another book of hers.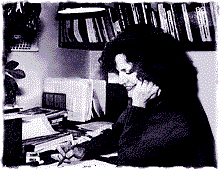 When I had read all of her books that were "appropriate for my age," I moved on to other chapter books. I look up to Judy Blume for two reasons, because I want to write books, and because I think she got me started on chapter books. Reading was something that came quite easily to me. Maybe that's why I loved it, or maybe it was because books took me to another world. Whatever the reason, I was one of the first kids in my class to go to the chapter book section of the library. I think that Judy Blume sparked that interest with her books and I thank her.
My elementary school has a certain theme for you to follow in making your Halloween costume. Last year, the theme was famous people from the 20th century. I chose to be Judy Blume and needed to research her. From this research I learned that Blume based many of events in her books on her life.
When we started this project I asked myself: Why do I consider Judy Blume my hero? What is it she has and puts in her books that hooked me from the beginning?
I liked how her books are somewhat realistic. I also liked how they were humorous. She put these things in her books to make kids want to read them. I think that one of her heroic traits is that she knows how to put the right amount of the right things in her books and that makes kids want to read her books.
Now, I'm the kind of person who enjoys almost any kind of books except biographies. My favorite genre is realistic fiction. Maybe that's why I love Judy's books so much. Whatever the reason, I recommend her to everyone. And I hope you will enjoy her books as much as I did. Three cheers for an all-around great author!
Page created on 5/9/2001 6:02:42 PM
Last edited 1/6/2017 10:54:53 PM
The beliefs, viewpoints and opinions expressed in this hero submission on the website are those of the author and do not necessarily reflect the beliefs, viewpoints and opinions of The MY HERO Project and its staff.
Related Links
BookSpot.com
- Reviews, book awards, poetry, literary criticism, authors & more.