Janet Guthrie
by
Rachel from Fredericksburg
To me a hero is someone who has overcome obstacles, who has faith in what she believes in, and works hard to achieve her goals. Other qualities that make a person a hero are: love, intelligence, and dreams. I feel that Janet Guthrie has all of these qualities, which is why she's my hero.
Janet Guthrie was born on March 7, 1938, in Iowa City, Iowa. Janet had always loved extreme sports, and one of her many loves happened to be flying. In fact, she earned her pilot's license at age 17. After graduating from Michigan State University in 1960, Guthrie became a research and development engineer for an aviation company (for 6 years), and was one of the four women to qualify for the scientist astronaut programs of NASA. Overlapping her career in research and development she began to race on a regular basis (1963).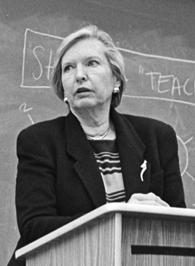 Along with the launch of her racing career she began to win several important races in the SCCA (Sports Car Club of America). Janet was a member of the all-women racing team between 1966 and 1971. 5 years later (1976), she tried to qualify for the Indianapolis 500, but failed to qualify. This same year she became the first woman to complete a NASCAR Winston Cup event. Finally all of her hard work paid off: she was the first woman to qualify for the Indy 500 on May 29th of 1977, but mechanical problems caused her to retire on lap 27. Despite her troubles at the '77 Indy 500 she returned to Indy and finished 9th. Janet returned in '79 but was again unable to finish the race. After '79 she gave up her racing career for lack of money. Whereas top-notch drivers had around two or three million dollars to work with she only had about $120,000, which she received from her sponsor, Texaco.
Guthrie faced many obstacles, such as criticism and legalities. There was a protest against Janet Guthrie's racing: the men didn't want her in the Indy 500. The protests were very powerful and must have been scary to hear. They said "women can't do it. Women don't have the strength. Women don't have endurance. Women don't have the emotional stability. Women will endanger our lives." Janet had to face this taunting in the racing world, a world where you can show no fear.
The fact that she was the first woman to race in the Indianapolis 500 makes her my hero. Her achievements alone are an inspiration to me. Not only did Janet do what she wanted to do but she also faced many self-improving hardships. Racing is a sport that takes a lot of courage, but Guthrie also had to face people telling her she wasn't capable of achieving her goals. The put-downs were definitely not a courage booster, and not a good thing in a sport that you need all the nerves you can get. Janet was able to maintain her bravery where most people couldn't, that is why she is my hero.
Page created on 4/11/2002 12:00:00 AM
Last edited 1/6/2017 11:49:53 PM
The beliefs, viewpoints and opinions expressed in this hero submission on the website are those of the author and do not necessarily reflect the beliefs, viewpoints and opinions of The MY HERO Project and its staff.
Related Links