The game of chess, once dubbed The King's Game, has historically been a male-dominated sport, but the chess world has undergone a major turnaround in the last decade with the advent of several women players heralded for there cleverness and skill. Judit Polgar, a pioneer in women's chess competition, is one important reason for the change.
Judit was born in Hungary on July 23, 1976, the youngest of three sisters. Zsuzsa, Zsofia, and Judit were raised under the tutelage of their father, Laszlo Polgar, who strove to prove that genius can be cultivated through hard work and discipline, He had decided, early on, that the medium for this training would be chess, and so all three Polgar daughters began studying chess by age four almost to the exclusion of anything else.
Laszlo Polgar's experiment in manufacturing genius was a controversial one; it actually provoked the opposition of the Hungarian government. Critics claimed that Laszlo Polgar used questionable methods to train his daughter, and armed government officials once arrived at the door of their home in an attempt to save them from what they saw as a potentially abusive situation.
Although Polgar's parenting philosophy raised eyebrows, his strict supervision of his children's education has resulted in a trio of geniuses. Zsuzsa is the women's champion and Zsofia is ranked seventh worldwide. But it is Judit whose wins have broken through the gender barrier; significant in a sport populated by chauvinists of both sexes.
Judit Polgar has consistently refused to take part in the separate women's events. This intractability, combined with her magnificent talent, has led many to believe that she is the first woman with a realistic chance of winning the world championship. Already she is the only woman to have competed consistently with the top 20 players in the world, winning games against the most esteemed competitors in chess, including Anatoly Karpov, Boris Spassky, and Viswanathan Anand.
Her rise started at the age of 9, when she won the unrated section of the New York Open, winning 7 games and drawing once. At age 11 she earned an International Master title - younger than Fischer or Kasparov. At age 13 she was the World Under 14 Champion for boys and FIDE's highest rated woman.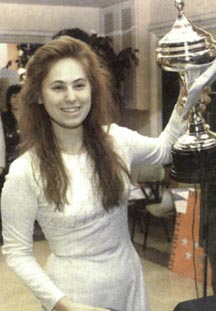 And then she accomplished what seemed like the impossible; she knocked Bobby Fischer off his throne, becoming the youngest grandmaster ever at 15 years and 4 months (Bobby Fischer became Grandmaster, at 15 and 6 months, in 1958). In 1993 Polgar defeated former world champion Boris Spassky 5.5-4.5 in a 10-game exhibition match and took home $120,000. In 1998 she became the first woman in history to win the U.S. Open.

Polgar is still going strong. In the last few years she reached the quarter-finals in the 1999 FIDE World Chess Championship in August, 1999, out of an original field of over 100 players from all over the world. She also won back to back tournaments in Bali, Indonesia and Malmo, Sweden in April-May, 2000; her win in Bali was again first a field that included former and present World Chess Champions and was, according to the commentators, the strongest performance yet by a woman.
Her aggressive style and fiercely competitive nature has earned Polgar much respect and admiration from both fans and fellow players. She plans each move of each piece by carefully analyzing her opponent's style, and orchestrating her moves in response to their strategy. Her flexibility is legendary.
Laszlo Polgar's experiment may have caused much controversy, but led to the much-delayed acknowledgement that women chess players are capable of competing on an international scale among men. In only 24 years, Judit has accomplished a lifetime of achievements, not the least of which are demolishing stereotypes and opening the field for the next generation of women players. One can only wonder where her pursuits will lead, and hope that Judit Polgar will be remembered as the player who made gender divisions in chess obsolete.
Page created on 6/9/2004 10:17:48 PM
Last edited 5/6/2020 5:18:36 AM