Jackie Robinson
by
Brian

from

Flemington

"A life is not important except in the impact it has on other lives."

Jackie Robinson was a great baseball player and had more courage then any other man I know. Every one knows that he was the man to break the color barrier in Major League Baseball. In my opinion, if he didn't break the color barrier, people like Ken Griffey Jr. or Sammy Sosa would not be in the Major Leagues. And I don't think that someone else would have broken the barrier as successfully as Jackie Robinson did.

Jackie Robinson was born in Cairo, Georgia, in 1919 to a family of sharecroppers. His mother, Mallie Robinson, raised Jackie and her four other children, because their father left them. They were the only black family on the block, and the prejudice they encountered was unbelievable. From this humble beginning, Jackie would grow up to be the first person to successfully break the color barrier in Major League Baseball. He married Rachel Issum on Feb. 10, 1946. He had 3 children: Jackie Jr. (Died in 1971), Sharon and David. Jackie Robinson died on Oct. 24, 1972, in Stamford, Connecticut. The courage Jackie Robinson had was unbelievable. Throughout his career people threatened to kill him and his family unless he quit. Despite all this he continued to play and play well in major league baseball. Jackie Robinson was not the first player to play in the major league, that was Larry Doby, but Robinson was the first to do it successfully.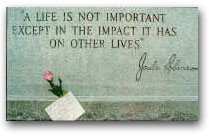 Jackie Robinson played for 10 years (not including years spent in the minors and black league). Six of those years he led the Brooklyn Dodgers into the World Series. He signed with the Dodgers in 1945, played in their Minor Leagues in 1946, and in the Majors from 1947 to 1956. In 1947, he was named the NL Rookie of the Year, and in 1949, he was named the MVP. Jackie Robinson was the first black player to be inducted into the Major League Baseball Hall of Fame (1962).
Jackie Robinson attended the University of California at Los Angeles(UCLA). While attending, he excelled in the four sports he played. He also became UCLA's first four-letter man. The four sports that he played were baseball, basketball, football and track.
Here are Jackie Robinson's Career Numbers: AVG .311 G 1382 AB 4877 R 947 H 1518 2B 273 3B 54 HR 137 RBI 734 BB 740 SO 291
Page created on 6/9/2004 10:41:42 PM
Last edited 6/9/2004 10:41:42 PM
The beliefs, viewpoints and opinions expressed in this hero submission on the website are those of the author and do not necessarily reflect the beliefs, viewpoints and opinions of The MY HERO Project and its staff.
Extra Info
Matt Hollis from Mt.Kisco, NY, writes:
Jackie Robinson proved himself a hero by being the first African American in Major League Baseball and by leading other African Americans to the Major Leagues. Jackie Robinson's childhood was both exciting and difficult. He was born in 1919 and his father abandoned the family soon after. Then the family moved to California. Later, he went to UCLA and was an all-around athlete. He starred in football, baseball, basketball and track. In WWII, he was an officer. After that, he joined the Negro League in Kansas. That was the beginning of Jackie Robinson's great baseball career. In 1945 he met Branch Rickey, the president of the Brooklyn Dodgers organization. Branch was so impressed with Robinson, he invited Jackie to join the Major Leagues. Robinson joined the Brooklyn Dodgers. He wasn't allowed to argue because he was black. At the end of the season, he was voted Rookie of the Year and Most Valuable Player. He was the best! Jackie proved that skin color doesn't matter when it comes to talent, intelligence and courage. By Matt Hollis
Related Books