Johan Julius Christian Sibelius was a patriot, composer, father, and friend, teacher, student, traveler, and husband. This great man was born December 8, 1865. Even in early childhood, he composed pieces of music for his family and friends. He grew up in Finland, a "small, out-of-the-way" country in the far north, fighting to exist independently under the rule of both Sweden and Russia.
Johan Sibelius was at a famous musical academy when he came into possesion of some calling-cards formerly belonging to a dead relative named Jean Sibelius. The name appealed to him and he gave himself that nickname. Almost the entire world thought Jean was his christened name and it stuck.
The new Jean Sibelius finished his studies at the academy in 1889. He set out for Berlin, Germany to study with theorist Albert Becker. He was able to hear his new B major quartet before he left for home.
Sibelius experienced the rare mental phenomenon called Synesthesia, a state of sensorial interconnections in which he "saw" sounds and "heard" sights (water might be the call of a bird, and violin music could be the color of the sky on a summer evening). Later in life, Sibelius met a biographer, Karl Ekman, who was doing a book about him. After Mr. Ekman interviewed Sibelius, he commented to reporters,"Our conversation darted about like a hare in the undergrowth. Before we knew where we were, Sibelius was juggling colors and sounds like glass balls, making colors resound and sounds glow, so that A major became blue and C major red, F major green and D major yellow..."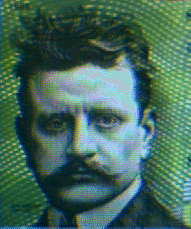 Sibelius traveled to Vienna, the musical center of the world, and away from his sweetheart, Aino Jarnefelt. There, he tried to meet Brahms, one of the great composers of that time. However, his teacher had written a letter of introduction that had some note in it that Brahms did not like, and the young man was turned away. Disappointed, Sibelius stayed in Vienna to study.
He sent a dispirited letter to his instructor, who immediately suggested that Sibelius go to see Hans Richter, a celebrated orchestrator in Germany. He was greeted like an old friend and referred to Karl Goldmark, who had not taught a student for some years, as well as Mr. Buchs, a more conventional man.
Nine months after his arrival, Sibelius went back to Finland to compose. There he made his great tone poem, "Kullervo," and married Aino. They had five daughters from 1891 to the early 1900's. During that time, Sibelius composed two of seven symphonies, attempted his second opera, and wrote more tone poems. In 1914, Sibelius traveled to America and received a degree from Yale.
Jean Sibelius' 50th birthday was celebrated as a national holiday in Finland during the war years in the 1900's. He died in 1957, having lived to be ninety-two years old, but his spirit lives on in the hearts of those who love freedom and music.
Page created on 6/4/2004 12:20:02 PM
Last edited 1/6/2017 7:13:29 PM