I made the film shortly after George Floyd was killed…I saw that people recognized racism more…It's more visible today, but it has been happening forever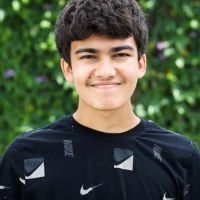 Jackson CarricoNew Road School, with permission
Youth activist and filmmaker Jackson Carrico won two awards at the MY HERO 2021 International Film Festival for his film, 57 Years Ago, a short music video honoring the victims of police brutality. The film is a profound film reflecting Jackson's passion for addressing these crucially-important issues. For Jackson, the issue of racism and its history is both political and personal.
Jackson's awards include the Dan Eldon Youth Activist Award and 1st place in the High School category for the music video.
This moving, three-minute video is packed with scenes from the Martin Luther King era, juxtaposed with footage from the 2020 Black Lives Matter protests and riots and provocative animation about the unarmed Black individuals killed by police in the last decade. One of the largest movements in U.S. history, Black Lives Matter has brought the issue of ongoing racism to the forefront of international discussion. In 57 Years Ago, Jackson evokes the enormity of injustice with animated clips of Blacks killed by police: "I was getting in my car…," "I was sleeping…," ending with a long list of those killed: "SAY THEIR NAMES!." Footage from both the 1960s and the 2020 protests and riots vividly portray the continuity between what was happening 57 years ago and what is happening today. The animations portray Martin Luther King with the words, "What would he say if he knew was what was happening today?" And "How many people need to die before something changes?" At the end of the video, Jackson addresses his viewers: "You have the power to make a change."
A high school senior at New Roads School in Santa Monica, Jackson told MY HERO that the inspiration for the film was a conversation with his grandfather: "Last year I interviewed my grandpa for a history project. He had adopted my dad, who was Black, in the 1960s. My grandfather (who was white), told me that the challenge for him was to explain racism to my dad, to explain how people are treated differently."
Jackson, whose parents are Black and (Asian) Indian, told us that how to talk about race was explained to him at a young age by his dad, who helped him to understand that "sometimes it is not easy." Later Jackson's conversations with his grandfather would help him, he said, "to see what was going on." Then, in the heat of the COVID pandemic, on May 25th, 2020 George Floyd's brutal murder by a group of policemen was caught on cell phone video by 17-year-old Darnella Frazier, bringing issues of police brutality and racial injustice to worldwide attention. "I made the film shortly after George Floyd was killed…I saw that people recognized racism more…it's more visible today," he said, adding, "But it has been happening forever."
Jackson submitted 57 Years Ago to his school's film festival for Martin Luther King Day in early 2021, where, he said, people really liked the film. Jackson is not new at this: he has been making videos since he was a child. He told MY HERO that he had been making films with his brother in this grandma's back yard since he was "really young." Then, about five years ago when Jackson was in 7th grade, he began making videos for himself. He learned on YouTube where he started using the video editing app, Adobe Premiere Pro. Jackson explained to MY HERO that he had always loved watching film and TV, and then one day he got a video camera and started making videos. He's been taking film and animation classes for the last three years and presenting films at school and in other venues ever since, for example, 57 Years Ago was screened at the TCL Chinese Theater in Hollywood and at the AMC 25 in Times Square for the All American High School Film Festival.
Currently a busy high school senior immersed in college applications, Jackson continues to make films. His new film, Change is Coming, edited and directed by Giles Johnson and Jackson Carrico, was runner up in the Climate Changemaker Teen Film Festival at New Roads School. Jackson has many interests and hopes to major in business and finance with a film minor in college. Strong academically, he's looking at universities like Chapman and UCLA that offer both subjects.
When asked, "What advice can you give to young and aspiring filmmakers?" Jackson said simply: "Make things you believe in and are passionate about: they turn out better."
57 Years Ago by Jackson Carrico
Artwork by Jackson Carrico and Alia Chughtai
Photography by Kelly Lacy and Olia Danilevich
Song Permission granted by WMG (DAX). Black Lives Matterr by DAX.
Produced by Jackson Carrico
MY HERO International Film Festival:
To view the 2021 award winning films, go to https://myhero.com/Winners
For more details about MY HERO's International Film Festival, please visit myhero.com/FilmFestival
Page created on 10/29/2021 5:09:49 PM
Last edited 2/21/2023 4:36:07 PM