Jacques Cousteau
by Jeff Trussell
We have a very small number of years left to fail or to succeed in providing a sustainable future to our species.
When Jacques-Yves Cousteau died on June 25, 1997, the world lost more than just an esteemed biologist and oceanographer. The world lost its greatest guide of the chartless realms that make up the planet's oceans. Through his documentaries and books, Cousteau contributed more to our understanding of the oceans than almost any other person.
Cousteau was born in Saint-André-de-Cubzac, France, to Daniel and Elizabeth Cousteau on June 11, 1910. He spent much of his early childhood near the water, swimming and tinkering with gadgets such as underwater cameras and mechanical toys. After high school, he entered the French armed forces, fighting with distinction in the Navy during World War II. During his years with the French Navy, he designed and tested the Aqua-Lung, a predecessor to the SCUBA systems used by divers worldwide today. His Aqua-Lung was used by the allies after World War II to remove enemy mines from international waters.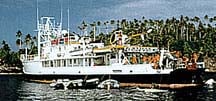 In the late forties, Cousteau set out to fulfill a lifelong dream of finding new and exciting ways to explore the world's oceans. In 1948 he purchased the boat Calypso, part ocean-going lab and part yacht, that would soon become synonymous with Cousteau and his underwater adventures. In 1956, with the help of Calypso and her crew, Cousteau's position as the world's most famous marine biologist was cemented when he received an Academy Award for his breathtaking undersea documentary, The Silent World.
Of the 120 documentaries Cousteau completed in his lifetime, one of his most important was "The Undersea World of Jacques Cousteau," a television series which began in 1968. This series brought unforgettable images into millions of homes, images of the exotic undersea environs populated by coral reefs and fearsome sharks. It contributed to a deeper understanding of a part of the world few people ever visited. The series also has been credited with raising public awareness of the unique problems faced by the world's marine environments as human encroachment threatens the very foundations of aquatic life worldwide.
Today, the Paris-based Cousteau Society carries on the work of Jacques Cousteau. The Society produces "The Discovery of the World," a documentary series launched by Cousteau himself in 1986.
Jacques Cousteau left two worlds behind in June, 1997: the dry world populated by his family, friends and group of admirers, and the ocean, populated by its various mysterious denizens. As admirers of Jacques Cousteau's world, perhaps the best way to honor his great legacy is to continue to respect the rights of the ocean life he championed, so that it will continue to be there for future generations.
Page created on 8/6/2014 6:29:06 PM
Last edited 7/14/2017 12:50:25 AM

Extra Info
Contact: The Cousteau Society, 870 Greenbrier Circle, Suite 402, Chesapeake, VA 23320/ (804)523-9335.
Related Books