Jamie Phelps
by
Brittney Kameka

- High School - from

Bond Head, Ontario in Canada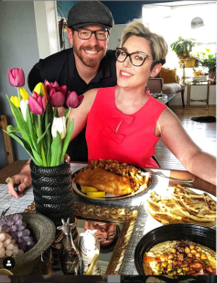 This is Jamie with her HusbandJamie Phelps
September 16 2020 My Hero By: Brittney Kameka
---
Now, this is Jamie's story. It isn't over, but it's not the beginning either. Jamie is 34 years old and she was raised in Ajax. When Jamie was 28 years old, she was sadly diagnosed with stage four cancer. After years went by, she was still fighting her battle. She never gave up and she never will. Her cancer slowly started to spread through her body and she had surgery and chemo twice a week.
With having cancer, Jamie had to stop eating certain foods and go vegan for months. Jamie's greatest supporters are her mom, husband and friends. Even though the doctors gave her five months, she never gave up and kept pushing through.
After five months came, the doctors started to see that she was getting better and her boyfriend proposed to her. Jamie did talk about how worried she was because of her cancer and if she would live until the wedding. They got married in 2016 and then they adopted a dog and a cat. With Jamie having her ovaries taken out, unfortunately she is not able to have kids in her future unless they adopt. Looking at her going through her journey, you started to realize she has too much courage and faith that one day her cancer might go away.
I think two character traits that best describe Jamie are faith and perseverance. These two characteristics best describe her in my mind because she has never given up in her journey or given up hope even for a minute. Even with Jamie having cancer, she accomplished many things like traveling, husband, new house and getting one of her dream jobs. Jamie is my hero because she shows me that you should never give up and to try everything because you never want to regret not trying something you love.
This is why I see her as my hero and how she shows me nothing is impossible, all you need to do is put your mind to it and try.
Page created on 9/17/2020 12:07:23 AM
Last edited 9/17/2020 6:46:03 AM
The beliefs, viewpoints and opinions expressed in this hero submission on the website are those of the author and do not necessarily reflect the beliefs, viewpoints and opinions of The MY HERO Project and its staff.