Jane Goodall
by
Jessica

from

United States

"Every individual matters. Every individual has a role to play. Every individual makes a difference."-Jane Goodall. Jane Goodall is highly known for her amazing observations and helping the chimpanzees. Jane has an interesting background and a lot of accomplishments. She is a hero because she takes risks, stands up for the chimps, and makes the world a better place.

Jane Goodall had a very interesting background. Jane was born on April 3rd, 1934. She was born in London, England. Jane went to Cambridge University. She graduated in 1966 and finished her first term, and then headed back to Africa. Also, Jane had two husbands named Derek Bryceson and then after that Hugo van Lawick.

Jane Goodall made many important discoveries. She protected chimps from people killing them. At first , Jane couldn't get closer than 500 yards before the chimpanzees left. She protected the chimps and the chimps habitat. She made the world a better place by helping the chimpanzees and raising awareness for them. Her first attempts might have failed, but now she can get much closer.

"You cannot get through a single day without having an impact on the world around you. What you do makes a difference, and you have to decide what kind of difference you want to make" -Jane Goodall. Her accomplishments have definitely changed the chimps lives and helped us know that we should not hurt the chimps.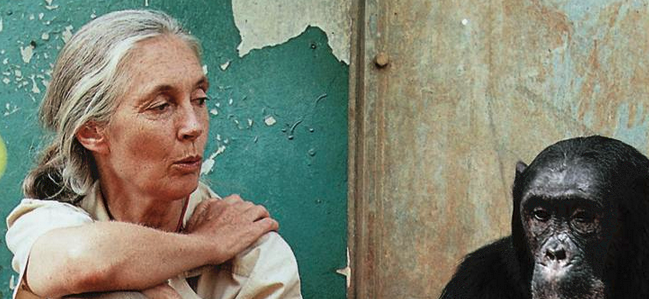 Jane Goodall with the ChimpanzeesPublic Domain
Page created on 1/16/2019 3:18:09 PM
Last edited 1/17/2019 5:39:07 PM
The beliefs, viewpoints and opinions expressed in this hero submission on the website are those of the author and do not necessarily reflect the beliefs, viewpoints and opinions of The MY HERO Project and its staff.