Jason Crowe was awarded the Culture of Peace Award at the 2000 World Peace Ceremony held in Tokyo, Japan.
In 1997, a friend sent Jason Crowe an article that would transform him from ordinary 10-year-old kid into peace activist.
It was the story of Vedran Smailovic, principle cellist of the Sarajevo Opera Orchestra, who witnessed the massacre of 22 neighbors in a bread line during the Seige of Sarajevo in 1992. Vedran's response was to play his cello amid sniper fire for 22 consecutive days in the crater left by the fatal mortar shell. Crowe was deeply moved to action. He called it his "awakening."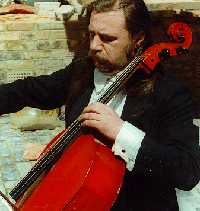 The bravery of this "Cellist of Sarajevo" inspired Crowe's biggest dream: a tribute to the spirit of the Bosnian people in the form of the Children's International Peace & Harmony Statue, to be shipped to Bosnia as a gift from peace-loving people around the world, especially children.
"We will inherit the new millennium and we must voice our desire for peace and show the world we are willing to work for it. The statue itself will be our voice giving us a way to shout, 'Never again must mean never again'." Crowe's efforts to raise enough money to realize his dream have attracted the attention and support of celebrity/peace activists such as Joan Baez, Pete Seeger, Irish folk singer Tommy Sands, rock artist Bono from the band U2, cellist Yo-Yo Ma and Peter Yarrow from Peter, Paul & Mary.
In 1996, Crowe had started The Informer, a "kids-for-kids" newspaper in memory of his grandmother. He began to use the newspaper to help disseminate information about his peace activism. He also started networking with students and teachers worldwide who were studying Bosnia and causes of war. He wrote an historical novel chronicling the life of three boys (Bosnian-Serb, Bosnian-Muslim and Bosnian-Croat) who were best friends before the war forced them to separate. Through faith in harmony and creative energy, the boys are reunited at the end of the war. Another book in progress, called Public Scrapbook of Courage focuses on the courage of Bosnian children as they faced their everyday lives during the war. It also documents children in other parts of the world who have stood up and taken action for the Bosnians. Proceeds from both books were donated to humanitarian aid for Bosnia and the statue project.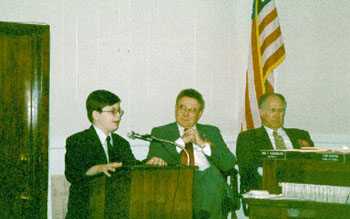 In 1998, Crowe participated in the Massachusetts Institute of Technology's Junior Summit, an online international forum which engages children to solve world problems. Of this event, he said, "There is no way to come away from this experience without knowing that, in spite of differences in race, color, national origin, social-economic status and religion, we are all the same beneath...at the level of the heart."
Crowe believes that the Internet puts a tool for bringing peace and harmony to the world into the hands of kids. "How can I adequately say that I have come to love and worry about youth (and adults, too) whom I have never seen in person and who come from such places as Jamaica, Lebanon, France, Ukraine, Malaysia, Australia, Singapore, India, Nepal, Nigeria, Mexico, Bosnia and Argentina just to name a few? How is it possible to explain that these friendships made electronically are deeper than most of those I have with neighbors and schoolmates? For these experiences, I will always be grateful to MIT and the Junior Summit."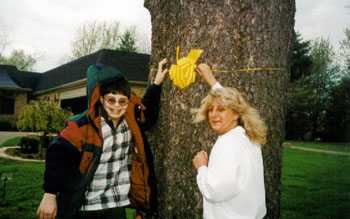 Crowe calls his parents, Cindy and Dennis Crowe, "the Great Facilitators" because of their tireless love and support. Another inspiration in Crowe's life was his beloved grandmother, who died of cancer in 1996. "I remember how she always believed in me and affirmed me," he recalled.
Nevertheless, Crowe has some concerns about the idea of the hero.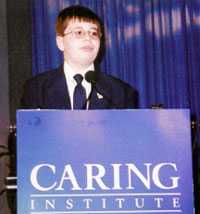 "One concern is for the hero himself. If the person whom the title is bestowed upon is alive, it can destroy him just because it is a lot of baggage to carry around with you all the time. There is a lot of responsibility placed on a person who is given the title hero. Many times (through no fault of their own) their story grows and takes on mythological proportions and they really lose their own identity. It is very hard trying to be something that someone thinks you are and wants you to be. Mr. Smailovic has intimated these things. He says it is hard to go in a tavern because everyone starts singing about him or asking if he really did such and such.
The second concern is that using the term hero might actually discourage people from reaching out to do similar things. It may make the person called 'hero' seem larger than life and similar deeds would then seem totally out of reach for a normal, average person.
The third problem is more of a problem of degree. The focus needs to be on the deed and carrying on the work started by the hero. The true hero would want the focus to be on his work, not on himself."
Nevertheless, he says, "Maybe there is no such thing as a hero. There are just regular people who do courageous, heroic things. These things may be known to only one person and may never get publicized, but that doesn't make the deed less heroic."
Crowe has this to say to adults: "Listen to us kids, and don't say no when we want to try something new, different, unusual or creative. The trying will produce the yes or no. Give us help if we ask for it and believe in us. Don't give us the answers that work for you...give us the sources and some direction, but let us...discover the truth for ourselves."
Crowe offers advice for other kids wanting to make a difference:
"I think it's much easier than it looks. If your eyes are open you will see injustices, things that need to be corrected, things that need to be protected, things that need to be beautified, things that need to be cared for.... Also I would say don't be dissuaded. If you believe you can make it happen, don't take 'no' for an answer. Find youth and adults who believe in you and will help you. Try places like 4-H, Scouts and Youth Resources if you want to accomplish something at the local level. Lastly, I would say do what you can one step at a time. Often it is the individual steps we take on the path to the goal that do more good than the goal."
The Informer, Crowe's newspaper, is now distributed in 29 states and 15 foreign countries. In 1997, Crowe was honored at the United Nations Building in New York City, in a ceremony saluting seven youngsters from around the globe who have furthered the virtues of peace and tolerance through their creative talents. More recently, Crowe won the Swackhammer Peace Essay Contest with his essay "Youth at Work: Building a Global Culture of Peace."
In 1999, Crowe started Youth for Peace in the Year 2000. This organization had two fund-raising events, "The Chain of Hope" and "Harmony in the Park 2002," to raise money for the statue project. Crowe has raised nearly $25,000 toward the $50,000 needed for the peace sculpture.