"One of the only ways to get out of a tight box is to invent your way out."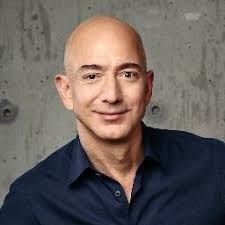 Jeff Bezos: CEO and founder of Amazon.comtwitter.com
"One of the only ways to get out of a tight box is to invent your way out." These are the words of a modern day innovator and genius of the 21st century. You may know him as the founder of Amazon, the largest retailer in the world. His name? This extraordinary man goes by the name of none other than, Jeffrey Preston Bezos. We have come to know him as someone who has changed the way we shop forever, he continues to show us new ways to push the envelope and change the modern world. Who would have known the son of a teen mother would have become the man he is today. He was introduced to the world on January 12, 1964 in Albuquerque New Mexico. He was conceived by Jacklyn Bezos and her husband Ted Jorgensen.Years later, his mother married Miguel Bezos, a Cuban immigrant. This is where Jeff got the well known last name of Bezos. He attended Princeton University where he got his degree in electrical engineering and computer science. After graduating in 1986, Bezos went to Wall Street where he found a successful job. Not long after, he found himself, beheld with an idea that would change his life forever. That idea was Amazon. With the success his company brought him, he has found many ways to use his influence for the betterment of others, becoming a hero to many. A hero contains many traits. A few being, determination, resilience, passion, and care. Jeff Bezos is a modern day hero because of his unconditional care for others and his unbreakable determination.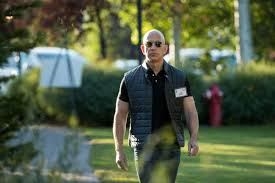 Jeff Bezos in his determined state of mindtheverge.com
Jeff Bezos has furthered his title as a modern day hero through his immense determination that has made him a fearless entrepreneur and innovator. His determination was proven to be useful as he struggled to make a decision to quit his Wall Street job to pursue his dream. "Seen in the light, it was a really difficult choice, but ultimately, I decided I had to give it a shot. I didn't think I'd regret trying and failing. And I suspected I would always be haunted by a decision to not try at all"(Catherine Clifford para. 18) said Bezos. He was fixed with the decision to quit and pursue his dream or sit there and and watch it fade. But after seeing that Web usage had been growing by 2,300% a year, Bezos knew he had to do something about it. Bezos was able pursue his dream of Amazon because of his determination to start something new and his propensity to not fear failure. Bezos' determination doesn't stop there. When seem promoting his company, he is industriously trying to grow his company and spread the word of Amazon. "Analytical and Methodical, Bezos is also enthusiastic and tireless in promoting his company and the potential of the internet to change the way people buy"(Business Leader Profiles for Students para.3). Jeff Bezos shows his determination through his love and desire for his company. The amount of time and effort he has put forth for his company inspires all. His non-stop promoting, eagerness to change the way people shop, and his desire to be the best all stemmed from the eternal flame fueling his vision. It is through his heroic acts of determination and resilience that he inspires the youth to do more, and be more while simultaneously changing the world, furthering his status of hero.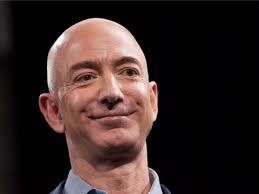 from a relentless boss to kind hearted manbusinessinsider.comJeff Bezos also demonstrates his unconditional desire for helping others as another one of his heroic abilities that makes him such an influential figure in today's society. His willingness to try new things in order for them to have a positive effect on others has led him to his upcoming philanthropy plan, "As hard as it might be, reducing healthcare's burden on the economy while improving outcomes for employees and their families would be worth the effort"(Jeff Bezos Biography.com-Entrepreneur, Business Leader para.22). While having less of an effect on the economy, Jeff Bezos' philanthropy plan is aimed to help others in desperate need of health care. In doing so he uses the platform he has created to provide benefits for those who can't support themselves. This exemplifies his caring nature in many ways, but the main reason is the fact he puts aside his own needs only to benefit others. A similar scenario in which Bezos exhibits his aide to society is one he takes across the globe. "...In early 2016, he flew his personal jet to Germany to pick up and bring home the Washington Post reporter who had been detained by Iran"(Avery Hartmans para. 32) Avery Hartman wrote. His efforts to reach this reporter were extensive. But without a shadow of a doubt, he was going to go retrieve the reporter. Bezos wasn't obligated to go get him, no one was. But he did anyways. If it wasn't for Bezos, who knows what could have happened to that reporter. As demonstrated by Bezos, kindness and giving back can go a long way, literally. Through Jeff Bezos' dearest efforts, he has been a quintessential example of how to treat others in a caring manner; putting society on a path toward great things.
To conclude, Jeff Bezos, in many ways, has shown us what it is like to be a modern day hero. Whether it was through his determination or his concern for others, he has demonstrated many acts of one. Ranging from a decision to create a startup company to flying his private jet to pick up a detained news reporter. What astonishes me despite all his success is that "Amazon founder Jeff Bezos went from the son of a teen mom to the world's richest person, his wealth topping $105 billion"(Catherine Clifford-cnbc article title). He is living proof that extraordinary things can happen no matter the life you're born into. Whether you're born into a poor childhood or a wealthy one, there is a chance. A chance to do good. Bezos had a dream and he executed, leaving a huge imprint in the 21st century. Through his determination to change the world and his unconditional desire to help others, he will forever serve as a hero. As an inspiration for future generations, Jeff Bezos has and will keep innovating, continuing to demonstrate his many of his heroic attributes and changing the lives of many along the way.
Works Cited
Au-Yeung, Angel. "Bezos, Son of Cuban Immigrant Gives $33 Million to Non Profit Helping
Dreamers Pay for College." Forbes, Forbes Magazine, 12 Jan. 2018, 1:41pm.
"Jeff Bezos Biography." Biography.com, A&E Television Networks, 31 Jan. 2018,
Hartmans, Avery. "The Fabulous Life of Amazon CEO Jeff Bezos, the Second-Richest Person in
the World." Businessinsider.com, 15 May 2017, 4:04pm,
Clifford, Catherine. "How Amazon's Jeff Bezos Went from Son of a Teen Mom to Building a
$105 Billion Fortune." CNBC, CNBC, 9 Jan. 2018, 1:15pm,
"Jeff Bezos." Business Leader Profiles for Students, edited by Sheila Dow and Jaime E. Noce,
vol. 1, Gale, 1999. Biography in Context,
https://link.galegroup.com/apps/doc/K1604000023/BIC1?u=powa9245&xid=49b40d5d.
Accessed 15 Feb. 2018.




Page created on 2/14/2018 4:31:01 PM
Last edited 2/18/2018 8:49:34 PM