John F. Kennedy
by
Jon from Watertown
John F. Kennedy
Photo via Wikimedia [public domain]
John F. Kennedy was a man who played an important role in the history of the United States. As president, John Kennedy was involved in many new programs in the '60s. He was instrumental in the start of the Peace Corps. John Kennedy also felt that the United States should be involved in the space program. He felt that the U.S. should be the first country to go to the moon. Unfortunately, President Kennedy never lived to see that goal successfully accomplished.
One of the major issues during his presidency was civil rights. The 1960s was a time of great turmoil surrounding the issue of racism. President Kennedy played a key role in getting a black student into a college in the South. President Kennedy also was very concerned about the poor people in our country. He came from a wealthy family, but his concern was for the well-being of the middle class and the poor. The Kennedy family was also responsible in the creation of the Special Olympics. These games involved the physically and mentally disabled. To this day, these games still exist and are enjoyed by numerous participants.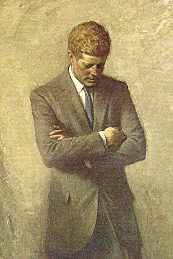 John F. Kennedy Official Portrait
Photo via Wikimedia [public domain]
John F. Kennedy was the 35th President of the United States. He was the youngest man elected to office and the first Roman Catholic ever to hold the office of the presidency.
On Nov. 22, 1963. in Dallas, Texas, President John F. Kennedy was assassinated. The man responsible for his death was Lee Harvey Oswald. Oswald was captured the same day of Prsident Kennedy's death, but not before Oswald had killed a police officer in Dallas. Ironically, Lee Harvey Oswald never stood trial. He was killed by Jack Ruby as the Dallas police moved Oswald to a more secure facility. Jack Ruby was tried for Oswald's death and sent to prison.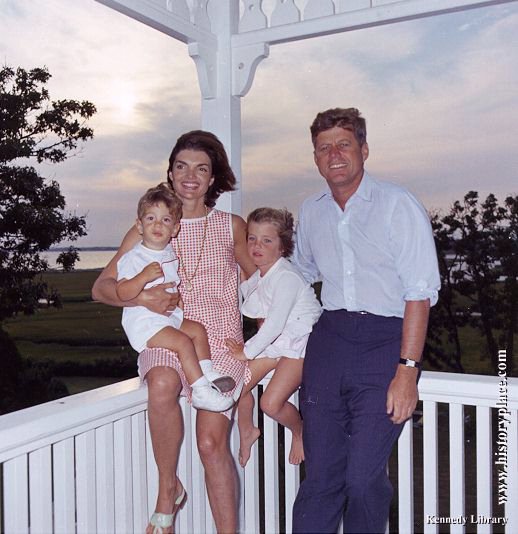 JFK and family
Photo via Wikimedia [public domain]
Kennedy left behind his wife Jacqueline and two young children, Caroline and John Jr. He always made time for his family no matter what was going on at the moment. John Kennedy never wanted all the publicity; he was a man who simply wanted to serve his country as president.
Page created on 6/12/2004 6:25:10 PM
Last edited 5/13/2020 4:46:11 AM
The beliefs, viewpoints and opinions expressed in this hero submission on the website are those of the author and do not necessarily reflect the beliefs, viewpoints and opinions of The MY HERO Project and its staff.
Related Books