John F. Kennedy
by
Ciara

from

Montvale, New Jersey in United States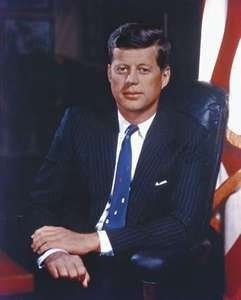 John F. KennedyEncyclopedia BritannicaJohn F.Kennedy
Who is the man that stopped the Cuban missile, you may ask? John F. Kennedy did, the 35th president of the USA. He was the youngest president to be elected at the time, and he was a hero to many people. You will learn lots about what this great man did and his many heroic accomplishments which made him a hero.
John had a great life when he was growing up and a strong one too. He was born in Brookline, Massachusetts, on May 29th, 1917. John grew up in a wealthy and powerful political family. John F. Kennedy got married to Jacqueline Lee Bouvier Kennedy. He also served as president through 1961-1963 until he was assassinated on November 22nd, 1963.
Some more things that made this man amazing were that, he was a gunboat pilot in World War ll. Also, he saved his crew members from dying in the water and dangerous ocean. Kennedy received the Navy and Marine Corps Medal for Courage and Excellent leadership. As you can see, John was a great man and he was really brave, too. He served as a congressman for six years, then he became the 35th president of the United States of America. He was mostly known for stopping the Cuban Missile Crisis because, if he didn't stop it America would no longer be "The home of the brave".
Now that you know lots of things about John F.Kennedy you can see his bravery and his heroic acts, as well as his background, and some of his accomplishments, I hope you learned a lot about JFK, because I know I did.
Duckster.com
Page created on 1/17/2019 3:27:06 PM
Last edited 1/19/2019 10:35:59 PM
The beliefs, viewpoints and opinions expressed in this hero submission on the website are those of the author and do not necessarily reflect the beliefs, viewpoints and opinions of The MY HERO Project and its staff.