"Do what you love and help along the way."
When we think of water, most of us think about an infinite stream of a fresh liquid coming from our tap. But everyone isn't that lucky. About 1/3 of the world's population doesn't have clean water to drink. And some people want to make a difference, but don't have the guts to put everything on the line for others.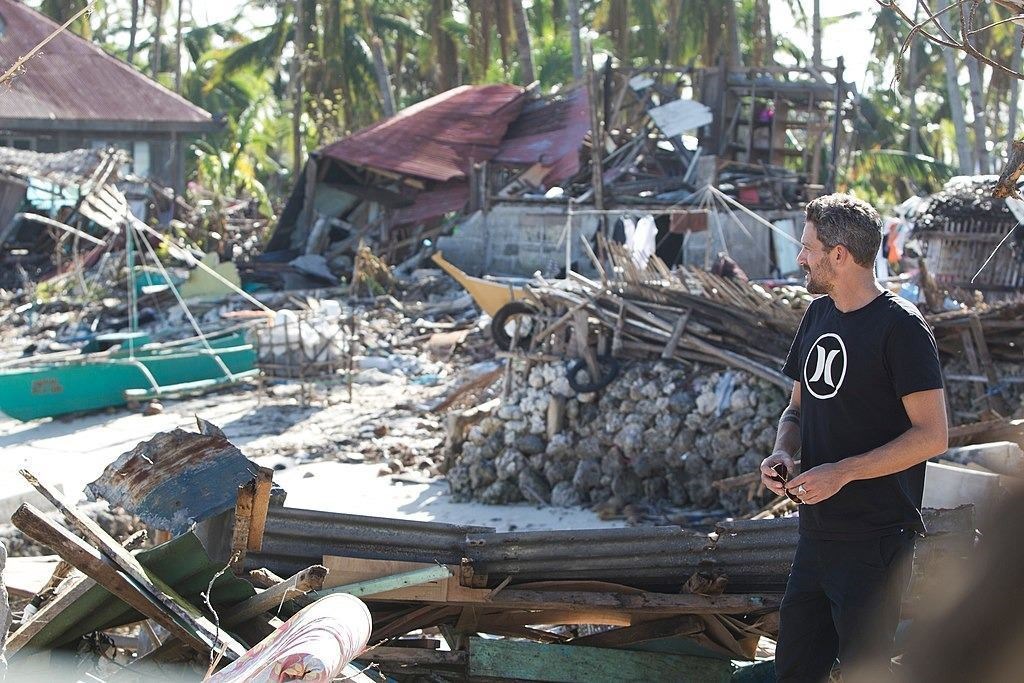 Jon Rose in the Philippines after a typhoonLeonhard-Virgil [Wikimedia Commons]
But today I'm here to talk about a man from Colorado named Jon Rose, who at a young age moved to Laguna Beach, where he found the love of surfing. At the age of 18, he became a pro surfer. At 31 he retired, then the idea struck him to combine surfing with clean water for everyone. That way he didn't have to give up his love of water, and could help for the greater good.
Before Rose started Waves for Water, he just had a thought of the idea. He decided to go to Indonesia where an earthquake hit, and he saw bodies. He felt helpless. At then he remembered the gasoline filters he brought with him. He set up tents where he provided clean water to medical workers. When Jon Rose came home, he got a divorce. And for once in a long time he saw some hope up ahead.
Just 3 months later his friend called asking him to come to Haiti, to replicate the same thing he did in Indonesia. Even there, there was a natural disaster. Rose flew out the next day expecting to only stay there a few weeks. Instead, he was there for 2 years.
He spent days distributing water filters to people and instructing them on how to use them. He sometimes forgot about his own hygiene, and didn't shower for months. He slept in a tent and ate MRE's (military food rations). It wasn't like his previous surfer luxury lifestyle. But since the first time since he retired, he felt he was living the life he was meant to live.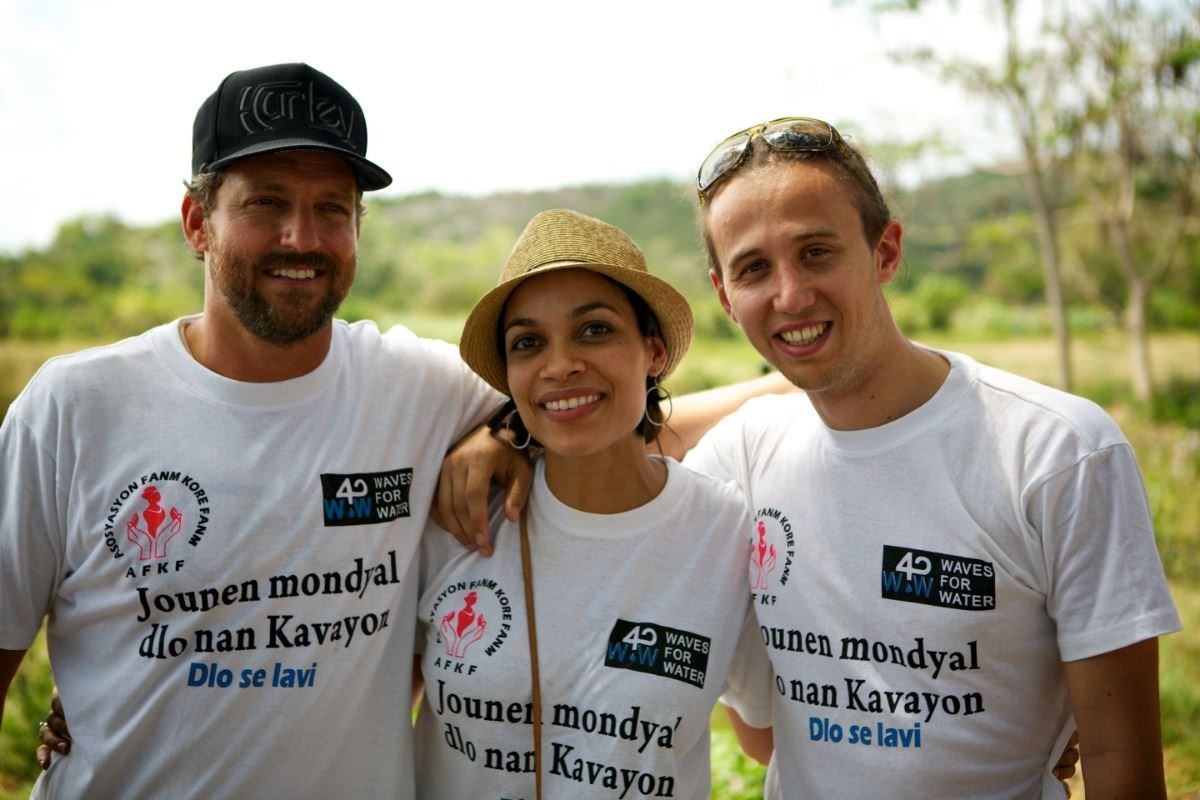 Jon Rose, Actress Rosario Dawson and director Maximilian HaidbauerLeonhard-Virgil, CC BY-SA 4.0 via Wikimedia Commons
During those 2 years, he invented Waves for Water. By the time Rose left Haiti, Waves for Water was a registered 501(c)(3) non-profit organization with a small staff and contracts to do humanitarian work for the United Nations and the U.S. Military. In the 10 years since the experience in Indonesia, Waves for Water has provided more than 7 million people access to clean water.
Waves for Water projects have contacted individuals in 27 nations, but its active and recurring work focuses on 17 nations, mostly in Southeast Asia. Jon Rose and his group fund-raise from corporate sponsorships to give both practical water arrangement, such as wells and bio filters. His group also does disaster relief with filters that are easy to transport in earthquakes.
Rose has sold countless of his houses to help the cause. He travels internationally as often as 3 weeks, to monitor ongoing projects and to add new systems in different countries.
Although Waves for Water was first started as a one-person passion project, it now employs around 40 people around the globe. Rose also doesn't have any income anymore from these projects. In the last 10 years, surfing has taken a back seat in Jon Rose's life, to running Waves for Water, which has distributed over 150,000 filters throughout the world.
Why is Jon Rose a hero?
He may have not been my hero, but he was a hero to over 7 million people. The definition of a hero is someone who is admired for their courage, outstanding achievements, or noble qualities. In other words, someone who fights for those who can't, or does the right thing. When he was a pro surfer who was retired with no income, he decided to help others in Indonesia after the earthquake. After that day on he was a hero. That's why I believe Jon Rose is considered a hero.
Other Info:
He has a movie about him and his cause. Movie Name: Waves for Water
Sources:
https://bleacherreport.com/articles/2704100-meet-the-former-pro-surfer-who-has-helped-7-million-people-get-clean-water
https://www.wavesforwater.org/about
https://www.surfer.com/features/how-waves-for-water-founder-jon-rose-redefined-the-idea-of-surf-travel/
https://www.google.co.in/url?sa=i&url=https%3A%2F%2Fwww.surfer.com%2Ffeatures%2Fhow-waves-for-water-founder-jon-rose-redefined-the-idea-of-surf-travel%2F&psig=AOvVaw3Pjyo7-FjE9VgEaqKgky1P&ust=1603468210058000&source=images&cd=vfe&ved=0CAMQjB1qFwoTCOCLuO7GyOwCFQAAAAAdAAAAABAD
https://www.google.co.in/url?sa=i&url=https%3A%2F%2Fkoparibeauty.com%2Fblogs%2Flifestyle%2Fworld-water-day&psig=AOvVaw3Pjyo7-FjE9VgEaqKgky1P&ust=1603468210058000&source=images&cd=vfe&ved=0CAMQjB1qFwoTCOCLuO7GyOwCFQAAAAAdAAAAABAJ
Page created on 11/4/2020 1:15:20 PM
Last edited 11/5/2020 2:03:50 AM