Jonathan Gratch, a professor of computer science and psychology, has been working for years on the relationship between virtual reality, augmented reality and technology's ability to both respond to and effect human emotions. A major facet of his research was discovering the driving forces of human emotion in order to grasp these tools and incorporate them into his work. He discovered that emotions are a critical function in intelligent behavior, a "means for an organism to shift between competing goals, balance reactive and deliberate processing," (Gratch,
Computationally Modeling Human Emotion). Understanding some of the tenets of what drives humans, he was able to develop virtual machines that would lead to understanding and beneficial communication with real people. His creations are designed to have empathetic reactions to people, respond to questions, read facial reactions of the participants in real time, and respond in supportive and useful ways. He envisioned that these interactions could very well promote usefulness and more peaceful interactions with the participants as they returned to interacting with the outside world.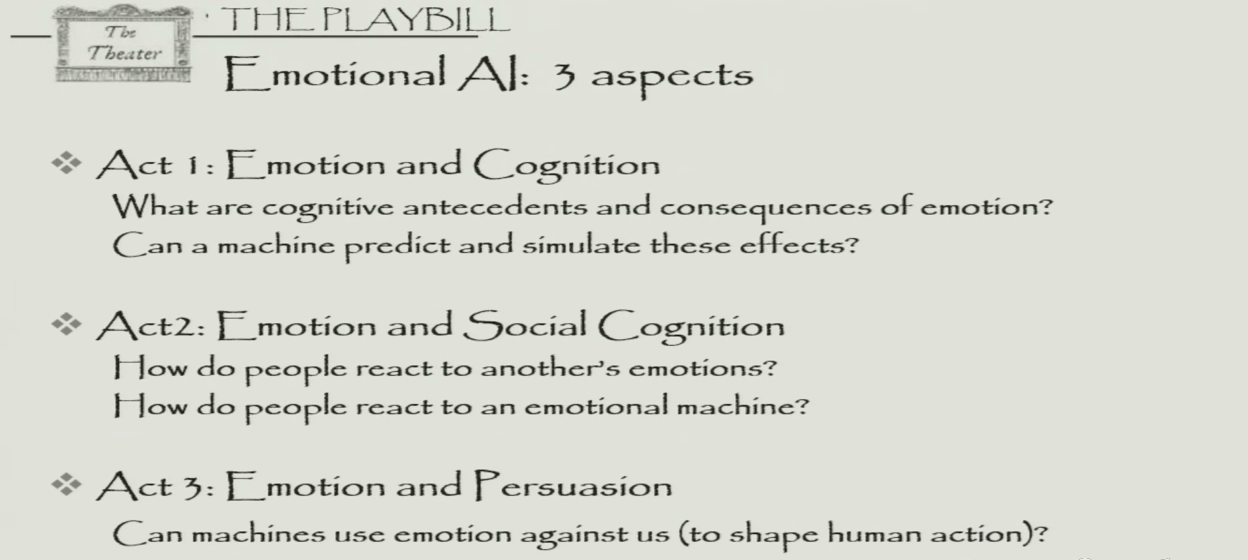 Elle https://www.youtube.com/watch?v=XAU7wzJCrZc Using these tools, he helped design a virtual human, Elle, that was created to interact with people who might otherwise feel uncomfortable revealing aspects about themselves, their lives and past, to other humans out of shame and fear of judgement. Elle is a an artificially intelligent, virtually visualized machine in the guise of a human. She is "from" Los Angeles, speaks with a clear, concise tone, and provides an environment that feels safe and welcoming to the participants. A major aspect of this research was a study where Elle was used to draw out soldiers with PTSD who were afraid to work on themselves with other humans. Gratch and his team discovered through this research and practice that there was success in people interacting with the virtual creation that was not seen in interactions with humans.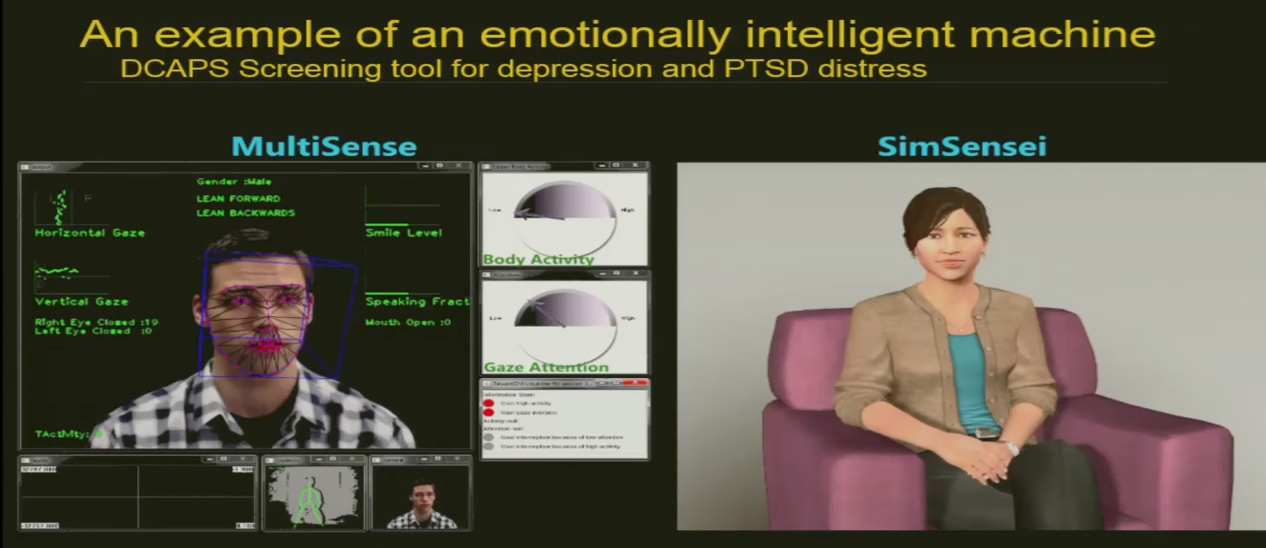 Elle https://www.youtube.com/watch?v=XAU7wzJCrZc There are great implications of this work for the development of empathetic, virtual humans that can be used to elicit positive human emotions. The research allows these creations to think and engage with users on their own. This combines elements of artificial intelligence and virtual experiences, not just for the benefit of business like many current A.I endeavors, but for the growth and self-knowledge of individuals. The participant is fully immersed in the situation and grows more comfortable with the computer creations that he engages with, being perhaps less inhibited by the aspects of our natural environment that we have all some way grown to associate, along with love, peace a joy, apprehensions of fear, judgement and conflict. These tools can be used to contribute to negotiations, prevent conflicts, drive better psychotherapeutic effectiveness and, in classroom environments, to elicit more productive, peaceful and perhaps life altering interactions.
The future of this technology contributes to a possibility of a world where useful, independent and socialized, artificially intelligent creations -- fully emotive and empathetic characters -- could be sent out into virtual environments, reacting to others, promoting nonviolence, aiding in mental illness -- sent out into environments that are sure to become more and more prolific in the years to come, as the tools of virtual reality become more available to all. Gratch and his team's work strives for a world where our engagement with technology does create a better humanity -- grasping the profound implications and responsibilities of these tools, and using them to effect humans in positive, understanding and more beneficial ways.

https://www.youtube.com/watch?v=XAU7wzJCrZcGratch
Page created on 8/17/2017 3:35:28 PM
Last edited 9/14/2018 9:11:35 PM