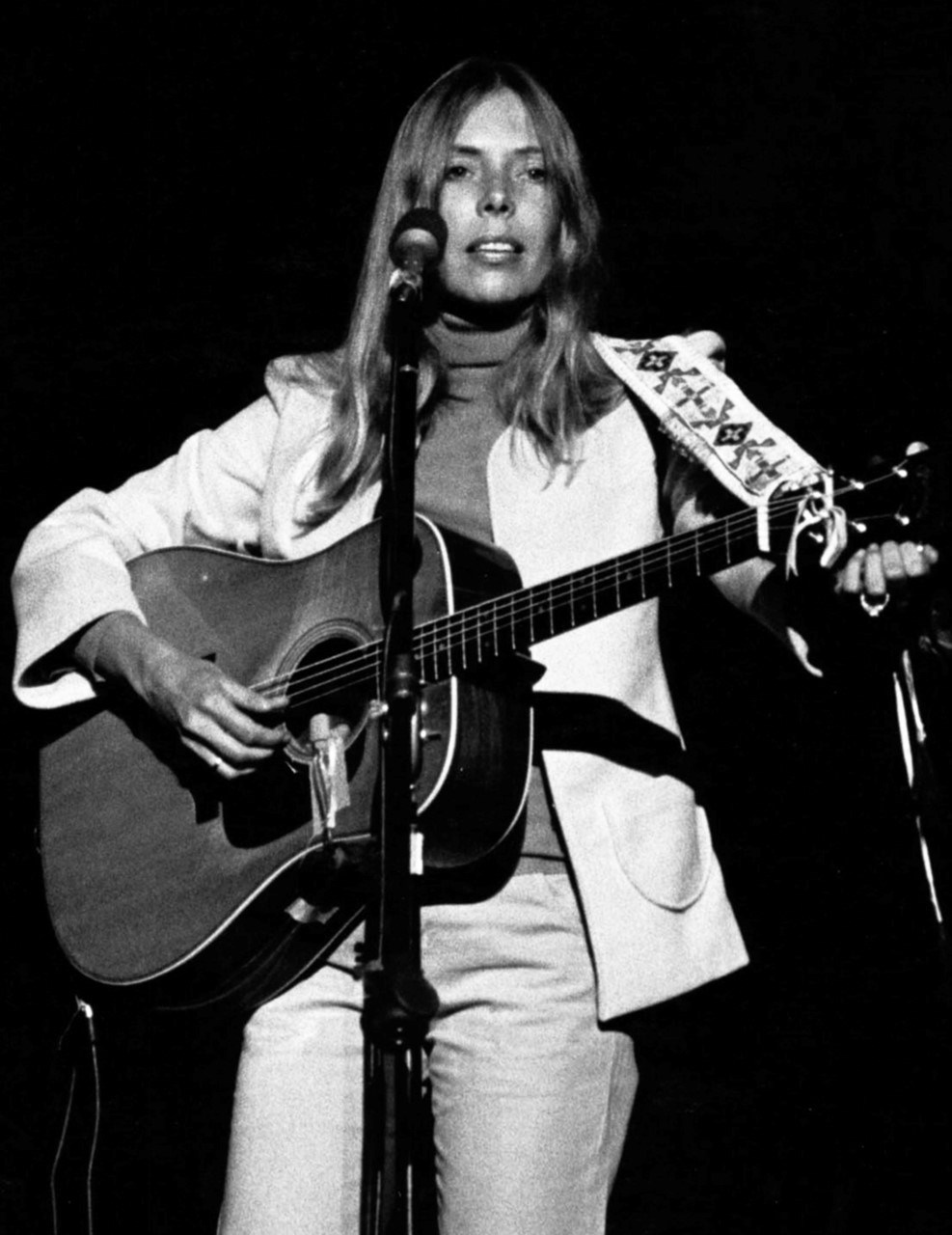 Joni Mitchell 1974Wiki Commons2022 MusicCares Person of the Year
Joni Mitchell was recently announced as the 2022 MusiCares Person of the Year. The MusiCares Person of the Year is an award presented annually by MusiCares, the charity arm of The Recording Academy, the same organization that distributes the Grammy Awards, to commend musicians for their artistic achievement in the music industry and dedication to philanthropy. The event took place in April in Las Vegas. It was originally set to be held on January 29 in Los Angeles but was delayed due to uncertainty surrounding the Omicron variant.
The event played tribute to 'the iconic and impactful music' of Joni Mitchell, highlighting the singer's gift as both a songwriter and performer and the fact that she has influenced generations of musicians and writers. Cyndi Lauper, Jon Batiste, Graham Nash, and others dedicated three hours of music to the decades that this legendary artist has influenced. The gala ended with a sing-a-long of "The Circle Game" and a "Big Yellow Taxi," featuring a performance from Mitchell herself.
Said Mitchell: "I'm honored to be chosen as Person of the Year by this great charity." After the event, she stated, "That was such an incredible evening for me. To hear my music performed so well by everyone that was on stage, I can retire now and just let other people do it."[i]
Money raised from the gala will go towards MusiCares programs and services that assist the music community including physical and mental health, addiction recovery, preventative clinics, unforeseen personal emergencies, and disaster relief.
Two days after the event, Mitchell also accepted a Grammy Award for Best Historical Album for Vol. 1 of her Archives Series, covering her Early Years (1963-'67).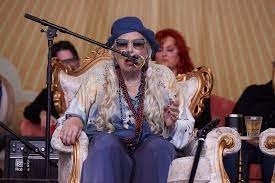 Joni at Newport Folk FestivalFlickr
Mitchell had retired from touring in 2000 and suffered a brain aneurysm in 2015 and it was reported that the January MusiCares Person of the Year event would be the first time Mitchell would sing in public since 2013. But due to the delays, in July 2022, Mitchell made a surprise return to live performance at the Newport Folk Festival, joining her friend Brandi Carlile. It was Mitchell's first full-length set for over two decades and her first at Newport since 1969. Mitchell performed a 13-song set opening with 'Carey' and closing with 'The Circle Game'. The set also featured 'A Case Of You', 'Big Yellow Taxi' and 'Both Sides, Now'.
And this is by no means the end for Mitchell's live performances: "I want to get a small jazz combo — which would be Wayne Shorter and Herbie Hancock and Larry Klein on bass maybe — and cut some standards," she told Rolling Stone[ii] in April 2022.
Background
Mitchell, originally named Roberta Joan Anderson was born November 7, 1943, in Alberta, Canada and rose to fame in the 1970s. Mitchell struggled at school; her main interest was painting and later poetry when encouraged by her unconventional teacher, Arthur Kratzmann. (He made such an impact that Mitchell's first album includes a dedication to him.) After graduating high school at Aden Bowman Collegiate in Saskatoon, Mitchell took art classes at the Saskatoon Technical Collegiate with Henry Bonli, an abstract expressionist painter. It was then, at the age of 18, that she began singing casually with her friends. Mitchell's first paid performance was on October 31, 1962, at a Saskatoon club.
Mitchell left home in 1963 to study commercial art at the Alberta College of Art in Calgary before moving to Toronto in 1964. There, she continued to perform at local folk clubs, coffeehouses and nightclubs. After a brief marriage to folksinger Chuck Mitchell, she relocated to New York City, where in 1968, she released her first album, 'Clouds.' and won her first Grammy in 1969. Her 1971 album 'Blue' was an immediate hit and was considered an instant classic. Today, 'Blue' is often cited as one of the best albums of all time. It was rated the 30th best album ever made in Rolling Stone's 2003 list.
Mitchell's prestigious career has spanned over 50 years. She has received many accolades including ten Grammy Awards and an induction into the Rock and Roll Hall of Fame in 1997. Rolling Ston called her "one of the greatest songwriters ever." She was awarded a Lifetime Achievement Award at the 44th Annual Grammy Awards in 2002 and became a Kennedy Center Honoree in 2021.
Artist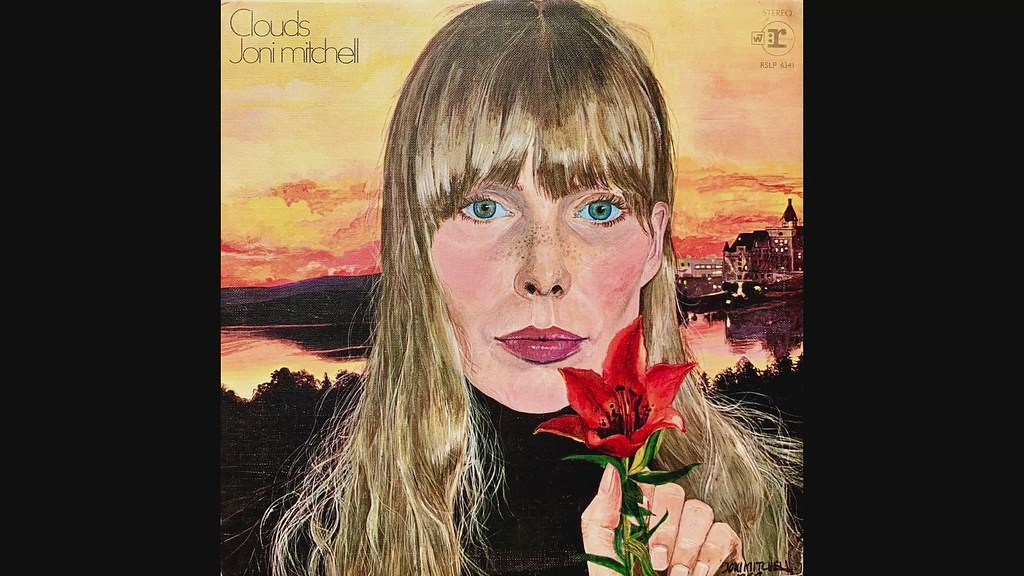 'Clouds'Flickr
Most of us think of Joni Mitchell as a singer, songwriter, musical innovator and trailblazer but throughout her lifetime, she has painted prolifically, although very little has been written this aspect of her life. Mitchell designed most of her own album covers, describing herself as a "painter derailed by circumstance." Mitchell told the LA Times in 2004 that her two arts, painting and songwriting, happened in almost opposite ways for her: "In painting, your brain empties out and there's not a word in it; it's like a deep meditation, like a trance…I could step on a tack and probably wouldn't know it when I'm painting. In writing, it's kind of the opposite…You stir up chaotic thoughts, then you pluck from this overactive mind. It's part of my process as a writer, being emotionally disturbed by something exterior someone said or something that is happening in society. It's on your mind, and it won't go away until you deal with it."
Today, her website hosts 321 pieces of artwork, curated by Jamie Zubairi. Go to https://jonimitchell.com/paintings/ to find out more.
Joni's website: https://jonimitchell.com/
[i] https://www.udiscovermusic.com/news/2022-musicares-person-of-the-year-concert-joni-mitchell/
[ii] https://www.rollingstone.com/music/music-news/joni-mitchell-musicares-grammys-1331608/
Page created on 11/4/2022 10:40:42 AM
Last edited 11/4/2022 3:25:09 PM