Katie Lee was born in Tucson, Arizona in 1919 and grew up exploring the wild desert and swimming in the mountain ponds.
"I'm a westerner, born and bred," she admits.
Lee was a folk singer in the days before it was very profitable to sing folk songs. She studied with two of the most successful folk singers of the 1940s, Burl Ives and Josh White. She acted in Hollywood-produced radio shows called "The Halls of Ivy," "The Railroad Hour," and "The Great Gildersleeve." She also supported herself by taking parts on early television shows.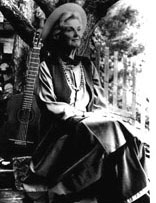 Katie Lee continued to write and perform her original songs in clubs all across the country. She also performed traditional folk songs and has collected them on record albums. One of her favorite types of music is cowboy music of the Old West. She has appeared at the National Cowboy Hall of Fame in Oklahoma City, and her documentary film, "The Last Wagon," according to the University of Arizona Library, "traces authentic music of the American cowboy to its actual source." In this film, "Katie Lee introduces two original cowboy composers who were born in Arizona in the nineteenth century. A glimpse of the vanished West is provided through the cowboys' songs, philosophies, humor, and anecdotes." Lee's romantic love of cowboy music is similar to her love of the Southwestern desert, which is also, to her great distress, "vanishing."


"Cowboys, I am convinced, are the antitoxin for our space dizziness, reminding us of past freedoms and a severed partnership with the earth. When we are jam-packed cheek-to-cheek in the not-too-distant future, these songs will rise to recall the empty distance we once knew and leave us with the same feelings that possess us when we stand looking out to sea."
When she was in her early thirties, Lee began taking boat trips down the Colorado River with her friends, Frank Wright and Tad Nichols. It was then that she fell in love with Glen Canyon: its sensuous topography, its primordial mystery, and the stories of others who lived on it, worked on it, and loved it before her. She explored and gave her heart to hidden places along Glen Canyon such as the Music Temple, Hidden Passage, and Moki Canyon.
Lee not only wrote her own songs about the river, but she also discovered those written by others, collecting them on two albums: "Colorado River Songs" and "Glen Canyon River Journeys."
When the Glen Canyon Dam was closed in 1963, all of Lee's beloved places, Music Temple, Hidden Passage, and Moki Canyon, were among those corners of beauty and mystery that drowned in the backflow. Lee revived her journals of those river trips in a 1999 book-elegy, All My Rivers Are Gone. It is a truly heart-breaking story about a woman who is losing the love of her life, and yet refuses to give up hope.
"We're now in what, for me, is the Wild Secret Heart of Glen Canyon....The Nature Goddess has left enough curiosities and works of art--on both sides of the river--to boggle the mind."
Lee continues to gift the world with her energy, passion and intelligence. She still has a beautiful voice and uses her talent to plead for the restoration of her beloved river and its canyons. In a review of All My Rivers Are Gone, journalist Leonard Thurman writes: "The Glen Canyon Institute is currently leading the initiative to decommission the dam and to drain Lake Powell. Katie, ever a folksinger, understands the power of song and prose in bringing about change."
Page created on 3/11/2013 7:57:47 PM
Last edited 1/4/2017 9:47:46 PM