The single aim of my life is that every child is: free to be a child, free to grow and develop, free to eat, sleep, see daylight, free to laugh and cry, free to play, free to learn, free to go to school, and above all, free to dream. -Kailash Satyarthi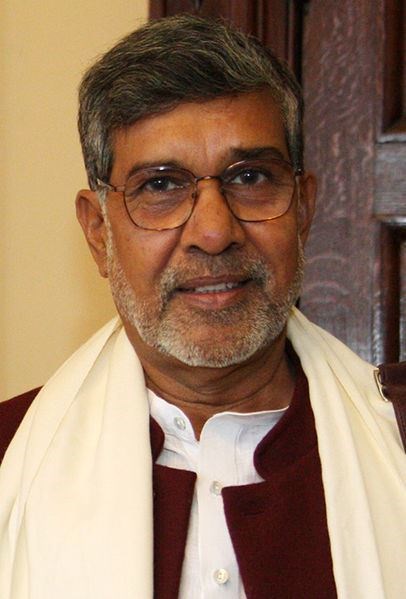 Kailash SatyarthiForeign and Commonwealth Office [CC BY 2.0 (https://creativecommons.org/licenses/by/2.0)]Nineteen-ninety-eight, the sun was blazing down in India, people were going along with their day, then it happened. Across 103 countries, over seven million people leave what they are doing to march on behalf of enslaved children, a march against the corrupt social system, and a march for those who may never see their family again on account of big businesses' and landowners' enslavement and abuse (Kailash Satyarthi-Biographical). In the center of it all, Kailash Satyarthi stands—leading the march. Kailash will not ignore the injustice of the world, nor stand by; he will put in everything he has to fix the crisis... As a child, he organized book drives for the poor, questioned the unjust social system, and stood up for the mistreated. Later, he abandoned his whole career to become a social activist to fight for the mistreated (Kailash Satyarthi-Biographical). He won countless awards and yet had always put everything he attained right back into freeing the bonded. Today, he has freed over 80,000 enslaved children (Kailash Satyarthi-Biographical) and continues to work although he could comfortably retire. Kailash Satyarthi is one of the few beings of pure good on our planet, and his actions demonstrate his remarkably selfless and caring nature. Kailash Satyarthi is not only selfless in the sense that he gave up an indulgent, privileged life to liberate the enslaved children of India, but is also extraordinarily caring as exhibited when he discovered that the children had a troublesome time in the real world and went and opened up free education centers to give them a brighter future. Through all this, it is clear that Kailash Satyarthi is truly, a hero.
Kailash Satyarthi's selflessness was displayed not only when he gave up his privileged life as a Brahmin class to rescue enslaved children, but also when he put all of his profits and awards towards the cause. Kailash Satyarthi spent years working towards his degree in electrical engineering, but his morals told him that something else needed to happen: "When Satyarthi was 26 years old, he set aside his career to devote his life to saving children forced into labor and slavery by powerful business and landowners in India" ("Kailash Satyarthi." Newsmakers). Kailash could have just gone along with his easy life but instead threw it all away so he could devote his time and effort to liberating the enslaved children of India. He knew doing this would make his life remarkably harder, but he chose to do it for those who never had a chance. After making this choice, life got much more difficult for him: "Satyarthi has been injured and physically assaulted in raids. His offices were broken into and destroyed by his opponents. Yet even as he led international organizations and pressed for improvements, he continued to lead the dangerous raids and free children" ("Kailash Satyarthi." Gale). At this point, Satyarthi had created many organizations to fight against child enslavement, and even though he could have stayed at the top and been safe, he still threw himself into the danger, hoping to save as many children as possible. Kailash's selfless nature presents on many occasions, from when he gave up everything to save the enslaved, to even after he made it to the top and could live well, yet still threw himself into danger to save as many bonded children as possible.
Kailash Satyarthi had also exposed his positive and genuine caring personality many times. He allowed himself no time to feel joyful after freeing a child, because soon after, he saw more enslaved children. The continuation of seeing children in need led to the development of the free education centers for the children saved and freed. Someone who is motivated by a caring personality will not settle for fixing one situation that they deem is a problem by their morals, but will go beyond as Satyarthi did. They will want to fix as much as they possibly can. "One day in 1988, while standing on a train platform, Satyarthi experienced a joyful moment after having freed the enslaved son of a blind woman -- only to be disheartened suddenly by the sight of a ragged group of children who had clearly been seized for bonded labor" ("Satyarthi, Kailash."). Kailash Satyarthi is motivated by his caring personality, which gave him virtually no time to feel pleased about what he had accomplished as soon as he noticed more problems. Someone who is truly caring will not stop after a solution to the problem is achieved if new problems arise. "He [Kailash Satyarthi] is also the founding president of the Global Campaign for Education, an exemplar civil society movement working to end the global education crisis and GoodWeave International for raising consumer awareness and positive action in the carpet industry" (Kailash Satyarthi-Biographical). Even after Kailash rescued the enslaved children, he still wanted to help them. Kailash recognized the children were having a hard time living in the real world and further assisted them because he knew that giving the kids freedom was not enough. This acknowledgment led him to create free public education centers, allowing the rescued children a better chance for a brighter future. Kailash is an astonishingly caring person, as revealed when he felt no satisfaction when he perceived that more children needed rescuing, along with further helping the children he freed by creating public education centers.
Kailash Satyarthi's countless acts of selflessness have had a profound effect on many lives. We need more people with these qualities. Because of his personality, over 80,000 children can see their families again and have a better chance for a fruitful life. Because of him, awareness is raised, and more people are fighting to free these enslaved children. Due to his devotion, there is hope for those who initially had none, and potential for a career and another chance. There is hope for friends and for family. Further, the children once deprived of everything now have hope for a fresh start, a clean slate, a new life. In nineteen-ninety-eight across 103 countries, millions of people marched with Kailash to fight for the children forced into endless work with no hope. They marched to make a difference, to create a change, and to save the children. They marched with Kailash. They do not follow Kailash because he is famous or rich. They follow him because he inspired them. "Satyarthi also helped to catalyze the 1998 Global March Against Child Labor, a series of demonstrations and marches across some 100 countries in which more than seven million people participated. The movement resulted in the passage (1999) of the Convention Concerning the Prohibition and Immediate Action for the Elimination of the Worst Forms of Child Labour by the International Labour Organization (ILO) of the UN and coalesced into a permanent international collective" (Pallardy). He inspired them to stand up for what is right. To fight against the corrupt and save those who might never see their family again. Because of his inspiration on people, things are actually changing. If it were not for him, I would never have known what was going on. I would still be sitting here today thinking everything is fine. But it's not. Because of Kailash, more people are standing up to save these children. I don't follow Kailash because he's rich or famous, I follow him because he cares, he's willing to throw himself into danger to do everything he can to save these children. These children needed rescuing, and if it were not for him, it is likely that most would never know about the devastating situation in India. Because of Kailash, more people are standing up to save these children. Kailash Satyarthi may not be the most well-known person, but he cares, he is selfless and willing to go beyond to save the children. He has inspired millions of people to feel the same. Through multiple injuries, threats on his life daily, destruction to his offices, he keeps pushing - pushing to make life better. Kailash will never stand down, he will always do what is right even if he gets killed for it. Kailash Satyarthi is a genuinely selfless and extraordinary caring person who is pure good and has created countless opportunities for the enslaved children who would have never gotten a chance, and has created a real difference, and is continuing to do everything in his capability to make the world a better place, and that is what makes him a hero.
Kailash Satyarthi – Biographical. NobelPrize.org. Nobel Media AB 2019. Fri. 22 Mar 2019.<https://www.nobelprize.org/prizes/peace/2014/satyarthi/biographical/>
"Kailash Satyarthi." Gale Biography in Context, Gale, 2014. Biography In Context,https://link.galegroup.com/apps/doc/K1650009537/BIC?u=powa9245&sid=BIC&xid=51957370. Accessed 26 Mar. 2019.
"Kailash Satyarthi." Newsmakers, vol. 1, Gale, 2015. Biography In Context, https://link.galegroup.com/apps/doc/K1618006244/BIC?u=powa9245&sid=BIC&xid=3d7f3692.
Pallardy, Richard. "Kailash Satyarthi." Encyclopædia Britannica, Encyclopædia Britannica, Inc.,7 Jan. 2019,
"Satyarthi, Kailash." Salem Press Online Biographies, Jan. 2015, p. 1. EBSCOhost,search.ebscohost.com/login.aspx?direct=true&db=b6h&AN=127569659&site=brc-live.
Page created on 4/8/2019 7:23:34 PM
Last edited 10/27/2019 10:41:39 PM