Kids Helping Kids is run by kids - and for kids
by Cathryn J. Prince
Contributor of The Christian Science Monitor

The Connecticut-based nonprofit youth group of middle schoolers and teens plans and carries out projects that make a positive difference in their community and beyond.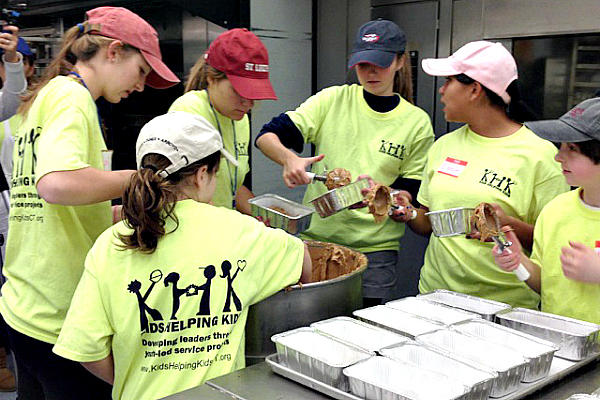 Courtesy of Kids Helping Kids
NEW CANAAN, CONN.

Kids Helping Kids (KHK) is about turning passion into action, whether its baking bread to raise money for a playground or collecting thousands of used shoes.

That KHK is literally run by kids and for kids sets this Connecticut nonprofit apart, says Jennifer Kelley, the group's founder and director.

"All kids have the ability to help. The goal of Kids Helping Kids is to get every kid to realize they can help make a difference and impact the lives of those around them," Ms. Kelley says.

The members, all middle school and high school students, develop and implement projects to fill needs as near as their hometown of New Canaan, Conn., and as far away as the Sudan.

The group started because of Kelley's daughter Lexi. Now 14, Lexi was seriously injured in a car accident several years ago. The support she received from other children deeply affected her, her mother says.

Giving back is part of who Lexi is, Kelley says. When she was small Lexi loved running lemonade and brownie stands, or making and selling bracelets. She always gave the money to local charities.

Today dozens of tweens and teens belong to the group, which can be found online at Kidshelpingkidsct.org. Together they brainstorm project ideas. Kelley facilitates the meetings and guides the group on how best to make the idea come to fruition. She also helps find reputable organizations that KHK can connect with, preferably local ones.

Kelley draws on her experience as a certified teacher in grades K-6. She has worked in both private and public elementary schools in Fairfield County, Conn. She also lived in China for five years, where she taught English as a second language. She and her husband returned to the United States after their daughter Lexi was born.

KHK has no membership dues and the organization is open to any middle school or high school student. Members can be involved as little or as much as they want. They can participate in just one event or, through the group's ambassador program, students can become the KHK point person in their school.

"What's remarkable is they are involved in an organization that lets them make all the decisions. They can go off and do it in any shape or form," Kelley says.
Sometimes a simple question leads to a project. That was the case for KHK's annual shoe drive.

A few years ago at the New Balance sneaker store in New Canaan, someone asked if there was a place to donate old sneakers. From that question, KHK came up with the idea to collect shoes for organizations such as the Norwalk (Conn.) Emergency Shelter, which often have shoe shortages. To date more than 13,000 shoes have been collected.

Kelley says she wants the children involved to take the skills with them, whether they start their own business someday or launch their own nonprofit.

"It's not just fundraising and giving money to something. That's not what we're about," Kelley says.

Other projects include Cuts for a Cause and the Thanksgiving bread bake. Cuts for a Cause raises money to buy wigs for children who have lost hair because of disease.

Proceeds from last year's bread bake helped refurbish a playground at a homeless shelter. This year KHK baked 1,000 loaves. Each loaf sold for $10. The children decided to use the money to fund future projects so they don't have to rely on fundraising, Kelley says.

"The kids involved see there is much more need than they could ever imagine. They also see they can really make a difference," Kelley says. "Most importantly they develop leadership skills through service."
Page created on 12/10/2012 12:00:00 AM
Last edited 1/6/2017 8:13:41 PM
The beliefs, viewpoints and opinions expressed in this hero submission on the website are those of the author and do not necessarily reflect the beliefs, viewpoints and opinions of The MY HERO Project and its staff.