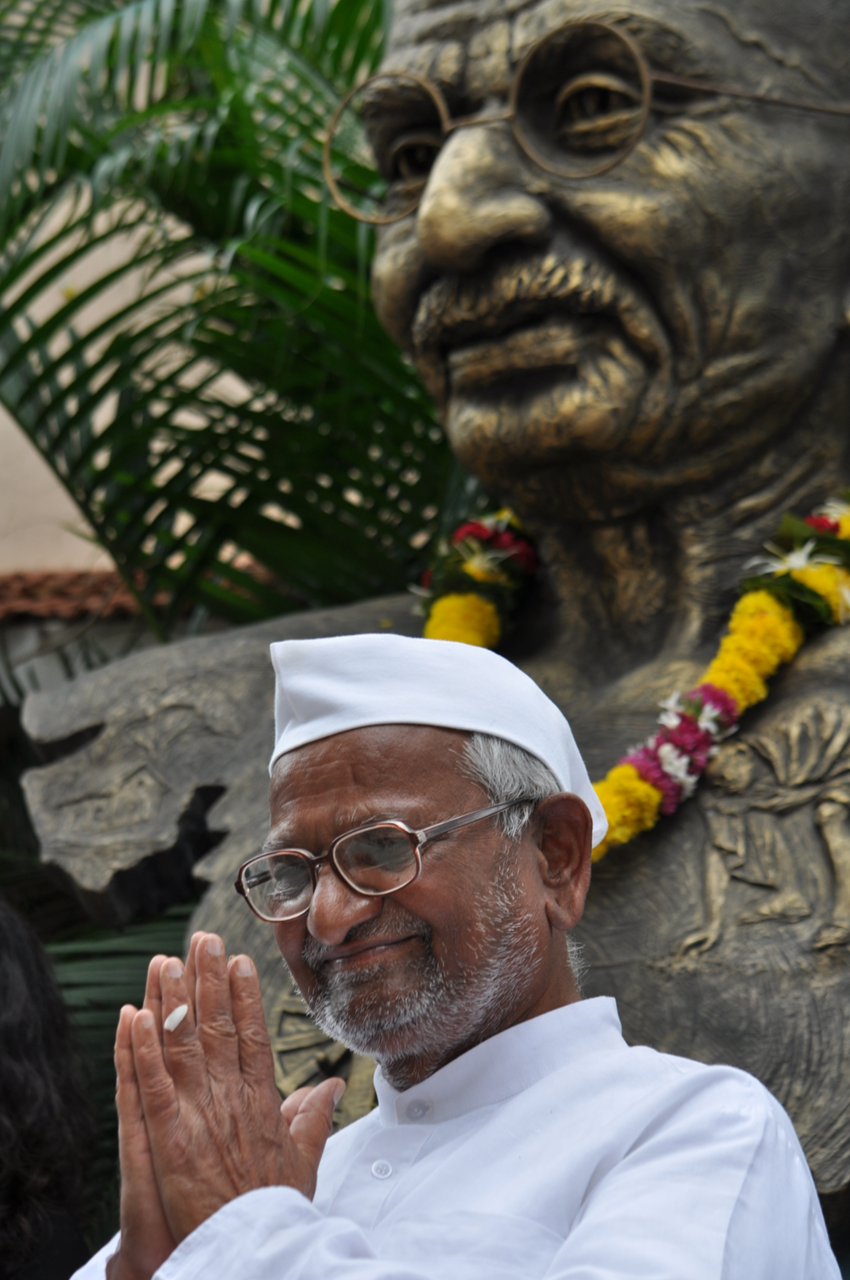 Kissan Baburao HazareAbhiSuryawanshi, CC BY-SA 4.0 via Wikimedia Commons
"Those who live for themselves die, those who die for the society live," is a well-known quote from a social activist named Anna Hazare, who fought for India and never backed down.
Kisan Baburao Hazare, also known as Anna Hazare, was born on June 15, 1937 in the Siddhi village near Ahmednagar in Taluka, Maharashtra. His father, Baburao Hazare, worked as an unskilled laborer and his family struggled to get food. Anna Hazare has six siblings; he is the eldest of all. Anna Hazare went to Mumbai to get educated, and was enrolled in a local school. When he was in VII grade, due to the financial struggles of his family, he had to leave the school, then Anna Hazare started earning money by selling flowers at the railway station.
Anna Hazare joined the Indian army in 1960 as a truck driver, and he later served as a soldier. He took army training at Aurangabad, a city in Maharashtra. He was posted at the border during the Indo-Pakistani War of 1965. Anna Hazare was the only one who survived in the enemy attack. The poverty he had suffered acted as an advantage in the army. Anna Hazare also considered committing suicide at one point. He narrowly escaped from truck attack: "It sent me thinking. I felt God wanted me to stay alive for some reason. I was reborn in the battlefield of Khem Karan. And I decided to dedicate my new life to serving people."
At a book stand in Delhi, he found Swami Vivekananda's booklet "Call to the youth for nation building," which inspired him to think deeper. He spent most of his free time reading about the good deeds of Swami Vivekananda, Gandhi Ji, and Vinoba Bhave. During his 15 years of life in the army, he got posted in many places across India.
Awards
Anna Hazare won a Padma Sri award in 1990. Anna Hazare helped in the development and structuring of a village in Parner Taluka of the Ahmednagar district, Maharashtra, India. He was awarded the Padma Bhushan in 1992 for establishing a village. He also won Shiromani award and Mahaveer award in 1996 and 1997 respectively. He won CARE International award by CARE (RELIEF AGENCY) in 1998. He won many other awards like NDTV Indian of the year with Arvind Kejriwal, integrity award etc.
Anna Hazare fought for many innocent people and started many movements like anti-corruption protests in Maharashtra, the right to information movement, the campaign against liquor from food grains, infinite fast, etc.
I have written a small paragraph on one of his movements.
Hunger strike
Anna Hazare began a hunger strike on April 5, 2011 at Jantar Mantar in Delhi to form a committee of government and civil society representatives. He wanted the committee to give more independence to Lokpal and Lokayuktas. The fast was rejected by the prime minister, Manmohan Singh. He said, "I will fast until Jan Lokpal Bill is passed." This movement attracted the media and people started supporting the hunger strike. Almost 150 people joined Hazare in his fast, and social activists like Medha Patkar, Arvind Kejriwal, former IPS officer Kiran Bedi, and Jayaprakash Narayan showed their support. People also supported him on social media. Many spiritual leaders like Sri Sri Ravi Shankar, Swami Ramdev, Swami Agnivesh, the former Indian cricketer Kapil Dev and many other celebrities also supported him. Hazare decided no politician is allowed to join the movement with him. Protests spread to Bangalore, Mumbai, Chennai, Ahmedabad, Guwahati, Shillong, Aizawl and other cities. On April 8, 2011, the government finally decided to accept the demands of the movement.
Anna Hazare also wrote some books. 'My Sacred Land' is one of them.
The work of Kisan Hazare affected so many people that they made some films on him.
The Marathi movie Mala Anna Vhaychay (which means "I want to become Anna") is a story made on the work of Kisan Baburao Hazare. The role of Anna Hazare has been played by Arun Nalawade.
A Hindi film named Anna was released in 2016. It is a biographical movie based on the life of Anna Hazare, directed & written by Shashank Udapurk.
Anna Hazare is doing great work for nation. India needs people like him who are fighting and working for the nation without any self-interest.
Page created on 4/17/2021 1:46:36 PM
Last edited 4/20/2021 6:33:02 AM
Related Links
Anna Hazare-Wikipedia
- ‎2011 Indian anti-corruption · ‎Ralegan Siddhi · ‎Bhingar · ‎Freedom of information