by
Kaelin

- Five - from

Cochrane, Alberta in Canada

"A lot of people say they want to be great, but they're not willing to make the sacrifices necessary to achieve greatness." -Kobe Bryant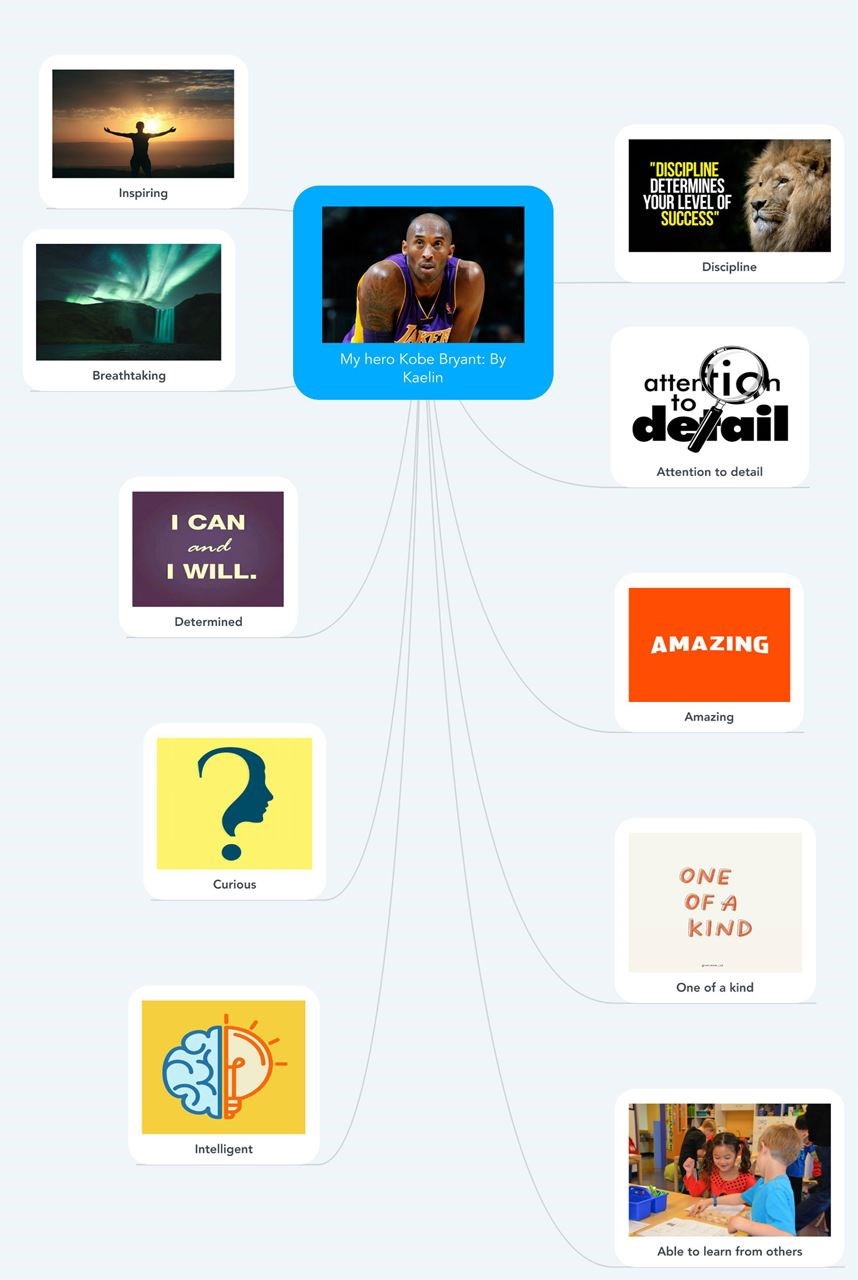 Kobe Bryantby Kaelin
Paragraph 1: Introduction
Kobe Bryant is my hero because I like how he plays basketball, how he is disciplined on and off the court, and what he went through to become successful in basketball. "Mamba Mentality" is an autobiography that covers Kobe Bryant's NBA career in 207 pages and was published in 2018. Ten interesting facts from the book are 1. Kobe was six years old when his father retired from the NBA and then moved the family to Rieti, Italy; 2. Kareem Abdul-Jabbar (former NBA player) says he remembers meeting Kobe when he was two; 3. Entered the NBA when he was 18 years old; 4. Studied the referee's handbook like the Bible; 5. Studied basketball film work to learn about his opponents; 6. Woke up every day at 3 am to play basketball and workout so he could have time for his family; 7. Scored 33,643 points in his NBA career; 8. Won five championships; 9. After he retired, he wanted to be remembered for investing, not for playing basketball; and 10. Played 20 seasons with the Los Angeles Lakers.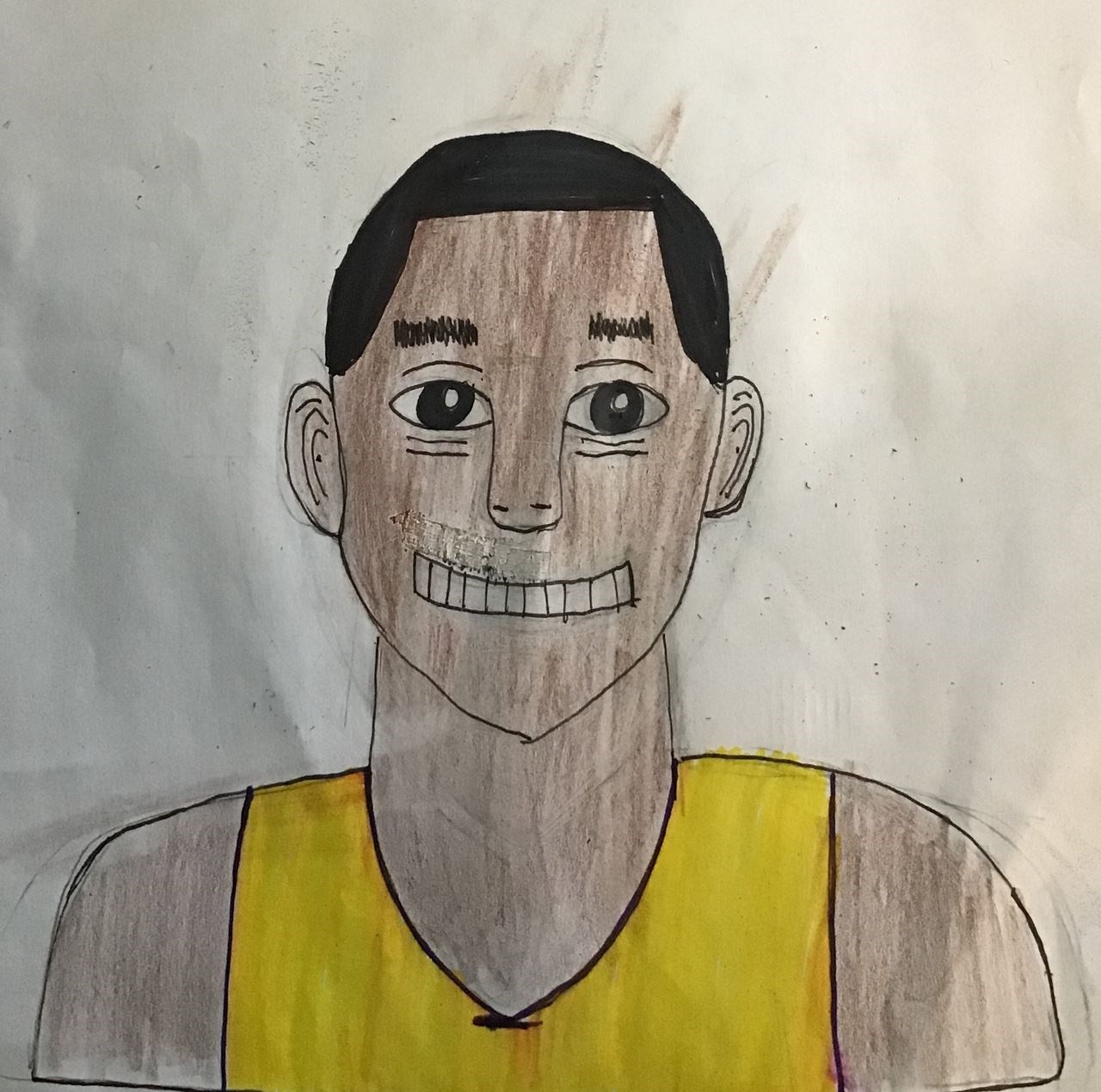 Kobe Bryant portraitby KaelinParagraph 2: Personal facts
Kobe Bean Bryant was born in Philadelphia, Pennsylvania, USA, on August 23rd, 1978 to Catholic parents Joe and Pamela Cox Bryant. He was named after a beef in Japan that his parents saw on a restaurant menu. He and his family, which also included two sisters named Shaya and Sharia Bryant, moved to Rieti, Italy in 1984 when he was six years old. While they were there he learned to speak fluent Italian and developed a love for soccer and also started playing basketball seriously. During summers he would go back to the USA to do basketball camps and his grandfather would mail him videos of NBA games for him to study. He and his family moved back to the USA in 1991 when he was thirteen years old, and he went to Lower Merion High School. There he earned national recognition and was named Pennsylvania Player of the Year, along with other awards. During his senior year, he led the team to their first state championship in 53 years. With his basketball skills and high SAT scores, Kobe could have been admitted to any college he chose. Instead after high school, he chose to go directly into the NBA, becoming only the sixth player in NBA history to ever do that. Kobe's father, Joe Bryant, would have influenced Kobe's dream of becoming an NBA player, because he also played in the NBA when Kobe was younger and taught him how to play basketball at the age of three. Growing up his favourite basketball team was the Los Angeles Lakers, which he ended up playing with for the majority of his career.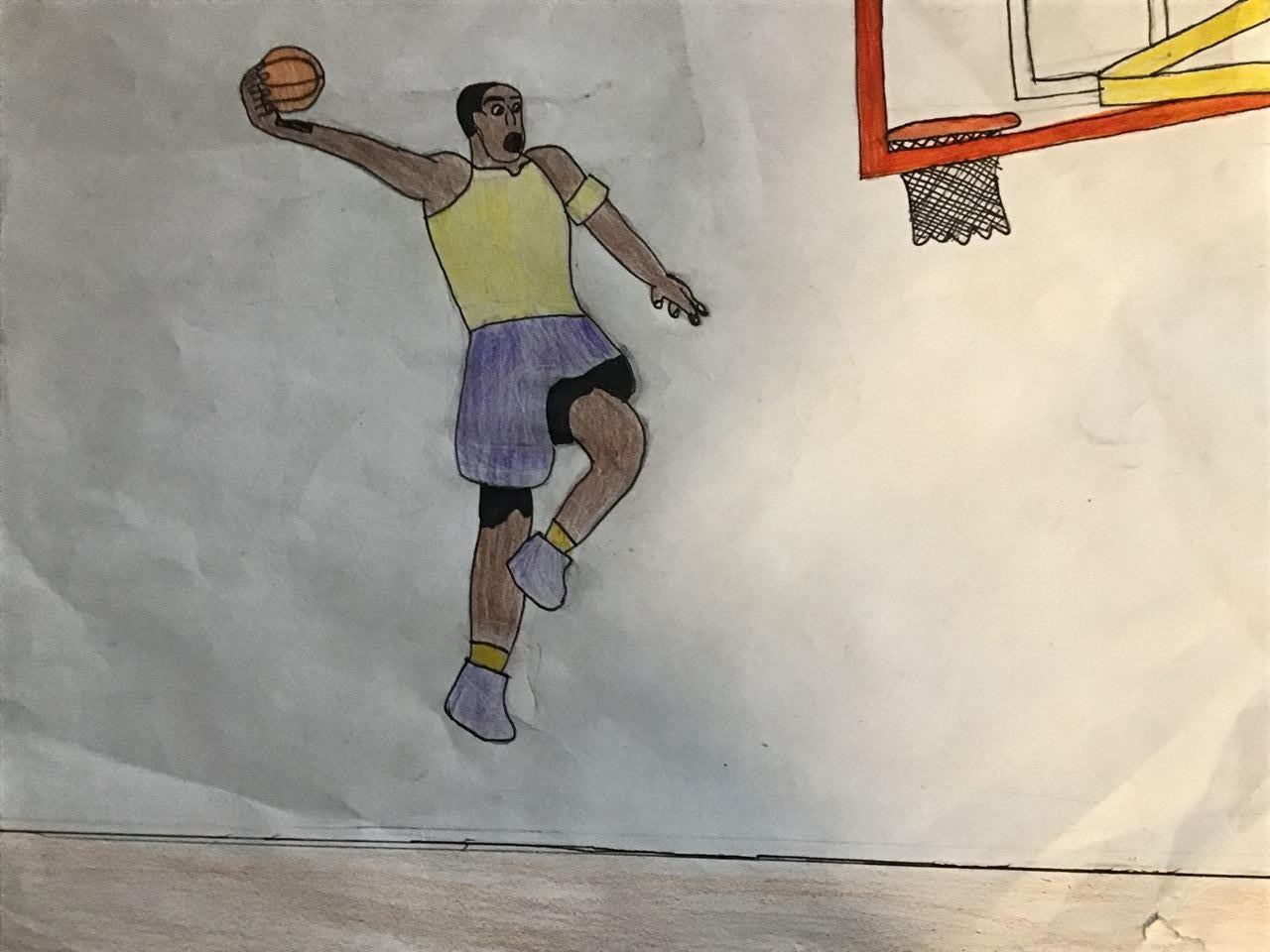 Kobe Bryant Playing BasketballBy KaelinParagraph 3: Challenges and Accomplishments
In 2001 he married Vanessa Laine and had four daughters named Natalia, Gianna, Bianka and Capri. Kobe's parents did not want this marriage to happen and did not attend the ceremony, because Vanessa was not African American. This had a negative impact on Kobe's relationship with his parents that lasted for many years. There is a picture of Kobe looking sad while holding the championship trophy after he and the Los Angeles Lakers won the 2000-2002 NBA season. He was looking sad because his parents didn't even talk to him after he won the NBA finals. During his NBA career, Kobe faced several injuries: a broken finger, a torn tendon in his pinky that never recovered, the worst sprained ankle he had ever had, and a torn Achilles. Gray Vitti helped Kobe by taping his injuries, and Judy Seto helped Kobe train and do physiotherapy while he was injured. Judy Seto was one of the most important people involved in Kobe's basketball career because if she had not worked on his injuries, he would not been one of the best basketball players there is today. One treatment that was performed on his sprained ankle that caused him to miss Game 3 of the NBA final was stimulation therapy. As a result, he was able to play the rest of the series. It had upset me to learn that Kobe was charged with sexual assault in 2003 for raping a woman in a hotel in Colorado Eagle City. Other challenges he had was that he didn't get enough sleep because his schedule was busy, it was hard to retire because he loved basketball, at one time his wife wanted a divorce, and he faced racism when he was younger because he was black. Three qualities that Kobe has that I admire are: 1. He was curious - he asked lots of questions because he wanted to improve, learn and know the history of the game; 2. His attention to detail - he knew from watching playbacks from games what should have happened and what was missing; and 3. He was in great shape - he would lift weights hard and heavy for ninety minutes four days a week and would also make 2000 shots a day! A few of Kobe's accomplishments are: won two straight scoring titles, five NBA championships, two Olympic gold medals, two finals MVP awards, one regular-season MVP award, scored 33,643 points in his NBA career, scored 81 points in one game, and he won an Oscar for best animated short film "Dear Basketball" in 2016. Sadly, on Sunday, January 26, 2020, Kobe died along with his daughter Gianna Bryant and seven others in a tragic helicopter crash.
Paragraph 4: Conclusion
What I learned about Kobe that pleased me was that he could make smart decisions while he was playing basketball. This was the result of all the hard work he put in studying the game and his opponents. It disappointed me when he only won two finals MVP awards and one regular-season MVP award because he is one of the greatest basketball players of all time. It surprised me when Kobe said that "Paul Pierce was one of the toughest players (he) ever had to guard" because Paul Pierce is not a well-known basketball player. I would ask Kobe the following questions: what exercises do you recommend for basketball players; how many shots should I do every day; and how should I guard someone who is taller, smarter in making quick decisions, and more athletic. I would want to be Kobe's son because he could teach me a lot about basketball and how to dominate the competition. I liked this book because it teaches you lots of lessons about life and basketball, and tells you what it takes to be one of the greatest basketball players of all time. I learned that to be great at something you have to care about it; should always listen to your body; think differently than everybody else to be the best; don't over-think your schedule for the day, but just do it because doing something is just another act. The similarities that I have with Kobe is that I am determined and can read what certain people are going to do in basketball. Others would like the "Mamba Mentality" because it is inspiring and provides life lessons. I am glad I chose this book because it has taught me valuable lessons that I can use now and later on in life. I would consider Kobe as a role model because he is so disciplined and has inspired many people.
Page created on 1/16/2020 4:52:59 PM
Last edited 2/25/2020 6:38:36 AM