Lady Gaga
by
Seth G

from

Memphis, Tennessee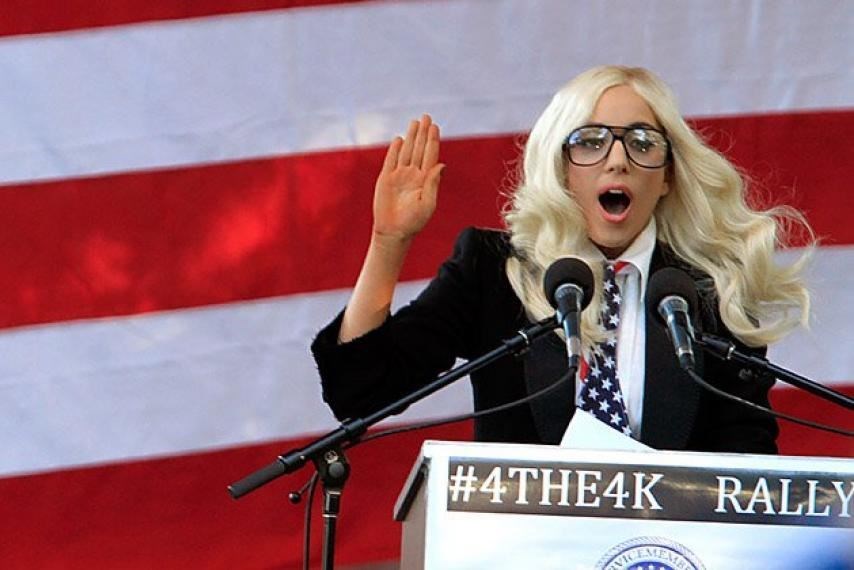 Lady Gaga speaking at "don't ask, don't tell" rallyCurt Fletcher [CC BY 2.0 (https://creativecommons.org/licenses/by/2.0)]Radical, unique, showstopper, trailblazer, trendsetter, icon. These are all words that perfectly describe the one and only Lady Gaga. Lady Gaga, the singer, songwriter, and pop diva, has become a cultural icon for this generation and has become one of the most prominent celebrity role models for LGBTQ+ youth. Rolling Stone named Lady Gaga the "Queen of Pop" in 2011, and even this title understates how iconic and influential she has become since her music debut in 2008. With tons of catchy hits and museum-worthy outfits, Lady Gaga has made a place for herself in the music and fashion industry with no apologies or hesitation. Not only has Gaga's insistence on being herself made her popular in the gay community, Gaga has stood up as an LGBTQ+ activist. In an interview with Larry King, she explained that as a pop star, "I'm more interested in helping my fans to love who they are, and helping them to reject prejudice and reject those things that they're taught from society to not like themselves, to feel like freaks, that they're not wanted."
In 2012, she founded the Born This Way Foundation, a non-profit organization that is committed to supporting the wellness of young people and working with them to "make the world kinder and braver." The foundation prioritizes the mental health and wellness of young people by working to promote kindness, facilitate honest conversations about mental health, validate the emotions of young people, and eradicate the stigma around mental health. Furthermore, the foundation's programs focus on modeling healthy conversations about mental wellness, connecting youth with resources and services, and fostering communities that prioritize mental health.
Lady Gaga's activism in the LGBTQ+ community and awareness of youth mental health are just a few reasons as to why she is my hero. Ever since her hit album "Born This Way" was released in 2011, I have been a die hard little monster. Gaga's unapologetic character and fearlessness to be herself has always been something I admired and wanted to exude in my own life. Since the beginning of her career, even before she had a major platform, Gaga has been a strong LGBTQ+ advocate and stood up for those who didn't have a voice. As a member of the queer community, this makes me feel like I have someone on my side who is fighting for my rights and the equality of all LGBTQ+ people. Lady Gaga is not only my role model, she is a hero for the gay community because she epitomizes pride, embodies individuality, and fearlessly advocates for what she believes in.
Page created on 5/12/2021 4:44:31 PM
Last edited 5/13/2021 6:16:01 AM
The beliefs, viewpoints and opinions expressed in this hero submission on the website are those of the author and do not necessarily reflect the beliefs, viewpoints and opinions of The MY HERO Project and its staff.