Letter from the diaspora: Why Ukraine will endure
by
Lydia Tomkiw, CSM Contributor

from

United States

When I close my eyes and think of Ukraine I see sunflowers and red poppies, tables full of food, and smiling faces. It's how my extended family in Ukraine greets me when I visit.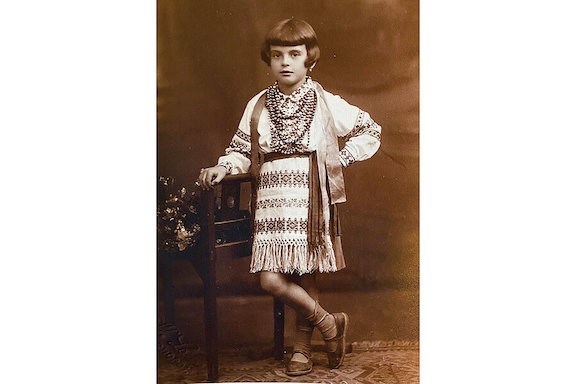 The author's grandmother Vera wears traditional garb, including an embroidered shirt, in this photo taken circa 1930 in western Ukraine. Courtesy of Lydia Tomkiw
March 24, 2022
Since the Feb. 24 invasion, I've oscillated between sadness, dread, and rage. I check my phone constantly for updates, reach out to family and friends to make sure they're OK. They are volunteering, donating supplies, making Molotov cocktails, and crowding into basements when sirens wail. They send me videos of terrible destruction. Call your legislators, they say, and ask them to close our sky.
The Ukrainian diaspora is spread around the globe. In the United States, it numbers more than a million. I'm one of them. I was born in America, the granddaughter of refugees. All four of my grandparents fled the Nazis and the Soviets in the 1940s, while some cousins and extended family remained. And now the diaspora is rallying, organizing huge volunteer efforts and demonstrations, and sending aid.
Text messages are constant. "Can anyone help 4 adults and a baby?" "Who has the proper license to send Level 4 armor plates for vests?" To understand the strength and resolve of Ukrainians one must understand their history and identity, and the many attempts to deny both.
My grandparents, like many of their generation, ended up in displaced persons camps in postwar Germany. After years of waiting, they arrived in New York and New Jersey, determined to preserve their language and culture, both of which were under attack by the Soviets. They instilled this sense of urgency in their children and grandchildren. Ukrainian was my first language.
At a young age I'd hear my grandparents say "Bolsheviks," "Moskaly" (Muscovites), and "znyshchennya" (destruction), but then they'd smile and hand me bowls overflowing with fruit. They taught me generosity and unconditional love.
I learned their stories, too: how my grandmother ran back into enemy territory to find her dog, how my grandfather was arrested in Warsaw for being active in a Ukrainian student group. A priest in the family was executed by the Soviets. Every Ukrainian family has such stories.
Page created on 6/20/2022 10:30:29 PM
Last edited 6/20/2022 10:39:48 PM
The beliefs, viewpoints and opinions expressed in this hero submission on the website are those of the author and do not necessarily reflect the beliefs, viewpoints and opinions of The MY HERO Project and its staff.