Andrew E. Lieberman
Andrew Lieberman, founder of Enlace Quiche, spoke to MY HERO at The Tech Museum Awards 2004 event about his organization's work in Guatemala:

We are working in Guatemala helping the Mayan people cross the digital divide without leaving their language and culture behind. We're working in three main areas: the first is access to technology through putting educational technology centers in rural schools where students can have access to computers and software; the second area is creating interactive CD ROMS and student-designed CD ROMS and Web content for the Mayan languages and about the Mayan language culture; and the third main area is a Web portal for Guatemalan educators to share information, resources, and ideas about bilingual education.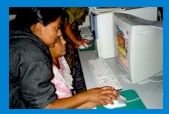 Andrew's motivation for this project has its roots in Guatemala's tumultuous history.

Starting in 1492 when Columbus came to America, there have been problems with all of the indigenous peoples in the Americas. In Guatemala's case, in the 1980's and early 90's, there was a huge civil war where whole villages were being burned, and within that, people were feeling that being Mayan or using their language was something that was holding them back, that it was something that was not good for them, so a lot of people were losing their identity and really still are. That is something that I can see where lower self-esteem or identity crisis is really terrible for them and something that will hurt them and keep them from getting ahead in other areas. So, what I feel is that you are not going to be able to develop a community or get ahead if your self-esteem or identity is threatened.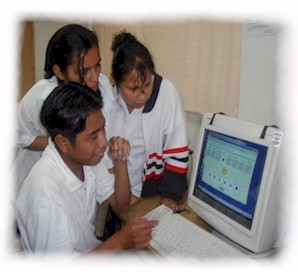 The solution, Andrew believes, lies in using information age technologies to preserve and strengthen Mayan cultures and foster locally-led development.

People have a right to their language and culture, and only if they are able to take technology and make it their own and see it as an opportunity for them to go back to what they believe, to go back to their culture, to go back to their roots and promote their language and culture through the Internet, then those are things that are going to build their self-esteem, their identity and their communities. This is the key or prerequisite to any quality in the world, to any real kind of development that is going to be sustainable and really help the people.
Andrew Lieberman acted on what he believes and, along with his organization, established a network of rural educational technology centers that empower indigenous teachers and students to encourage learning about their culture and language. His award-winning project helps Mayans "overcome multiple barriers, including poverty, lack of education, poor infrastructure and inadequate access." The technology centers have proved to be self-sufficient, economically and technically. Andrew has also successfully linked them to school currciula. His vision for the future includes expanding his educational model to other indigenous groups in Latin America to promote respect for the heritage of the indigenous, and to advance their technology skills and their community's development.
When asked about whom he admires, Andrew quickly responded:

My personal hero, really, is my father who instilled a spirit in me of not being afraid of doing things differently, or of being able to try new things, to ask a lot of questions and not just accept everything I listen to, but really think about it and analyze it. That spirit is something I have had throughout my life and that I think I have been able to replicate in my work in Guatemala.
Page created on 6/24/2007 4:08:07 AM
Last edited 8/3/2018 12:17:05 AM
The beliefs, viewpoints and opinions expressed in this hero submission on the website are those of the author and do not necessarily reflect the beliefs, viewpoints and opinions of The MY HERO Project and its staff.