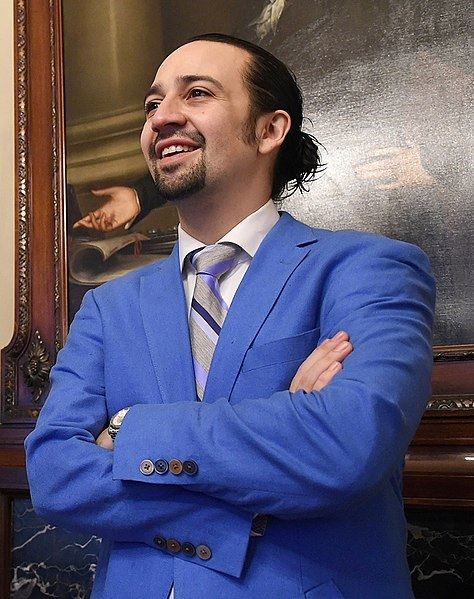 Miranda at the White HouseU.S. Department of the Treasury [Public domain]The year was 2009. The lights dimmed as a wave of silence fell over the room of renowned American figures. The hosts, the Obamas, watched from the back of the White House East Room while their party to celebrate American artists came to an end. A single spotlight appeared onstage as the last artist stepped in. He claimed to be writing a musical about the life of someone who he thought best embodied hip hop: founding father Alexander Hamilton. The audience laughed, but the performer was serious. Who was he? His name was Lin-Manuel Miranda.
Lin-Manuel Miranda is an American playwright and composer best known as the creator of the hit Broadway show Hamilton. Miranda is heavily influenced by his cultural upbringing and often draws inspiration from his Latino childhood home for his projects. But long before Hamilton made it onto the stage, Miranda was an advocate for Puerto Rican issues and had written another musical, In the Heights, which started his Broadway career. In the winter of 2008, In the Heights made its Broadway debut. Many were shocked to see that Miranda had written in a different musical and dance style, hip hop - a genre that had never been incorporated into Broadway. Miranda saw that the current shows were not diverse and all sounded similar, so he worked hard to change that and create something that could reach out to new audiences. For his work, Miranda has garnered lots of fame, but he chooses to be humble and shift the attention to issues he finds important. Despite his young age, Lin-Manuel Miranda has already accomplished more than the average person. Miranda's humbleness and determination has not only made him successful, but a hero to all.
My Hero suggested viewing: The origins of the revolutionary musical "Hamilton" (CBS)).
Miranda's modesty towards the popularity he has gained and how he focuses the attention he is given on more significant issues makes him humble. Deeply influenced by his Puerto Rican culture, Miranda frequently participates in and advocates for Puerto Rican issues: "In 2019 he reprised the title role for a brief run in Puerto Rico to benefit the Flamboyan Arts Fund, a nonprofit he founded after Hurricane Maria (2017) to ensure support for the arts" (Murray). After Hurricane Maria destroyed much of Miranda's beloved islands, he organized a Puerto Rican production of Hamilton in which he replayed his role as the show's namesake, to help raise money and awareness for their people. The proceeds made from the show went to a charity Miranda had created to preserve the art and culture of Puerto Rican communities. His unselfishness helped raise funds for the country to be rebuilt after suffering from a natural disaster. Miranda had always been active in Puerto Rican affairs, but even more so after Hurricane Maria.
Miranda realized with his newfound popularity he could highlight issues that weren't getting enough attention. Not only did he set up a Hamilton fundraiser, he also wrote a song to reflect on the island's recent problems: "He's spent the past week flying around the country, getting a crew of famous artists — Jennifer Lopez, Luis Fonsi, Camila Cabello, Gloria Estefan and many more — to record a new single, 'Almost Like Praying,' out now to support the humanitarian crisis in Puerto Rico… meant to be a unifying anthem for an island ravaged by Hurricane Maria, with all proceeds going to the Hispanic Federation's UNIDOS Disaster Relief Fund" (Bruner). Miranda is humble because he devoted his time to things he thought should get more awareness, despite his busy schedule. Instead of using his writing and musical talent for fame, he uses his gift to help those less fortunate than him. Inspired by Hurricane Maria, Miranda assembled an event to bring a group of musical artists of Puerto Rican descent together in a campaign for disaster relief. Miranda made no profit off the song, he instead donated all the money the song had generated to the UNIDOS Disaster Relief Fund.
Miranda has received much recognition and acclaim for his humanitarian efforts through art and his creation of Hamilton. Yet, he always remains modest despite all of it: "MacArthur fellowships include a no-strings-attached $625,000 bequest. Miranda told reporters he planned to allocate some of his 2015 windfall as a bequest to a little-known New York City social services provider, the Graham Windham Services for Families, whose origins were in a charity co-founded in 1806 by the real-life Hamilton's widow Elizabeth Schuyler Hamilton" ("Lin-Manuel Miranda." Newsmakers). Miranda's insightful work about American beginnings earned him a MacArthur grant, giving him money to fund his future projects. But instead of hoarding it all for himself, Miranda decided to honor the man who had greatly affected his life and donate much of the grant to a charity founded by the real Hamilton's wife. Miranda's support for numerous charities and how he gives back to society shows that he is humble.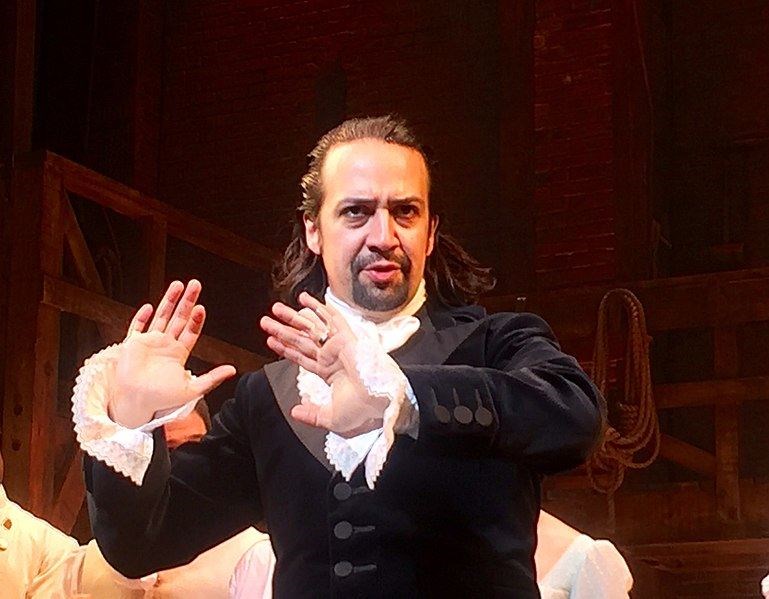 Miranda as Alexander HamiltonSteve Jurvetson [CC BY 2.0 (https://creativecommons.org/licenses/by/2.0)]Miranda's determination driven by his enthusiasm and commitment towards his ideas has helped him to build a successful career for himself. As a sophomore in college, Miranda worked tirelessly to write his first play, In the Heights. It was show he thought was innovative and different from anything anyone had ever seen: "In an interview... Miranda said, "I barely slept, I barely ate; I just wrote. I put in all the things I'd always wanted to see onstage: propulsive freestyle rap scenes outside of bodegas, salsa numbers that also revealed character and story. I tried to write the kind of show I'd want to be in'" ("Lin-Manuel Miranda." Gale). Miranda's vision of what Broadway should be was not how Broadway was. Most of the shows at the time all sounded the same: overly sweet and fake. Miranda saw this as an opportunity to change things. He added the style of free flowing rap and hip hop dances, that although popular in the real world, were not seen as an ideal choice for musical theater. In the Heights unexpectedly became successful, and eventually moved onto Broadway. He had fully immersed himself in his writing to make sure it was perfect. Miranda was determined to bring his work to life and never gave up until the final project included everything from his vision. After his success with In the Heights, Miranda ventured off to start on a new creation: a musical about the life of U.S. Treasury Secretary Alexander Hamilton. Many believe history cannot be made interesting, and cannot relate to modern times and musical styles. But with his determined attitude, Miranda was able to bring the two unlike subjects together: "This confluence of what's heard on the American musical stage and what's heard on the airwaves and in the clubs hasn't existed for at least six decades… Miranda's aural history lesson convinces us that hip-hop and its generic cousins embody the cocky, restless spirit of self-determination that birthed the American independence movement… and was hailed by critics as a breakthrough moment in the history of American musical theater" ("Lin-Manuel Miranda." Newsmakers). Miranda's purpose for Hamilton was to show that the hip hop music style of today relates to American beginnings. Hamilton is known for its uncommon story of a founding father set to modern music and performed by a diverse cast, all of which took Miranda over six years to create. Miranda could've given up, but instead decided to continue on the Hamilton path and refused to stop until it turned out the way he wanted. Determined, Miranda was able to make history entertaining and find a way to tell its story by comparing it to modern day. Miranda's efforts to represent yesterday's America through today's music and people transformed the meaning and diversity of Broadway. Over the past fifteen years, Miranda has worked relentlessly to turn his ideas into actuality: "As one of the creators of Hamilton, he received a special Kennedy Center Honor in 2018 for developing a groundbreaking work that defies category" (Murray). Miranda's determination and hard work earned him a Kennedy Center Award, which is one of the highest honors an American artist can receive. His hard work and passion towards his projects has created a lasting impact on American culture for years to come. Miranda always tries his best and puts in all his effort to achieve his dreams. He never gives up and shows dedication to all his creations, even if it takes him many years to complete, proving his determination.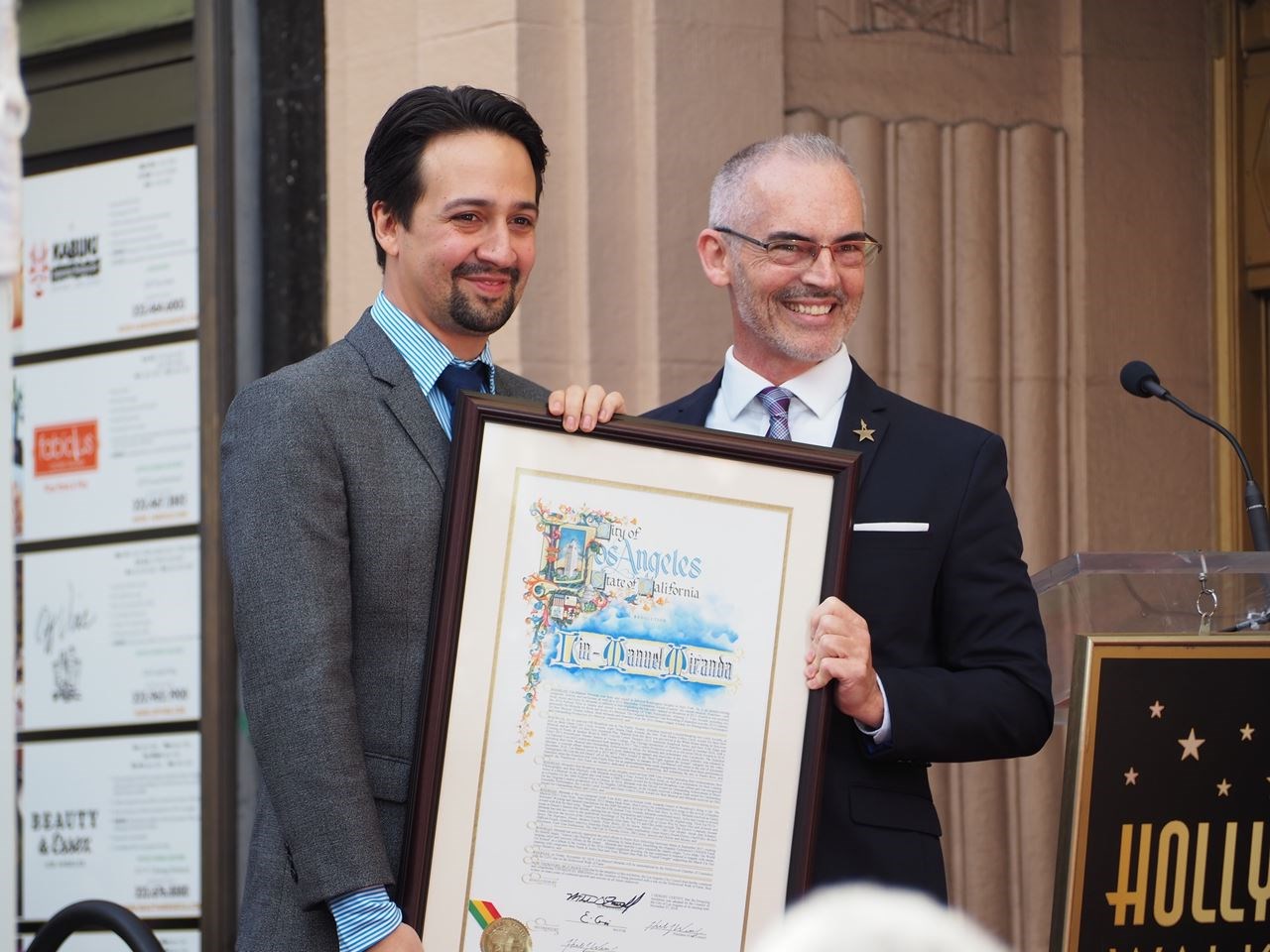 Miranda receives Star on Hollywood Walk of FameLuke Harold [CC0]Miranda is an inspiration because he possesses a mindset that refuses to let anything stop him from attaining his goals and continues to stay modest no matter how popular he becomes. His humility is shown through the use of his celebrity status to emphasize causes he believes are worth helping. His perseverance to complete his ideas, regardless of how long they take, have helped to revolutionize Broadway. His current success is due to the number of years he spent trying to finish his projects while struggling to get by. Miranda's ideas did not come to him easily, and he soon realized from writing Hamilton: "'I am the one thing in life I can control. I am inimitable; I am an original. I'm not falling behind or running late. I'm not standing still: I am lying in wait.' How do you dramatize waiting for it? You give the audience a glimpse of the immense self-control that makes it possible… we've all had moments where we've seen friends and colleagues zoom past us, to success… [and] marriage, while we lingered where we were—broke, single, [and] jobless. And you tell yourself, 'Wait for it'" (McCarter and Miranda 92). Miranda teaches the values of perseverance and that the results of hard work will be worth it, you just need to wait for it. He inspires with the idea that good things come at the cost of time and patience. Miranda inspires me to never give up and teaches that one's dreams can be accomplished if they're willing to put in the effort to get there. He illustrates that even if one does find success, they must always remember where they came from and be modest about what they have earned. It is these ideals that make him an inspiration, and his work will only become more influential as the world continues to fall into the hands of future generations. He lives by the values of hard work and humility and inspires others to do the same. With this mindset, he went from living in a small Manhattan Latino community to becoming one of Broadway's most famed playwrights. The definition of being a hero is often confused with a celebrity, but Miranda is both. Through his humbleness and determination, Miranda proves that even an ordinary person can be a hero. To be a hero does not mean to be the best, but to create an impact on someone somewhere in the world.
Works Cited
Bruner, Raisa. "Lin-Manuel Miranda on the Making of His Song for Puerto Rico." Time,
Time, 6 Oct. 2017, time.com/4969625/lin-manuel-miranda-almost-like-praying/.
"Lin-Manuel Miranda." Gale Biography in Context, Gale, 2015. Biography In Context,
https://link.galegroup.com/apps/doc/K1650009986/BIC?u=powa9245&sid=BIC&xid=1192df86. Accessed 21 Mar. 2019.
"Lin-Manuel Miranda." Newsmakers, vol. 4, Gale, 2016. Student Resources In Context,
https://link.galegroup.com/apps/doc/K1618006382/SUIC?u=powa9245&sid=SUIC&xid=8312c283. Accessed 25 Mar. 2019.
McCarter, Jeremy, and Lin-Manuel Miranda. Hamilton, the Revolution: Being the Complete
Libretto of the Broadway Musical, with a True Account of Its Creation, and Concise Remarks on Hip-Hop, the Power of Stories, and the New America. Little, Brown, Grand Central Publishing 2016, p 91.92.
Murray, Lorraine. "Lin-Manuel Miranda." Encyclopædia Britannica, Encyclopædia
Britannica, Inc., 13 Mar. 2019, www.britannica.com/biogrphy/Lin-Manuel-Miranda.