Martha Graham
by
Tina from Leawood
Nobody cares if you can't dance well. Just get up and dance. Great dancers are not great because of their technique, they are great because of their passion.
Martha Graham is known as "The Mother of Modern Dance," and she has changed modern dance forever. Her style of dance was made up of unexpected, harsh movements with floor work that others dared not to do. She is famous for her leadership in modern dance. She has inspired me to dance with passion and to dance from my heart.
Martha Graham was born on May 11, 1894 in Pittsburgh, Pennsylvania. Her father was a doctor in Pittsburgh. Later, her family moved to Santa Barbara, California. In 1908 and in 1911 she watched a Ruth Saint-Dennis performance and it inspired her to become a dancer. Martha Graham took modern dance and made it her own; she did not create modern dance, but she made a style all her own. The style of dance may be different, but it is beautiful in its own way. Martha was not afraid of expressing her feelings through dance.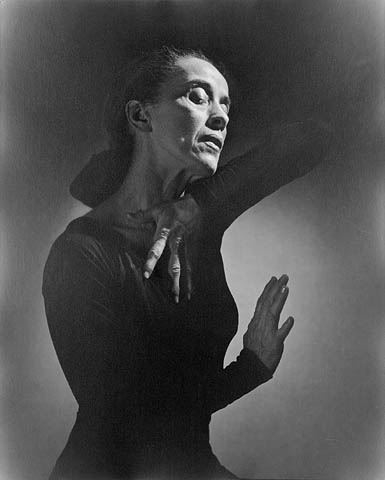 Martha GrahamYousuf Karsh [Public domain] via Wikimedia Commons https://upload.wikimedia.org/wikipedia/commons/0/09/Martha_Graham_1948.jpg
Martha Graham started her own dance company in 1929 in New York City. She called it the Martha Graham Dance Company. She also started a dance company in 1935 at Bennington College. Her methods of dance are taught today around the world. She retired as a dancer in 1970, but still continued to choreograph dances. She choreographed dances until she was 90. Martha Graham died on April 1, 1991, but her dances and memory are still here with us.
Martha Graham made a difference in modern dance by creating a unique style all her own. She is my hero because she wasn't afraid of expressing anything that she thought was right. She is a great role model to all aspiring dancers and they look up to her because of what she has done. As "The Mother of Modern Dance," her legend continues to keep teaching us new things every day. Even though she may not be here right now in person, she will always be in our hearts.
Page created on 9/2/2009 2:47:04 PM
Last edited 4/30/2020 8:20:41 PM
The beliefs, viewpoints and opinions expressed in this hero submission on the website are those of the author and do not necessarily reflect the beliefs, viewpoints and opinions of The MY HERO Project and its staff.
Related Links
Related Books