Earvin "Magic" Johnson, the bestselling author of My Life, is universally known for his illustrious 13-year career with the Los Angeles Lakers, where this "big player with the big heart" changed the way the game is played. He has brought that same hard work, dedication and generosity to his life as a businessman and philanthropist -- with equally magic results.
On the court, Johnson is unrivaled. His physical domination, unselfish no-look passes, and ability to assist and steal were apparent from his first games in Lansing, Michigan, where he first earned his nickname. The tallest point guard in NBA history, he led five teams to the championships, was a 12-time All-Star, and won a gold medal with the original Dream Team at the 1992 Olympics in Barcelona. In 2002, the player that his friend and fellow great Larry Bird called "head and shoulders above everybody else" was inducted into the Naismith Memorial Basketball Hall of Fame.
In 1991, Johnson made an announcement that stunned the world. He had tested positive for HIV, and would retire immediately on doctor's orders. But Johnson wasn't done yet – either on or off the court. He went on a triumphant appearance at the All-Star Game that season, earning the game's MVP Award and leading the West to a 153-113 victory. The game ended with 14 seconds to go as the other All-Stars, including Isiah Thomas and Michael Jordan, abandoned the ball and swarmed Magic to show their ongoing love and support. As he says in My Life, "Game called on account of hugs." A 1995 comeback made it clear that his retirement from basketball, like everything else in Earvin Johnson's life, would take place only on his terms.
The basketball career of the century would have been more than enough for most people, but Johnson seized his retirement as an opportunity to pursue his childhood dream of becoming a successful businessman. It is this second act that led Fortune Magazine to vote him one of their Most Powerful Black Executives. In 1991, Johnson founded a development company to bring entertainment and services to underserved inner-city communities. These ventures (which include housing, fitness centers, movie theatres, restaurants, and coffee shops, in neighborhoods previously characterized by blight and crime) have confounded expectations. Not only are these viable businesses – top grossers in their chains, in some cases -- but they have become vital, integrated community centers, critical players in the revitalization of these long-neglected neighborhoods.
Furthermore, Johnson's company creates a legacy of success for the minority community by acting as a breeding ground for the next generation of black executives -- presidents, vice-presidents, managers, and business owners. Every success story proves his belief that anyone and everyone can achieve if they're given the opportunity and the skills.
Johnson isn't new to philanthropy – he has always been generous with his time, money, and his celebrity. Immediately after his diagnosis with HIV in 1991, he founded the Magic Johnson Foundation for AIDS education, prevention and research. The Foundation has raised hundreds of millions of dollars to build state-of-the-art clinics and provide grants to community-based organizations, especially those that focus on health initiatives for youth, women, and people of color. Johnson also wrote What You Can Do To Avoid AIDS, a book explaining and promoting safe sex. Perhaps most importantly, he became the unofficial spokesperson for people living with HIV/AIDS, giving a human face to the disease and significantly lifting the stigma and discrimination that too often accompanies it.
In 1997, the Magic Johnson Foundation further broadened its focus "to identify and support community-based organizations that address the education, health, and social needs of children, young adults, and inner-city communities throughout the nation." It now gives scholarships, organizes mentoring and internship programs, as well as sponsoring job and health fairs. The Magic Johnson Foundation is also working to close the digital divide by building technology centers that give people in low-income areas access to technology. Most recently, the Foundation partnered with drugstores and supermarkets to fill prescriptions and provide groceries for people evacuated from Hurricane Katrina, and Johnson has pledged to find jobs for many of the displaced.
Along with his business and philanthropic concerns, Johnson is a devoted husband to his wife Cookie, and an active and involved father to his three children, Andre, Earvin Jr., and Elisa, and he continues to credit his parents with his success. As an athlete, he was known for his effortless leadership, optimistic attitude, balance, and tireless dedication; he has brought these same qualities to his vocations as a businessman, philanthropist, husband, son, and father, and it is a great honor for us that this legend has agreed to participate in the My Hero Project.
Page created on 11/24/2007 3:18:36 PM
Last edited 8/12/2020 9:45:18 PM
Extra Info
Here are some entries from our guests
about their hero, Earvin "Magic" Johnson:
Jacque from Leawood, KS wrote:
On and off the court, Magic Johnson has been a hero throughout his life, and has excelled in everything that he has put his mind to: whether it be basketball, school, or helping out others.
Arevig Gevrkian from Studio City, CA wrote:
Magic Johnson is my hero because he was a unique athlete who changed the sport of basketball. Magic later found out he had the deadly disease known as AIDS, and now he raises funds for HIV/AIDS education and prevention.
Kaikane from Pukalani, HI wrote:
Earvin "Magic" Johnson is a man that deserves respect both on and off the basketball court. He was a leader both to his teammates and the fans that admired him. Most can only wish that they could watch Magic play and dominate his opponents with his superb passing skills and abilities to play both offense and defense. He defied many odds through his battle with HIV while still being able to have an unforgettable career along with well-deserved accomplishments that he can be proud of. Magic Johnson, in my eyes, is definitely one of the greatest basketball players the game has ever seen.
Nicholas Ward from Brooklyn Park, MN:
Magic is a good man and a role model. He is a great basketball player. He thinks about other people more than himself. He is a survivor, because he had AIDS for a long time and he is still surviving with it. Magic is also a hero: he talked to younger children about his problem with AIDS and he told them to try not to get it.
Cody Mounts from Wheatfield, IN wrote:
Magic Johnson is my hero because he was devoted to basketball, like I am. He could have gone to the NBA after high school but he decided to go to college. It was a hard choice but he went to Michigan State. After two years of college he decided to go to the NBA. There will never be another like him.
Daniel from San Jose, CA wrote:
Magic Johnson is my hero because he has done various good things to help the needy... those who are in need financially or emotionally. Even though he has the HIV virus I think he is so strong. He has organized so many organizations that help kids with the AIDS virus.
Angel from Austin, TX wrote:
Magic Johnson is my hero because he is a very good basketball player and also a very good man!
Robbie from Cheyenne, WY wrote:
Magic Johnson inspires us all because of his great deeds. He has already donated thousands of dollars to the victims of Katrina. Magic Johnson is a great hero and I would like to be like this hero any day. I hope that I will be like this hero when I grow up.
Frank from Omaha, NE wrote:
Magic Johnson's heroic qualities have affected my life today by showing me that hard work and determination lead to happiness, and that despite whatever happens, one should never give up.
Magic Johnson Foundation, Inc.
9100 Wilshire Blvd. Ste 700 East
Beverly Hills, CA 90212
Office: 310.246.4400
Fax: 310-246-1106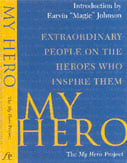 Earvin "Magic" Johnson contributed his hero story to
MY HERO: Extraordinary People on the Heroes Who Inspire Them
. Your purchase of this book helps to support this not for profit educational web project.