Franco Majok
by Molly Driscoll
Contributor of The Christian Science Monitor

Education helped Franco Majok escape from war-torn Sudan. Now his Village Help for South Sudan has built a school there – and more.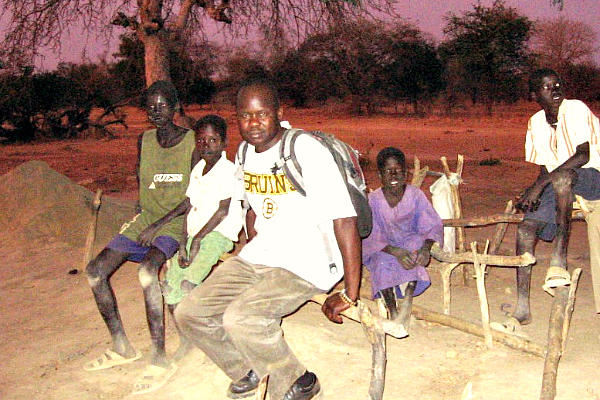 Courtesy of Ron Moulton
Franco Majok says his ability to read a map saved his life.

Mr. Majok, who serves as executive director of the organization Village Help For South Sudan, escaped from southern Sudan when he was a teenaged high school graduate. Knowing which direction to go and how to get to the northern part of Sudan was the most valuable skill he could have had, he says.

"I feel very strongly that education saved me," he says.

Today Majok's organization, Village Help For South Sudan (VHSS), has built a school in the village of Wunlang in the new Republic of South Sudan, which became an independent country last year. Between 600 and 800 boys and girls currently attend the school. VHSS also has built a water pump and a health clinic in Wunlang, and it has extended its projects to Thiou, another village in South Sudan. VHSS initiatives in Thiou and Wunlang include repairs to the Wunlang school, finding qualified teachers for it, and obtaining medical equipment for the Wunlang health clinic. VHSS would also like to build a multipurpose center where married women could come to learn farming and business skills.

Majok, who lives in Lynn, Mass., near Boston, was a high school student in southern Sudan in 1983 when the Sudanese government began interrogating those with an education, who were thought to be more likely to sympathize with rebels. Two of Majok's brothers had already left to join the rebel movement.

"It was a time when a lot of people who were in high school disappeared at night," Majok says. "It was a very bad situation."

Majok's father told him to leave and try to go to northern Sudan. Using maps and directions, Majok was able to do so and settled in the capital, Khartoum. But eventually the city became unsafe and he traveled to Cairo.

Cairo was having its own problems finding employment for Egyptians, let alone new arrivals. He needed to move again to find a reliable job. While in Cairo, he applied to the United Nations High Commissioner for Refugees for refugee resettlement and was approved to go to the United States.

"Being in Cairo for 10 years, not knowing what was going to happen, then receiving the news that I could go to the US – it was the only chance in my life, and I got it," Majok says.

After working at the Seaport Hotel in Boston for six months, he applied to be a case manager at Lutheran Social Services in the suburb of Newton, Mass., a job he still holds. He works with children from Sudan who come to the US after being displaced by the violence in that country.

Majok feels he is uniquely qualified for the job. "For me, it was a dream come true," he says of being able to help the children. "I knew their language and their culture."

After a second Sudanese civil war ended in 2005, Majok was able to return to his home country for the first time and visit his village. He was shown what he was told was the village school and was confronted with children, many of them without clothes, sitting outside under trees.

"I saw that situation and it touched me," he says. "I decided I needed to go back to the US and do something."

Majok is a member of the First Lutheran Church in Lynn, Mass. After returning to the US, he asked the congregation for help in raising money to build a school in Wunlang. Ron Moulton, who works as a project manager in the Technology Services Group at the First Church of Christ Scientist in Boston [Editor's note: The First Church of Christ, Scientist, publishes The Christian Science Monitor], volunteered to help him.

After raising funds through the First Lutheran Church, Majok and Mr. Moulton decided to apply to become an official nonprofit foundation. They did so and have recruited the other members of the VHSS board of directors.

While VHSS now addresses many kinds of challenges faced by people in South Sudan, Majok says he tackled education first. If the situation in the country ever becomes dangerous again, he says, more children will be able to escape if they are educated – or perhaps they will help stop the conflict altogether.

"If there's a war, they can save themselves," he says of the children in the villages. "They can be the leaders of the community."
Page created on 5/2/2012 12:00:00 AM
Last edited 8/9/2018 4:45:27 PM
The beliefs, viewpoints and opinions expressed in this hero submission on the website are those of the author and do not necessarily reflect the beliefs, viewpoints and opinions of The MY HERO Project and its staff.
Related Links
Village Help for South Sudan
- Provide development program management and coordinate village mobilization to deliver water, schools, orphanages, teacher and student support, economic opportunity, appropriate technology, & sanitation solutions to under-served communities in South Sudan
Wikipedia
- Everything you need to know about South Sudan
Christian Science Monitor on MY HERO
- Driuni Jakani: He Driuni Jakani: He's raising hope in southern Sudan by boosting crop yields - and women's rights
The MY HERO Screening Room
-
Tostan
by Cheikh Daru Seck